The Etape Caledonia Sportive
It's a challenge in itself to think of a UK sportive that combines such excellent organisation, gorgeous scenery and welcoming people as the Etape Caledonia. Definitely a Broleur favourite.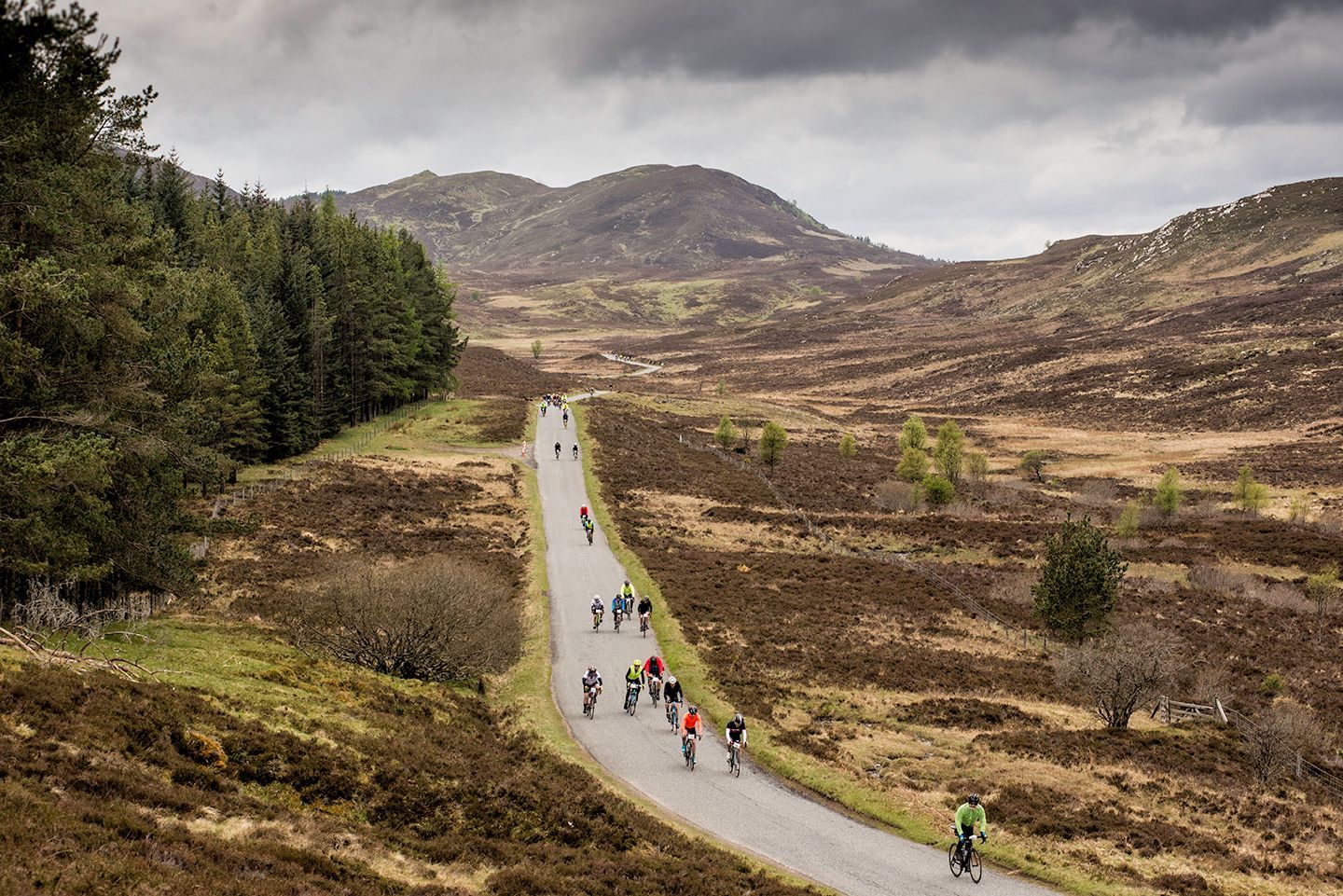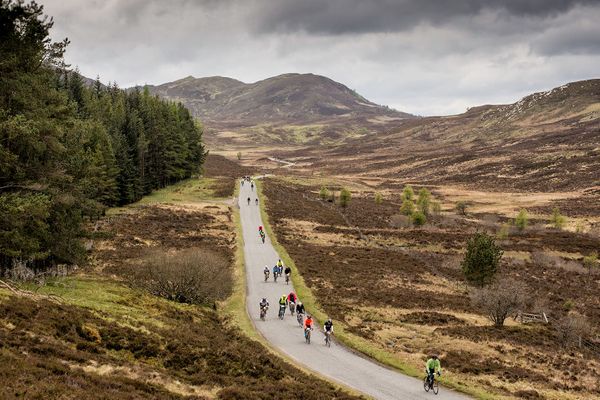 Bike envy. It's a terrible affliction from which I've been suffering for at least two years. But, in recent months, the ailment has got significantly worse. As I see more and more pristine and expensive Cervelos, Bianchis, Storcks and the like at sportives, the more I feel like a kid with their nose pressed up against the sweet shop window, craving the goodies inside but not having enough money to pay for them.
But that bitterness has served me well. Kindling to the fire that has forged this cyclist. There's no better feeling than cruising past someone on a five grand bike while on a penny farthing.
Actually, that's harsh. My Pinnacle Evapor(sh)ite has been a faithful steed through many sportives and at times I haven't shown her the love and care she deserved and needed. But the time has definitely come to bid her farewell and take her to the knacker's yard.
I want a bike like the chap I joined on a work trip to do the Etape Caledonia. Murray, a genial South African who shall now be known as Bokkeur, runs his own bespoke bike and wheel-building business, More Than Wheels.
Bokkeur would be riding a top-notch, immaculate Cervelo, hand-picked from his vast personal collection, whereas I'd be riding a bike with a back wheel so buckled and misshapen I nicknamed it 'The Rhombus' and bearings that Bokkeur noted were "weeping rust". The green-eyed monster in my head let out a loud howl of anger.
It is tough to stay wound up, though, when you're staying in a village as picturesque as Pitlochry, on the southern tip of the Cairngorms National Park in the Highlands and the start and finish for the Etape Caledonia. It has a few nice restaurants in The Old Mill Inn, Victoria's and Port-na-Craig Inn, and there are a couple of pubs dotted around the main road. McKay's became our 'local', with the Ben-y-Vrackie ale being a particular favourite, and there seemed to be live music at nearly every place in town.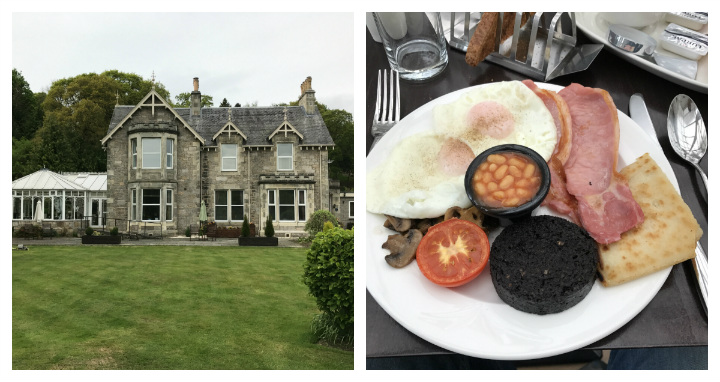 I would also highly recommend the place we stayed, The Claymore Guest House. The owners, Graeme and Diane, were genuinely friendly, cooked a mean breakfast and went out of their way to accommodate us, the bikes and a horribly early start on the Sunday to rustle up some porridge.
Raining supreme
A short recce ride on the Saturday confirmed two of my preconceptions about Scotland: 1) It's an absolutely beautiful place to cycle. All gorse-covered, sheep-lined hills, babbling brooks and quiet, good-quality roads. 2) The weather can be filthy. It rained pretty much solidly all day but at least the forecast for the Etape itself looked promising (no wind and no rain, the two arch-enemies of cyclists).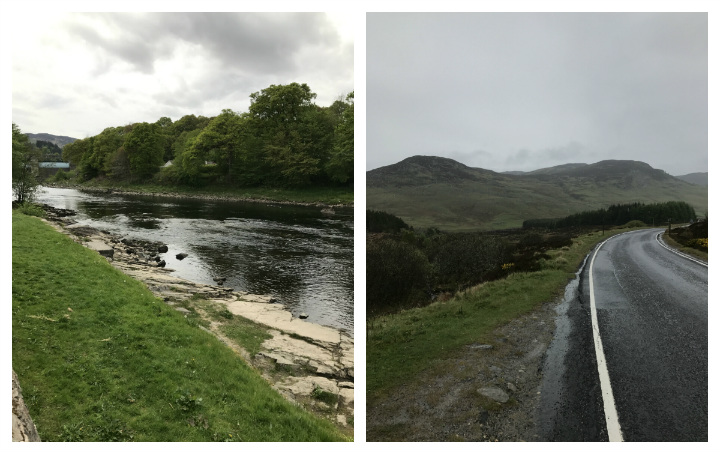 Registration for the event was quick and painless, unlike a lot of sportives, and, in a recurring theme of the weekend, the volunteers were all unfailingly affable and helpful.
A delicious sirloin steak and chips, a few pints of Dead Pony Club and a reasonably early night, and I felt reasonably confident of posting a decent time. Filling in the form for Caledonia, I'd put down 4hrs 15 as my estimated finish. But, in my head, I felt 4hrs would be feasible on a parcours as flat as Caledonia's - the stated elevation is 1,200m but it's more like 1,000m according to Strava. And I knew I might even have to go faster than that if I was to beat Bokkeur.
The route didn't favour me. With only one timed climb of note, Schiehallion, the 131km course wasn't made for grimpeurs. But it is perfect for those who excel in group riding (again, not me) or those who are looking for a relatively easy introduction to sportives. I counted on the green-eyed monster to come to my aid.
All aboard the train
A misty but dry morning greeted the near-4,000 riders. Chris Boardman, the former Olympic gold medallist who wore the Tour de France's Yellow Jersey on three occasions, was in the first wave at 6.30am; Bokkeur and I would follow two minutes later.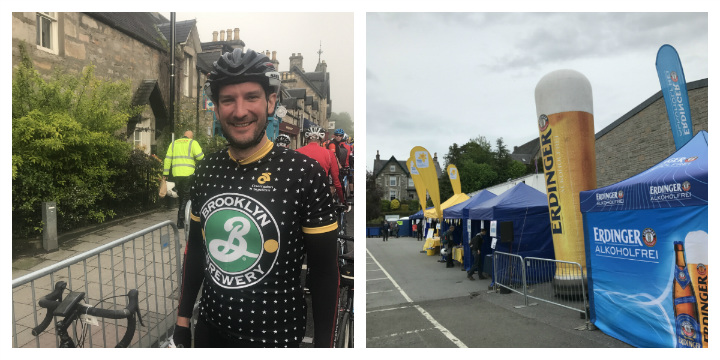 Unfortunately, the heavens opened literally just as we rolled over the start line. Even though the almost instantly frozen fingers gave me nightmarish flashbacks of the Amstel Gold, nothing could detract from some of the views over Loch Tummel in the first 20km. Simply stunning, a panorama where you actually mouth the word 'Wow'.
As the riders attempt to separate the wheat from the chaff on the closed roads and set up groups, it's also fast. Very fast. Bokkeur and I eventually settled into a group of about 30-40 and churned along the road at around 35kph or more. A punchy pace.
The problem with being in a 'train' is you can't take your eye off the ball for a second. Not only do you risk touching the wheel of the person in front and causing a pile-up (we narrowly avoided that gruesome fate in La Ronde Picarde) but you can so easily be spat out the back.
That had already happened once when taking in the scenery and I found myself 20 yards adrift. I cursed myself for such an amateurish error and had to expend a lot of energy to get back on.
The second time it happened, after about 40km, I'd be kicked off the train for good. I lost focus opening up an energy gel and that was that, I couldn't face burning another match to catch up. I decided to settle into a steady rhythm and turned my attention to appreciating the beautiful surroundings as we skirted round the edges of Loch Rannoch.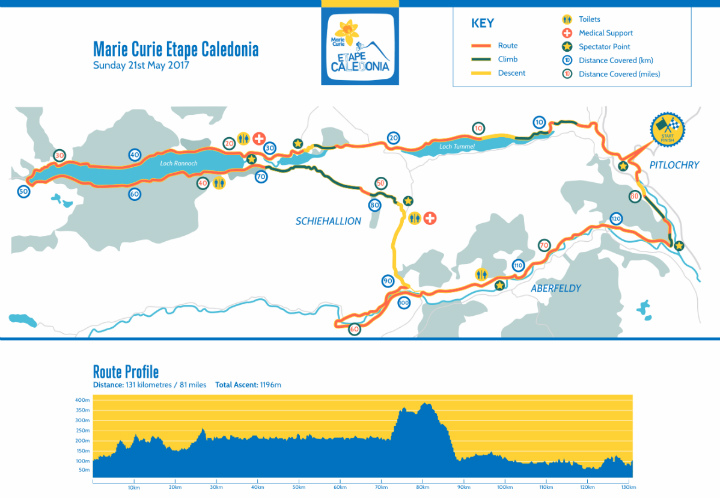 Getting some strange Lochs
In my heart of hearts, I knew that would be the last I saw of Bokkeur. He'd been perfectly placed at about fifth or sixth wheel in the train, so unless he had a mechanical (highly unlikely on that Cervelo), my challenge was over. The other brother would have dropped back to help me out but I couldn't expect a guy I'd known for 48 hours to do likewise. And I wouldn't have done so for him. All's fair in love, war and cycling.
There would be other groups to latch on to - but they seemed to be a long time coming. For about 10km, I ploughed a lonely furrow, worried I might have taken a wrong turn. But the signage and marshalling were both excellent – another tick in the box for Caledonia – so it was virtually impossible to veer off course.
When the leading groups from the third wave that set off at 6.40am finally came steaming past, the first words would inevitably be:
"Mate, do you realise your back wheel is buckled?"
"Yes."
"You'll nae get to Pitlochry on that!"
"OK, thanks."
It was a nice gesture that cyclists were looking out for their fellow riders but after the fifth identical conversation, it started to get a little wearing.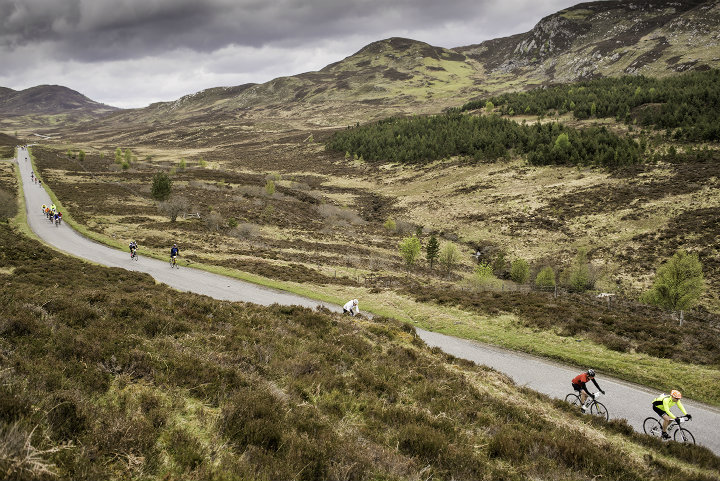 Scaling Schiehallion
I'd looked at Schiehallion on Veloviewer beforehand and decided it was the one place where I could unleash a wattage bomb.
A bit steep at the start but easy meat compared to some of our local climbs in Kent, Surrey and Sussex.
It was harder than anticipated with a couple of sections that felt a lot steeper than the supposed max of 11%. But I wasn't overtaken and did a lot of overtaking, so by the time I heard the 'beep' of the chip sensor at the top, I felt pretty positive I'd post a competitive time.
Food for thought
From the top of Schiehallion, things started to take a turn for the worse. What should have been a speedy descent was a fairly lacklustre affair as I realised I hadn't been fuelling properly, shunning the feed stations as I knew the clock was against me and relying on a couple of gels and a Clif bar. A stupid mistake and I should know better by now.
What got me through the 95-110km mark was the incredible support from the locals in all the small villages and country lanes we passed along. It truly was appreciated and put larger Continental sportives, such as the Tour of Flanders and the LBL, to shame. I'd say only the Velothon beats Caledonia for atmosphere.
The final 8km or so are probably the toughest – and not just because it's the final 8km. There's a small but steep climb out of Logierait – only the second time I had to switch to granny gear all day – and from there it gets a bit lumpy.
But once I reached Pitlochry and took a left turn back on to the finishing straight, I was lifted by the sight and sound of the townsfolk cheering me on, which was made all the more remarkable by the fact a light drizzle had returned.
Bashed by Bokkeur
Bokkeur was waiting for me in the event village. After all, there were Strava stats to pore over and Ben-y-Vrackie to be drunk.
I'd beaten his time up Schiehallion. A battle won but the war was comprehensively lost. His overall time was 20 minutes faster than mine but, surprisingly, I wasn't bitter or disappointed. I learnt early on in cycling that there is always someone stronger than you – and I was beaten fair and square by the stronger rider on the day.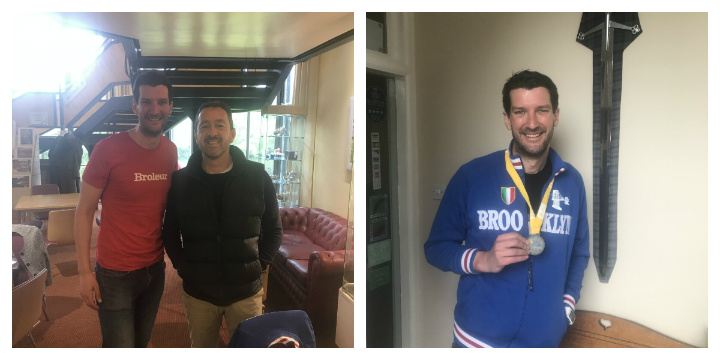 Catching the train back to London, I struggled to think of a sportive that combines such excellent organisation, gorgeous scenery and welcoming people as the Etape Caledonia. Maybe they could throw a bit more climbing in, but that's purely from a selfish standpoint.
I'd certainly consider doing the Etape Caledonia again. Just on a better bike next time.
The other brother
I won't be shedding too many tears for the Evaporite. Yes, it's given my bro good service, seeing him up the slopes of Ventoux and over the pave of Flanders. But it's fair to say the Pinnacle has passed its peak. The incessant clicking, creaking and groaning has been starting to wear almost as much as those bearings. Like a faithful but increasingly cantankerous manservant. Time to usher an ageing Alfred into retirement and replace him with a Pepper Potts.
Riding a virtually indestructible Titanium frame means there's no good reason for this brother to upgrade any time soon. So the opportunity to take on the role of advisor in chief and vicariously pore over web stats, dive into forums and indulge in hours of YouTube reviews was seized with relish. The resulting recommendation: a Giant TCR Advanced 1 with Ultegra groupset. Universally lauded and damned good value to boot. The upside of leading the evaluation and selection will be taking a perverse pleasure in seeing my segment standings suffer over the summer months. The downside: I'll no longer hear those attacks coming.
Check out our Facebook page and follow us on Twitter @broleurcc