Some rides are all about reaching the finish. Beating a time. Achieving a goal. Rome was to be our end-of-season treat. This journey would be its own reward.
It was my first time flying with a bike. We borrowed boxes and I relished the ritual dismantling. Respect to Ryanair - both bikes, in boxes, arrived on the same flight, intact.
We have kind friends, George and Fleur, who lived in Rome for three years. Our culinary itinerary had been meticulously planned. If you ever find yourself in the city, find your way to Testaccio and sample the world's first and finest trapizzino. (Better with beer).
The registration and accompanying festival of cycling was a washout. The rain bucketed down all afternoon. We stayed long enough to splurge on some matchy-matchy Granfondo Roma fleecy armwarmers and then withdrew to the hotel to check and double-check the Sunday forecast.
That evening, we feasted like emperors. Pasta with milk-fed lamb intestines. So much tastier than it sounds, but maybe not the best preparation for squeezing into a spray-on, race-fit cycling jersey.
The Colosseum at dawn
We have an established routine on the morning of a ride. Sadly, it's not yet the same routine. One of us is too laid back. The other can get a little uptight.
On this particular day, we played our roles to perfection. The hotel restaurant hadn't opened for breakfast and we didn't allow sufficient time to stop for a coffee and pastry. Like gladiators of centuries gone by, we arrived before the Colosseum as the sun came up, stomachs empty, tense and tight-lipped. Selfie time!

Operatic Italian calls and shouts signalled the start and we circled the ancient city past boutiques and bars before being catapulted out into the rolling hills beyond Rome.
The Granfondo Roma stretches 123km over three distinct stages. A long, steady incline. Four timed climbs totalling close to 2,000m. And then an easy downhill home run.
We consciously throttled back ahead of the first ascent, then eased through the throng grinding their way up the Rocca di Papa. Applying the secret[1], it felt like I had an extra gear and even managed a late burst beyond the mountain goat to take the tape.
With no interest in the GC, we took full advantage of both food stops. Ham sandwiches. Nice. Then a spontaneous stop at a roadside cafe gave us the opportunity to savour an alfresco espresso amid the chilled mist. The caffeine powered us up the final two climbs. Unexpected cobbles and some sharp ramps and turns combining to test the legs and lungs.
The hairy Visigoths descend on Rome
Downhill all the way. The temperature rising as we descended. As the clouds broke we were offered the occasional tantalising glimpse of a sun-drenched Rome beyond.
The hairy Visigoths assumed race formation. Working with a bunch of Italian riders - Pierpaolo, Delmo and Alberto - to power along the closed roads in the drops. Locals watched on impatiently from the long queues of cars formed at every junction. One of the joys of riding granfondos and sportives is the immediate companionship and sense of togetherness that comes when you draft a group and then take your turn on the front. "Ha!" said Pierpaolo as I indicated we'd do our share of pulling, "I have a friend."
The end came too soon. Ironic that we finished in the eternal city. This was a ride to relish. Times to be treasured. A well of warm memories to draw upon through the cold winter training months ahead.
The plundering began.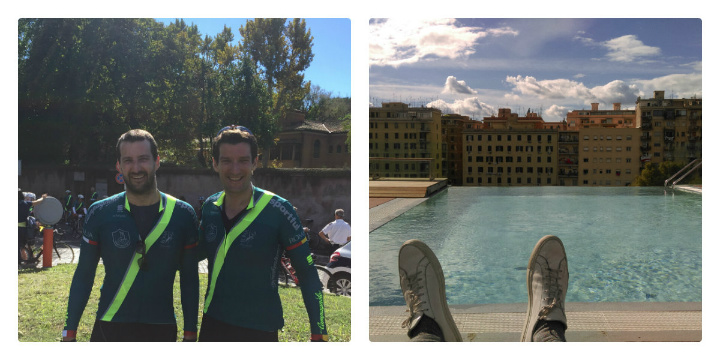 The other brother
If cycling is our D'Artagnan, then food, coffee and beer (not necessarily in that order) are the Three Musketeers.
When we go out for a spin on a Sunday, our rest stops are scheduled well in advance. From the pre-ride double espresso and croissant at Café St. Germain in Crystal Palace to a stop at Westerham's Deli di Luca for their delectable chocolate cannolis and dreamy lemon puffs, everything is planned with military precision.
In Rome, though, we took it up a notch.
We've already touched upon the pre-sportive feast we enjoyed at Angelina, but it was after we had flogged ourselves up Le Macere and Rocca Priora that we really brought our A-game to the table.
We spurned the offer of free pasta at the Granfondo Roma cycling festival to hasten back to the 00100 hole in the wall for more trapizzino. After trying the pomodoro meatball, parmigiana and cacciatore versions, we concluded the latter edged the other two - but it was an almighty close call.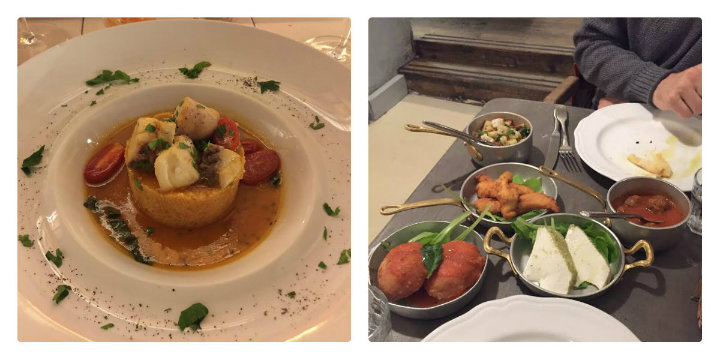 Celebratory Morettis and Camparis were then the order of the day. We watched the sun set in one of Travestere's beautiful piazzas, before descending on the Enoteca Ferrara, where melt-in-your-mouth beef, pork belly and pasta dishes were devoured in a three-hour, four-course eat-athon.
All that was left for us to do as we waited for our return flight from Ciampino airport the next morning was to forensically analyse our KOM results from the sportive. My brother came in 616th from just less than 2,500 riders, while I placed 412th. If anything warranted raising one last bottle of Moretti as we bade farewell to Rome, that did.
Ride with Broleur
Check out our Facebook page and follow us on Twitter @broleurcc
---
We will never reveal the secret. ↩︎