The Granfondo Stelvio Santini
The Stelvio and the Gavia are cycling climb royalty. But on this occasion, both were usurped by the scheming Mortirolo, prince of darkness. Join Broleur on our Italian job.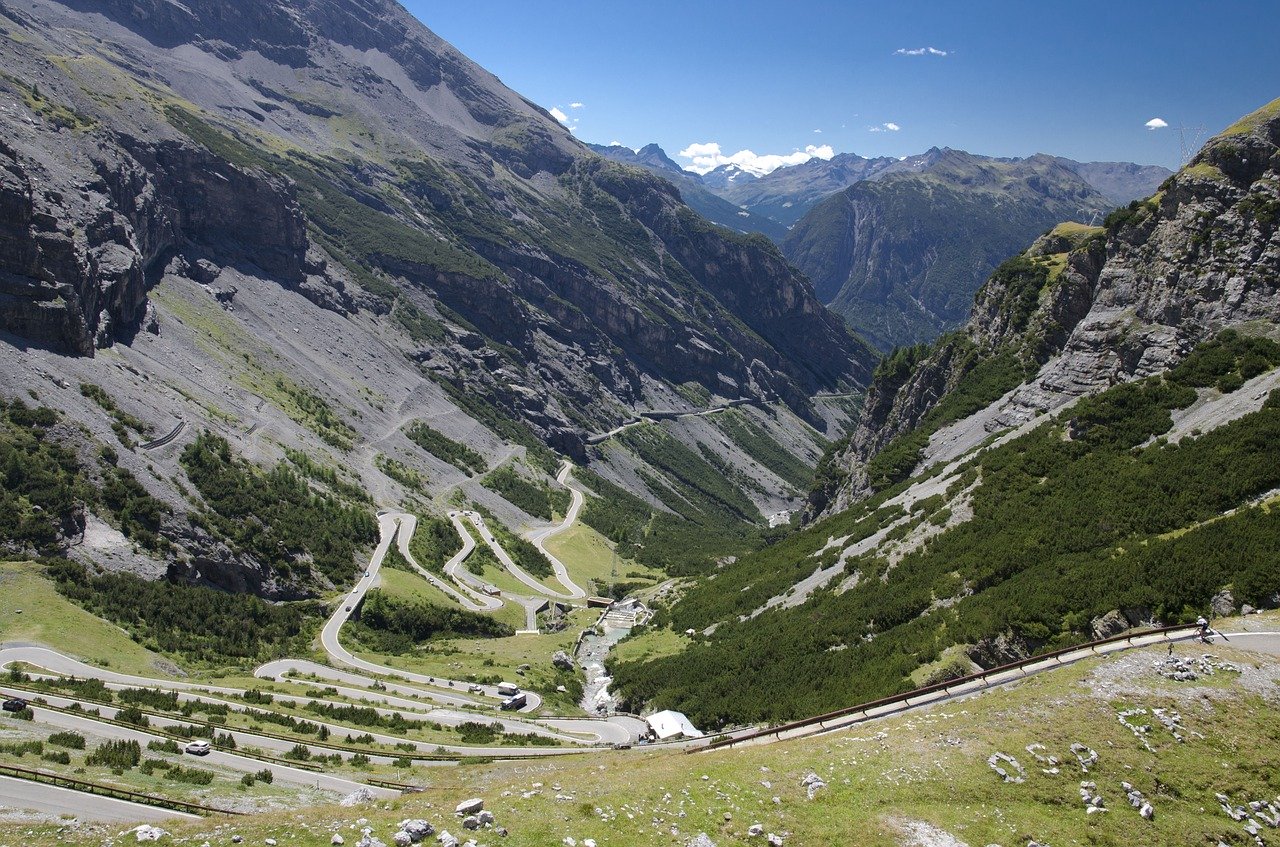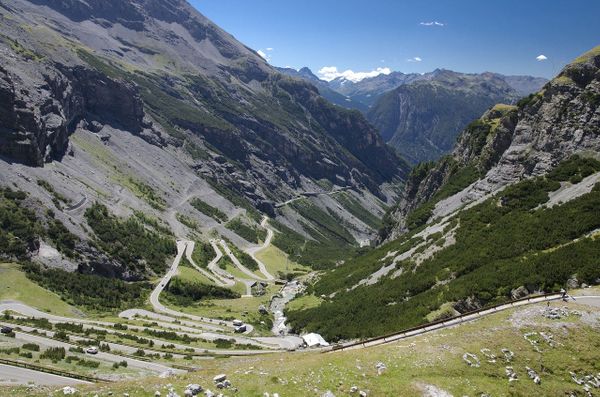 Here's a first piece of advice. If you're going to do the Granfondo Stelvio Santini, get there a day early (on the Friday before Sunday's race) and ride West from Bormio, through Santa Caterina di Valfurva and cruise up the simply stunning Passo Gavia of Giro d'Italia fame.
We were lucky enough to do a quick Strava segment search when pondering options for a Saturday warm-up ride and realised this classic climb was only 26km away (and 1,400m up) from our hotel doorstep. This, my friends, is cycling serendipity. It would have been rude not to. Even in June, there was still enough snow for us to be passing skiers on the way up.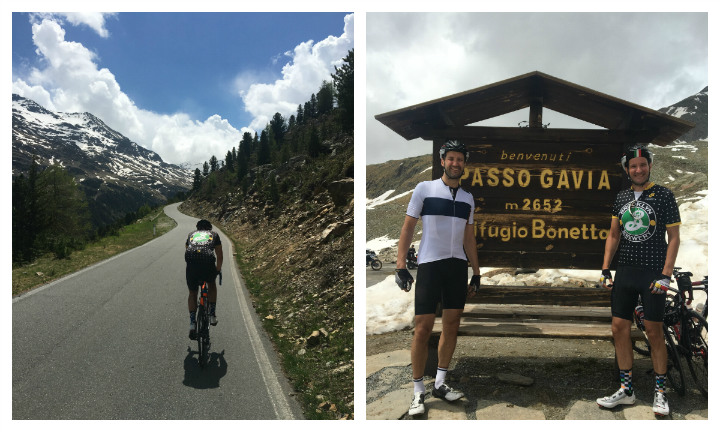 Wind the clock back approximately 16 hours and I was enduring a three and a half hour drive from Milan's Malpensa airport. A tennis ball wedged behind my back to massage grumbling lumbar muscles. The views of Lake Como were truly splendid, but proved only mildly distracting. After stopping for pizza and a stretch of the legs at charming Colico Piano, the darkness descended and we entered a series of endless tunnels, bored through the mountains by some mechanical mole, with impatient Italian drivers right up our rear. It was close to midnight when we eventually checked in.
They're very happy to entertain cyclists in Bormio. With the ski season over, it's a welcome opportunity for the townspeople to earn some pocket money from a summer job. Those staffing the Baita Clementi were particularly accommodating. A basement garage with tools and a bike wash, a boundless breakfast banquet on race day served from 5.30am, swift and generous on the pour at the bar. All bases were covered at our base camp.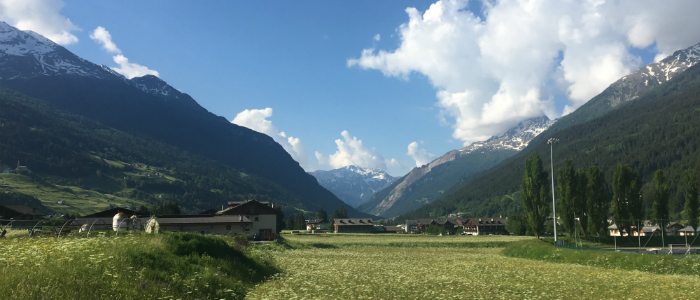 Brothers up in arms
Where would we be on the morning of a sportive without a frisson of fraternal tension? Why bother savouring the charming cobbled streets of Bormio, bathed in the dawn light, when you can bicker over the location and colour of the correct starting pen? (He went right, I went left. I was right, he was wrong). Our mood may have been clouded, but the sun shone benevolently. Time to move on.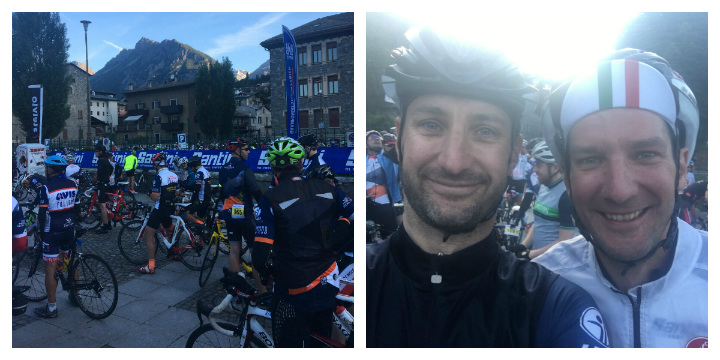 It's a fast start. Not Ronde Picarde fast, but fast. The wide, smooth roads leaving Bormio are closed and the first 43km is all downhill. We determined not to expend a single kilojoule unnecessarily trying to stay on someone's wheel. But even without pushing ourselves or drafting, we averaged just shy of 40km/h.
All focus pre-race is on the two big climbs of the day: the Mortirolo and the Stelvio, so it was fortunate we were forewarned about the Teglio. It looks like a minor speed bump on the course profile, but from base to summit it stands higher than the Shard and the Empire State Building. Had the adrenalin been coursing from a chase on the flat, it would have been easy to over-extend ourselves. As it was, we were placed well back in the peloton and so when some plodders ahead touched down, we had no option but to dismount and wheel our bikes through a pinch point and out the other side. Maybe that's why the more experienced riders were gunning it early on?
There was ample time to drink in the views on a long, looping, lazy descent through the vineyards on the other side. As the road began to ramp once again, the day warmed. Food was extracted from stuffed pockets and replaced with discarded arm warmers and gilets.
It's some 83km from the start line to Tovo at the base of the Mortirolo. While our legs weren't really fatigued, it seemed sensible to take a time-out. My pre-ride prediction regarding my readiness was to prove unnerringly accurate.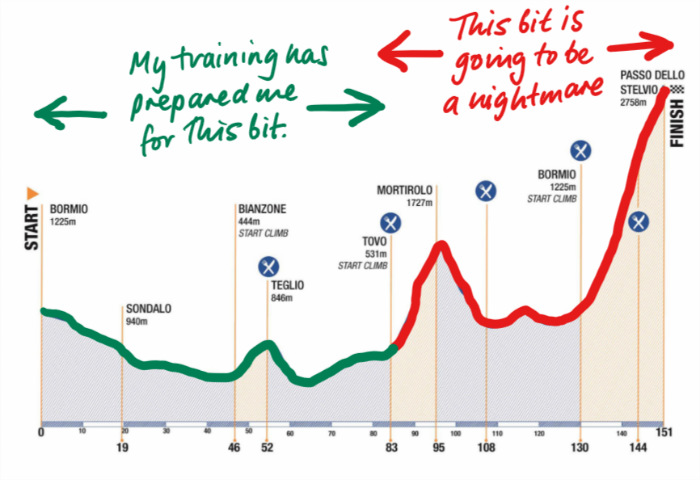 Mortificado
Mortifying. Morbid. Mordant. Mordor. Morbius. Mordred. Morgue. Mortirolo. It was never going to end well, was it?
Back in 2004, Lance Armstrong described it as the hardest climb he'd ever ridden. And he was a professional - a professional on EPO, cortisone, testosterone and human growth hormone. I was sporting a natty pair of socks that I thought went rather well with the official Stelvio Santini navy and orange jerseys, but sock-doping never helped anyone up an 11%, 11km climb as far as I'm aware.
It's not much to look at. There's little hint of the serpentine torture to be inflicted as you venture into the forest at the base of the beast. The pine trees seem to lean in and the air is muggy. Then for the next 8km there's just no let-up aside from where the road levels off at the corners of the switchbacks. It's predictably grim, but just about manageable if you submit to its will, accept it will mercilessly flog your limbs, and resolve to block out all weak thoughts. Yes, master.
Morclimbing?
Respite. The road levels then mercifully dips. So this is what momentum feels like - brilliant! Then bang. It's like walking into a plate glass door. Hang on, you're not on a road, you're on a path, the concrete scored with a rake to give climbers some purchase. And that path is shockingly steep. It's steep and it's narrow and it hurts and then it's a track. And that track is even steeper. And it rises and it turns and then people are pushing their bikes and the handlebars are higher than their bowed heads. I've never seen so many cyclists broken by a climb. Only the very leanest were able to haul their depleted carcasses up and over the top, cheered on by fallen comrades.
It's horrible. The body mutinies. Hamstrings scream, quads grunt, adductors wail, calves pop and lungs burst. Then somehow you're at the top. And it's over. The tense wait for my broleur began.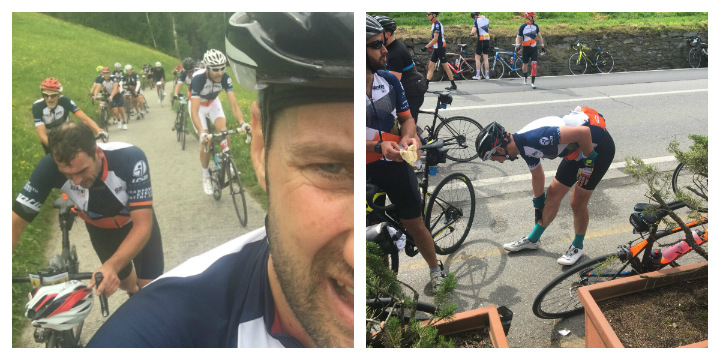 When we were kids we used to do house exchanges for our family summer holidays. It meant we stayed in some fairly odd places, including a floating house on one of the Netherlands' more industrial canals. Our Dad and Uncle Brian whiled away the hours fishing from the rear deck. One day they landed a huge eel. I can vividly remember it gleaming, writhing and thrashing uncontrollably, until they clubbed it with the back of a spade.
It was a similar scene when the other brother crested the Mortirolo. He cast his bike aside and lay in the dirt by the roadside, thigh muscles twitching and convulsing beneath black lycra, flecks of bark and gravel sticking to his sodden jersey. If there'd been a spade handy I may have had to put him out of his misery. As it was, when I asked if he needed anything he just whimpered.. "a hug".
Filling up an empty tank
The Mortirolo doesn't actually get above 2000m so the temperature doesn't call for winter wear on the descent, but you'll be drenched so it's advisable. A petrol station at the foot seemed fitting for a refuelling stop, but maybe a knacker's yard would have been more appropriate. We took the opportunity to stretch guitar-string tight hamstrings and knead bunched back muscles. Speaking seemed frivolous and unnecessary.
From there the road rises again, but in a gentle, forgiving way, as if humbly apologising for its previous excesses. It wasn't until later that we realised we'd actually retraced our initial route down through the valley.
Back to Bormio. In a sun-soaked square we savoured salty chunks of parmesan and bread rolls generously stuffed with local bresaola. Fresh orange segments and cold water were cheerfully dispensed by bright-eyed Italian children straight off the set of a Kinder Surprise ad.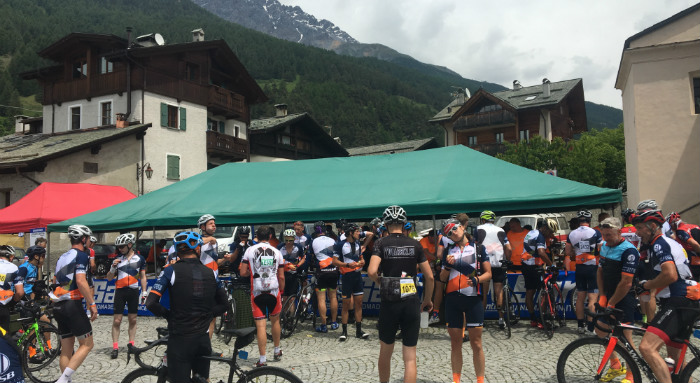 We could have feasted all afternoon, but we weren't going to get any stronger... and the Stelvio wasn't going to climb itself. So we saddled up and rode out over the cobbles and towards the mythical mountain.
Number crunching
OK stat-lovers, the Stelvio stands 2,757m above sea level, and according to Wikipedia it's the highest paved mountain pass in the Eastern Alps and the second highest in the Alps overall (giving away 13m to the Col de l'Iseran in France). Taking the route from Bormio you climb over 1,500 metres over 22km at an average gradient of 7%, taking in 48 hairpins. That's 27 more bends than the famed 21 of the Alpe d'Huez, which features in the Marmotte.
Stats set aside, it's actually not that bad (depending on how hard you're prepared to go). If you're running on empty and have no option but to tap it out, it's steady, predictable and the surface is good. Spinning's winning, right? Where the Mortirolo is shadowy and springs an evil surprise around every corner, the Stelvio is open and expansive, with no qualms in revealing exactly what's in store.
There's a variety of views (mountain to the left, mountain to the right, mountain to the left... etc.), a number of long, dark tunnels where you can cool down, and the most thunderous waterfall to marvel at. The challenge is mostly mental, because it goes on and on and on and on. There's an optical illusion called the Penrose steps, also dubbed the impossible staircase. You can forever climb upwards, continually returning to the same starting point to begin climbing again. That's how the Stelvio feels.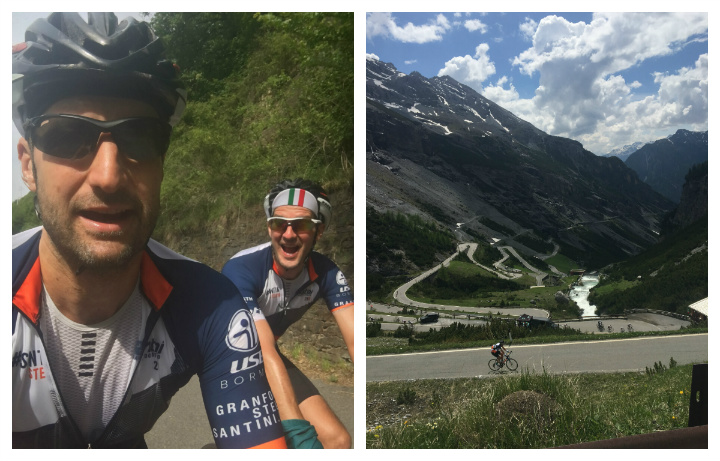 When it does begin to ramp to its maximum of 14%, you feel it. We certainly did anyway, because we both stopped independently (who's watching?) and parked our worn backsides on the same crash barrier, mere metres apart, sweating and squinting into the distance at the snow-covered peak.
On again, overtaking the occasional rider in what felt like slow motion - and most probably was. Up above the snow line, around the final few bends and into what felt like a peak-season ski village. United once again, we tried to squeeze snug finishers' cycling caps on to our big heads (no medals?) and savoured beers while surveying imperious views of the valleys below. We came, we saw, we conquered.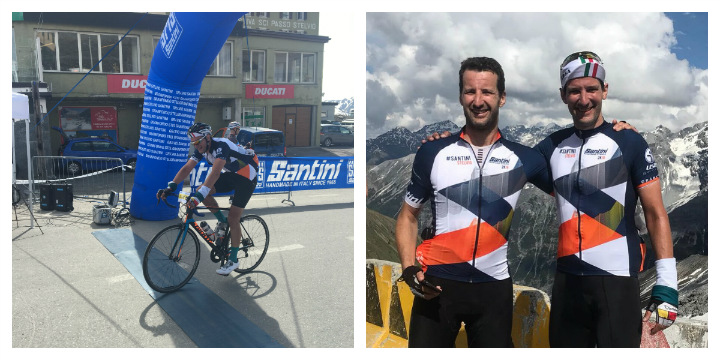 The other brother
The Mortirolo was every bit as nightmarish as I'd imagined, while the Stelvio provided a truly dreamy finish - but this wasn't the first sportive to give me sleepless nights.
The nerves start to kick in about a month before any big ride. It doesn't matter if it's a mountainous monster like the Marmotte or a more sedate, flatter UK affair such as the Wiggle Spring Saddle, the butterflies are still fluttering madly.
Initially, there are the anxiety dreams, which come in four varieties: 1) I'm riding around and can't find the start line. 2) I've forgotten my helmet/shoes/bike, or all three. 3) I'm riding in the sportive and seem to be cycling in quicksand I'm going that slowly. 4) All my teeth fall out.
I try to negate the nerves by doing my research beforehand. I'll watch helmet cam footage of any climbs on the sportive on YouTube endlessly and study every bend and steep rise on Veloviewer and Strava. I'll know the length of every climb, its average gradient and its max. I don't like surprises and obey the cub scout law: Be prepared.
Even so, the night before, I'm a gibbering wreck. I'll check, re-check and re-check again that I have all my kit ready to rumble. I'll get barely a wink of sleep, waking long before the three alarms I've set.
It doesn't help that my brother is the polar opposite of me. He's so laidback about everything, he's almost horizontal. I'll be half an hour early; he'll be half an hour late, which only adds to my nervous disposition.
I'm not sure what the cure is but, then again, I'm not sure I want one. I love the anticipation, the excitement, the fear that goes with any sportive we do. Would it be the same wonderful feeling when I cross that finish line if all that nervousness was taken away?
Check out our Facebook page and follow us on Twitter @broleurcc