La Ronde Picarde Granfondo
Based in readily-accessible northern France, La Ronde Picarde is much easier to get to than it is to get around. Yes, it's flat, but oh my Lord, it's fast. Keep up if you can.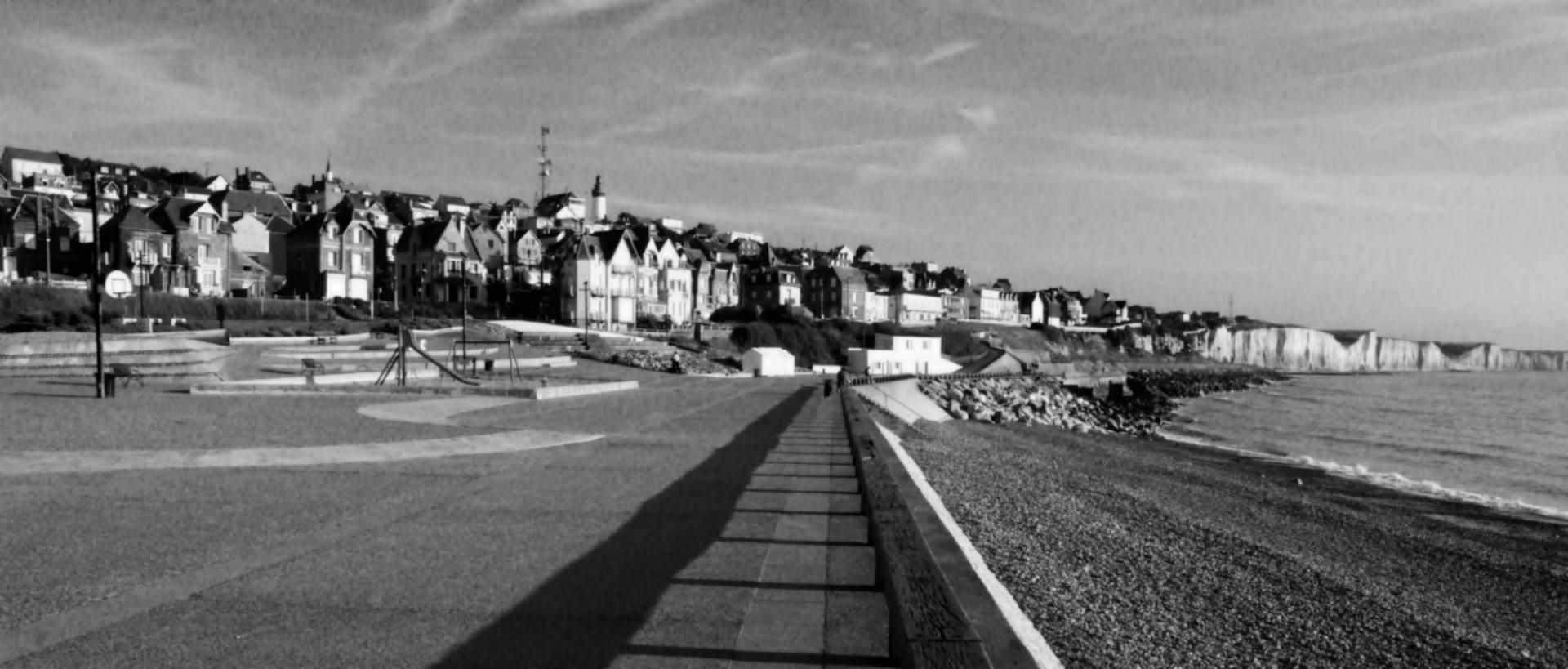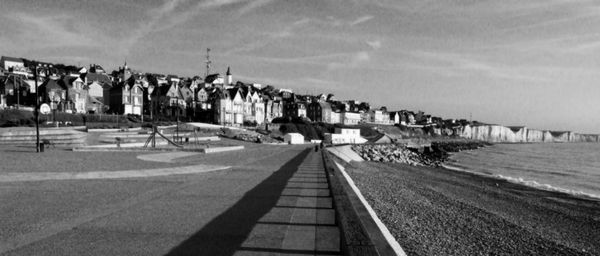 The other brother is a grimpeur. A climber. I favour the flats and downhill slopes where the extra pounds I choose to carry are no longer an encumbrance. La Ronde Picarde - the LRP as it became known that summer - was my selection. The final Grand Trophee event of the French cycling calendar. 185km of smooth roads and negligible ascent. Maintain a 30kph average speed and we'd be bringing home a gold medal.
When we were kids, holidaying on the continent meant an eight-hour drive down the country to queue for the car ferry. Northern noses would be pressed to the windows as we passed through magical central London (this was pre-M25, folks). Then we'd break the journey with a stop at our posh southern cousins' in Sevenoaks.
These days, South London to Dover takes just over an hour. Catching the Eurotunnel during term time is a hassle-free revelation. The suburbs of Abbeville in Northern France can be reached in no time.
Lots of GB plates in the car park of our functional Ibis hotel. Lots of carbon being paraded through the lobby. No question who our fellow guests were. No idea who would choose to stay there the other 51 weekends of the year. We tested the beer.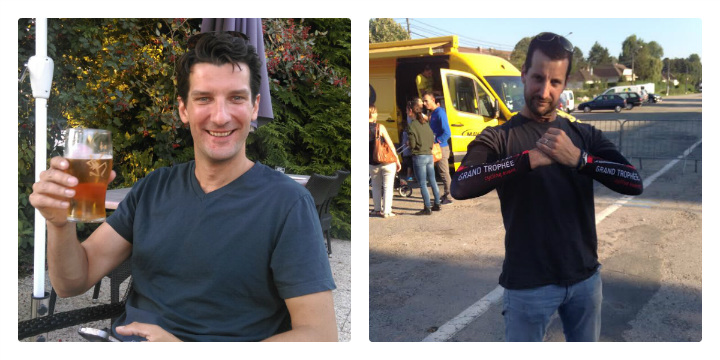 Registration. The other brother so pleased with his Grand Trophee arm warmers he chose to wear them on the wrong arms so he could read the writing himself. A stroll past the cathedral and then an equally impressive dinner at C'est la Vie, a Belgian restaurant. We booked our post-ride meal the moment we'd settled the bill.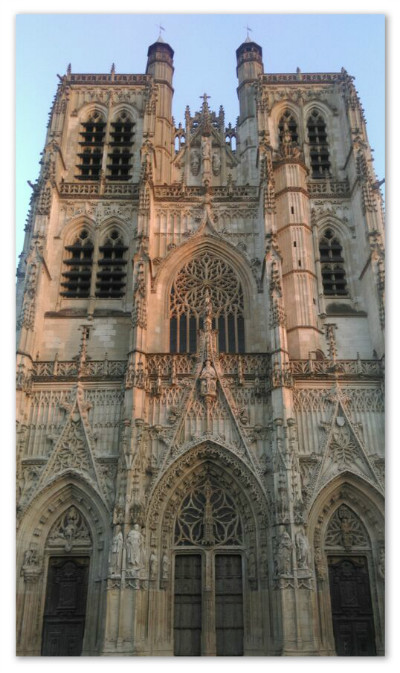 That night we greased chains, laid out our kit, prepared the PBJ and ham sarnies and buttered Soreen malt loaf (food of the cycling gods) with a plastic knife. We even went through the charade of setting alarms, fully aware that Bunteur would be wide awake from 4am, staring at the ceiling.
Very much a race, not a ride
A chilly start under leaden skies. 2,000 riders assembled. An extremely lean and hungry looking field. Nobody was doing this one for charity. One veteran nearby had calves that looked like they'd been turned on a lathe. He stood motionless, staring ahead as his soigneur applied what must have been teak oil. There was little banter but a palpable buzz. Cleats clacking as riders edged forward within the pens to claim a yard or two.

The start of the LRP is quick and aggressive. The first 15km an all-out, adrenalin-inducing sprint in an attempt to avoid getting snarled up at 'bottleneck bridge'.
Fast. That's pretty much my only memory of the first half of the race. We went fast together. Then we went even faster with the help of a team of eight Belgian lads in sky blue and brown team colours. No Alpine vistas to distract. I spent more time admiring the counter on my new Garmin than I did taking in the views.
Top marks to the other brother, he'd done his homework. As we hit the coast at Ault he made the call to drop into granny gear and we were able to spin up a steep ramp up and out of the town as others toiled. Victoire. With the wind at our backs, we coasted along a boardwalk through the sand dunes at a relentless pace.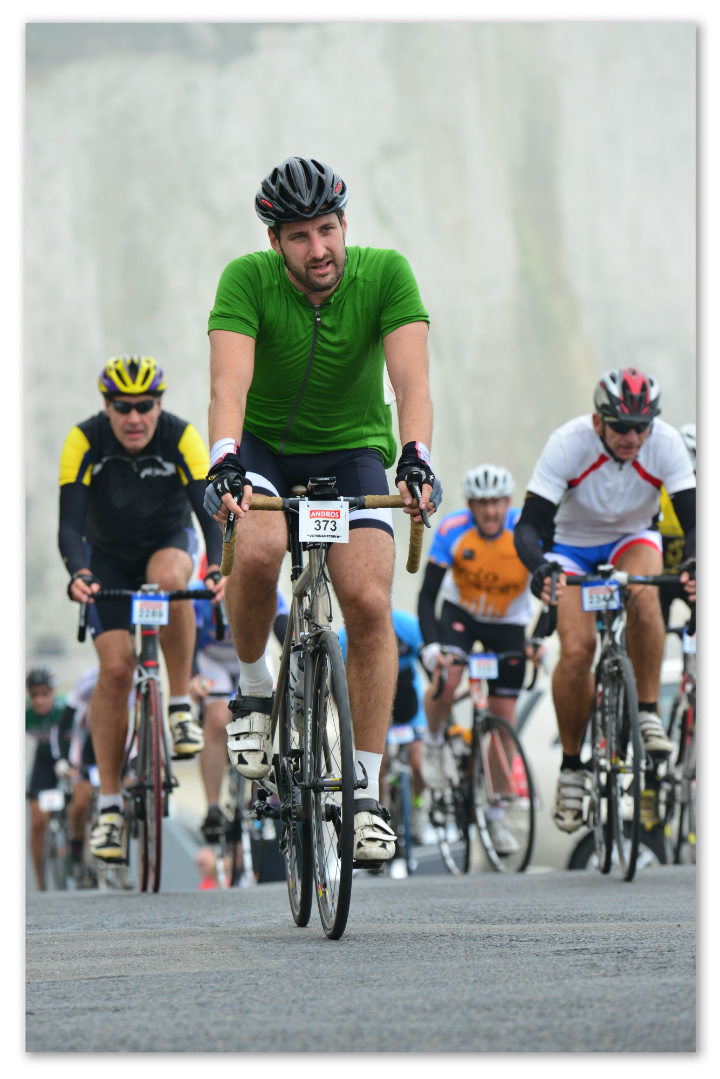 At the first feed station we barely paused to fill our bidons. Eyes bright and blood up. Pumped and eager to push on, we were lucky to avoid a pile-up as impatient riders in the pack ahead of us touched wheels and skittered across the road.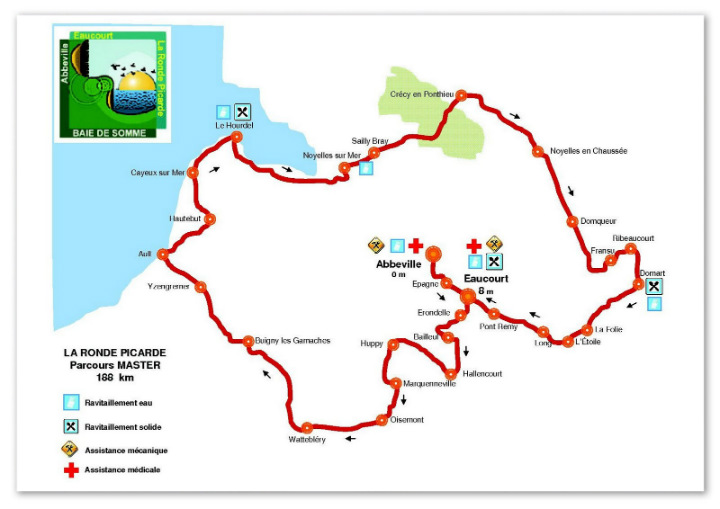 The Baie de Somme
Then inland again, through the rutted, stubbly fields of the Somme, the landscape rendered featureless by a low-lying mist. And suddenly, inexplicably, I just couldn't keep pace with the groups any longer. Dropped by one, then another. We were isolated. My head began to loll to one side - a telltale sign of fatigue.
Clouds gathered above. Roads narrowed as we entered the gloom of a pine forest. And I went to a very dark place.
The other brother valiantly took on the role of domestique. Dropping back, feeding, coaxing, berating, pulling me along as best he could. Even the blessed Soreen couldn't revive me. I urged him to go on. To leave me and claim the gold medal time that was rightfully his. But he disobeyed orders, damn him, and dragged my limp, lifeless body back from behind enemy lines.
Over the first 120km, we'd averaged 35kph. We didn't hit that speed again for the rest of the ride. Instead we were forced to watch our precious average drop with every passing kilometre. Like fine sand falling through the fingers.
Then, the organisers go and throw in a hill. A big hill. And to make matters worse, a gratuitous hill. Not even on the route map. Up to the top and back down the same side. Totally uncalled for.
It felt like I had a flat. I did indeed have a flat. Never have I been so glad to have a flat. A merciful slow puncture. I took my time inflating the tyre, took a breather and caught my second wind.
Everyone's a winner
With only 20km to go, we decided to forego the second feed station and push on for gold. Mistake. Turns out 20km is a long way with 165km in the legs.
My turn to take the captain's armband as we went into extra time. Chirruping away like a wicketkeeper encouraging his strike bowler. Blocking and tackling the wind. (Frankly, we needed every metaphor going).
Then, in the distance, sunshine bouncing off an inflatable arch. It was done. We started with the biggest of bangs, but ended with a carb-starved whimper, missing the cut-off for a gold medal time by minutes.
Thankfully, French beer is golden. Cold and frothy too. A few pints eased the disappointment, dulled the pain and helped us through the 10km ride back from Eaucourt to Abbeville. And when we went to collect the medals, the last laugh was ours. They were all silver.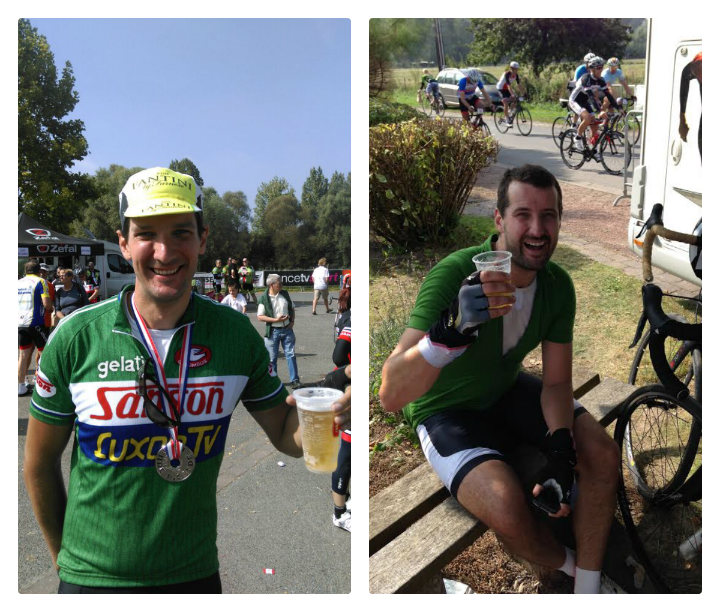 The other brother
Broleur present a united front on most cycling subjects, especially if those subjects involve coffee, cake and ale. But the one major topic that divides us, the Grand Canyon-sized rift, is riding apparel.
Some things are non-negotiable. Socks must cover ankles but shall not extend beyond the mid-calf region, while shorts are always black. But that is where the consensus breaks, the niceties grind to a shuddering halt. This was never more evident than at La Ronde Picarde.
First, jersey selection. We agreed to wear sprinter's green. But while the other brother extols the virtues and warmth of Merino wool and the classic look, I tend to plump for retro team jerseys - the more garish, the more obscure, the better. Grandpa in his cardigan meets the Spice Boy.
Second, bib shorts/leg warmers. The other brother opts for maximum coverage and optimal heat retention, while I still haven't worked out how to successfully de-robe to use the toilet and therefore stick with the humble, bog-standard shorts. There's just something more manly about going out with bare legs in all conditions. You didn't see Eddy Merckx swanning around in leg warmers.
But I guess ne'er the twain shall meet, so we'll just have to agree to disagree.
Which brother has got it right? What's the best cycling look? Let us know at facebook.com/broleur or on Twitter @broleurcc.