Mountain biking in the Elan Valley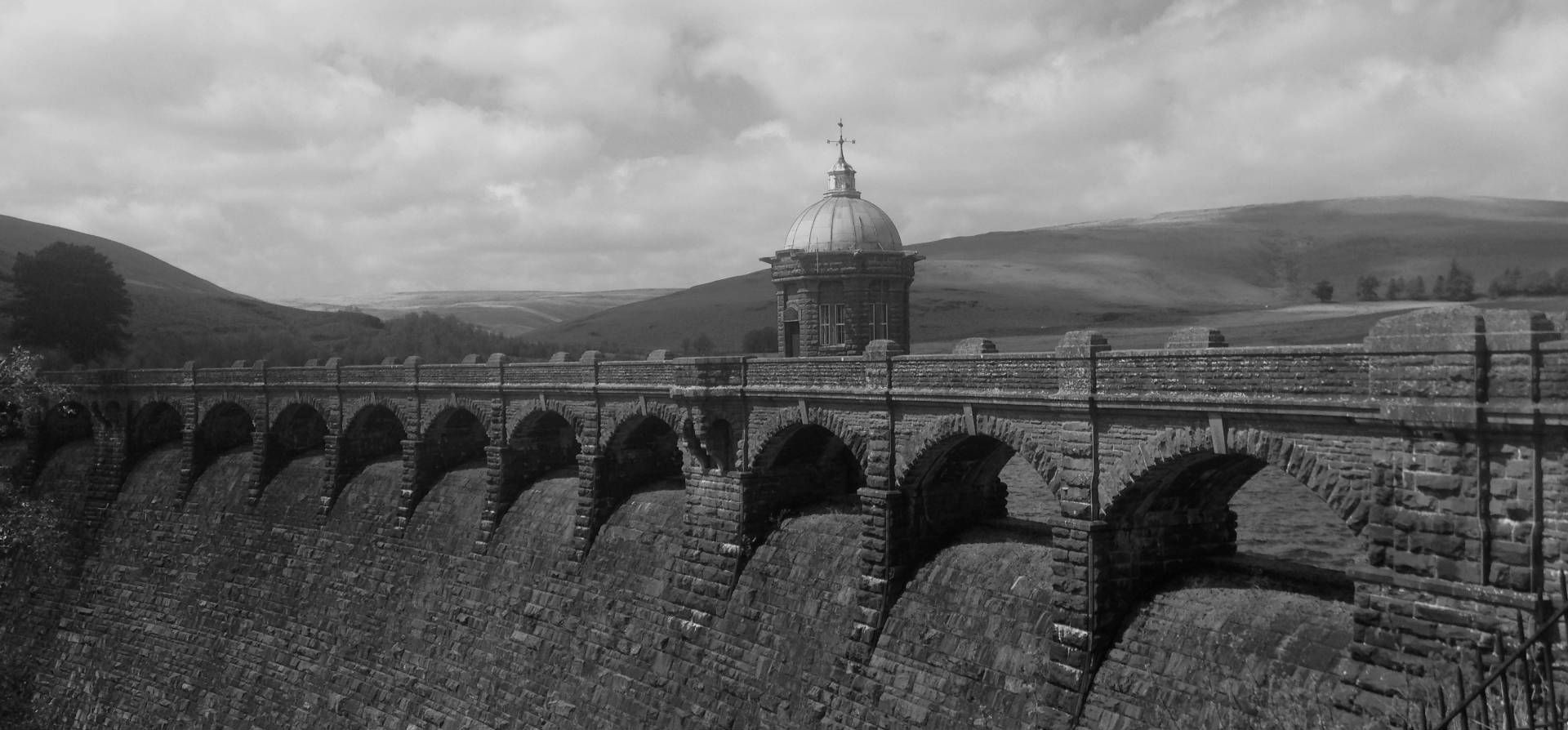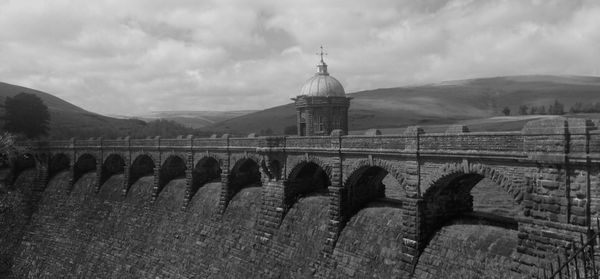 Make no mistake, Broleur are most definitely 'roadies'. Give us a stretch of smooth-as-marble tarmac over a rutted, boggy, boulder-strewn country trail any day of the week.
Mountain-bikers and MTB in general were snootily dismissed by this half of Broleur. Afforded the kind of disapproving look public school boys reserve for kids from the local comprehensive.
Still, the chance to join up with the other brother and his mates Sim and Damo for a weekend cycling off piste was too good an opportunity to turn down, despite Damo clearly being on a war footing in the email exchanges beforehand...
Don't you worry about my training, I've gone old school, shunning technology much like Rocky did in Rocky IV when he faced Ivan Drago and the technological might of the USSR.
Then there was this...
I'm bringing my Spartacus stunt-pegs to take out my fellow gladiators. It is a bike to the death, right?
Pirates of the carry bidon
Sim, a veteran of the knobbled tyre (Broleur's equivalent of Jon Snow, the King of the North) had done a top-notch job of organising the weekend, sorting everything from the B&B in the village of Rhayader to a guide for the two days, Phill. Broleur was joined by Gladiateur, Mountaineur and Navigateur.
Convening over a few local brews around a flickering fire on the Friday night, Phill told tales of what the Elan Valley held in store. Puke Hill, Bonk Hill, the Sunken Road, the Black Run... like names from a pirate's treasure map. We were soon to discover they were given those monikers for good reason.
The other brother and Sim brought their own mountain bikes, Damo and I rented from a friendly local bike shop. It took a while to get used to not clipping in and out of the pedals and the suspension as we headed to Elan Village and the first big climb, Puke Hill.
While fearsomely steep, ramping up to about 20%, luckily it was blissful bitumen so I was still in my comfort zone. Plus I didn't vomit. Bonus!
Out along a bridleway only for things to take an uncomfortable turn for the worse at Rhiwnant Farm as we entered the Sunken Road, a testing 3km of water, stone, water and more water.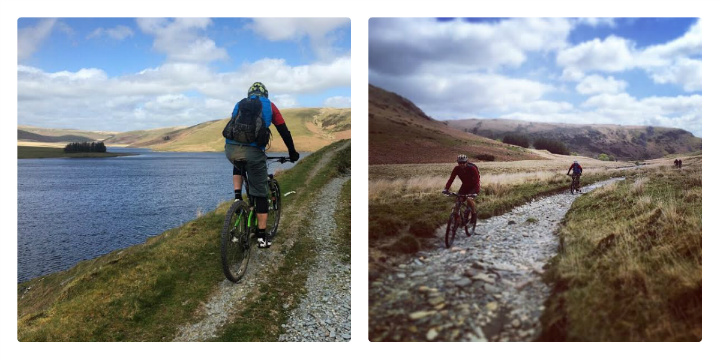 Phill, Sim and the other brother forge ahead, while I try to keep up with Damo at the back. Damo takes a bath in a huge cold puddle, more of a lake really, and I instinctively laugh. Guilt washes over me, even though he's unhurt. It could so easily have been me if I wasn't such a coward, meekly following his line.
Airy hairy fairy
We push on past the awe-inspiring Claerwen Dam to the day's big descent, the Black Run. This is where I fill my pants. I've never been a good descender at the best of times on roads, let alone on something insanely steep and filled with an infathomable amount of jagged, sharp rocks with my name on them. Might as well have been headstones. Cue some wise words from Phill...
Just let the bike go where it wants to go and, remember, don't brake hard.
Sage advice. Sadly I didn't follow it. Bouncing down between the rocks, swearing under my breath, I was OK until I hit a sharp left at the end. I'd been warned about it. I'd been told, goddamnit, and what do I do? I hit the brakes.
Error. In a split-second I'm sailing through thin air, bike left behind. Just me and the barbed-wire fence ahead for company.
But then a miracle happens. Somehow, despite having all the flexibility of a steel girder, I land, cat-like, on all fours. Nothing broken, not a scratch.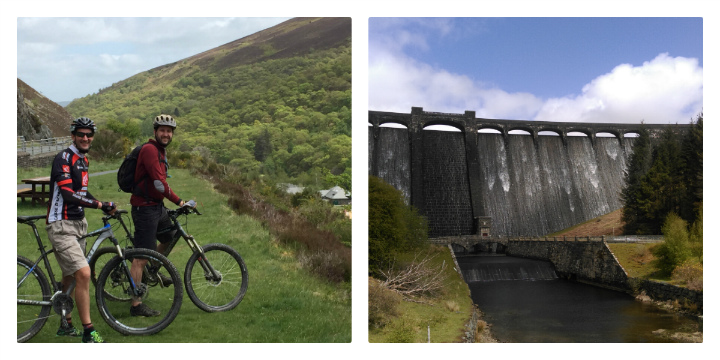 Brushing it off like nothing happened (while secretly thanking a higher power), the quintet race along a gravel track past the Caban-coch reservoir to the major test of the day, Bonk Hill.
Now this one is fully deserving of its title. It's gruesome. Grassy, boggy and unrelenting. At least 20-25% in places. Welcome to Misery, Population: You.
I managed to surge ahead. This was where I'd show who was the true KOM. Roadie versus MTB. Only one victor.
About 100m from the summit, glory within grasp, I spot Phill coming past out of the corner of my eye. A vain attempt to respond but the legs have nothing left, the well is dry. Beaten but unbowed.
Sim, meanwhile, was clearly saving himself for the hairy descent back to Rhayader - a dirt bowl and ramps where he is in his element. Stunts and jumps galore.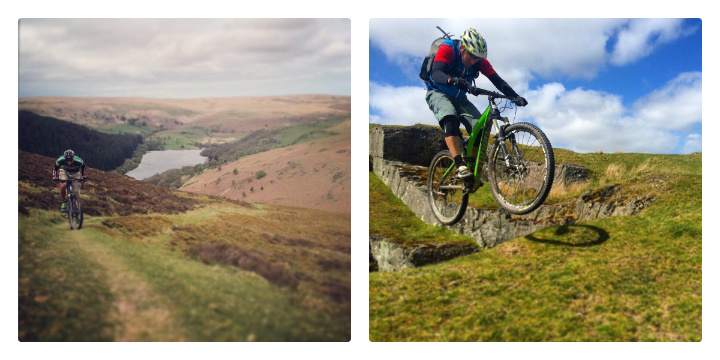 The roast dinner at the Horseshoe Guesthouse that evening was devoured with relish, as were several ales, before an early night, leaving the youth of Rhayader to their alcopops. We had more pressing matters than a bottle of WKD. Weary limbs needed rest in readiness for Day Two.
Back to black
With a hearty breakfast inside us (or two in the case of Damo, who has a Sarlacc pit for a stomach), we headed past a waterfall near Craig Ddu and into the Ant Hills. Nothing small about them, although we were at crawling pace.
Then out on to a challenging mountain road (yes please), followed by a slog up Treheslog. However, these were mere soupcons, miniscule hors d'oeuvres, before the stomach-churning main course of Black Cottage Hill.
If Bonk Hill was bad, Black Cottage was different gravy. Starting off on a gravity-defying gravel path, you'd think it couldn't get any steeper.
Oh but it could. On and on and on, with stones soon swapped for mud and grass so it was harder to get any purchase. Pedalling furiously and getting nowhere. Black Cottage made me realise why I'll always be a roadie at heart. At least on tarmac, you get out what you put in. Finding it tough? Go harder and you'll get to the top quicker; you'll get your reward.
There were no rewards here.
Actually, that's a lie, an embellishment. Joining Phill at the summit, our prize was a glorious view of what seemed like the whole of Wales, wrapped in a heart-swelling sense of accomplishment at having made it. For the brave of heart, a fast and scenic descent down Rhydoldog and a similarly speedy bridleway to the River Wye and the finish in Rhayader.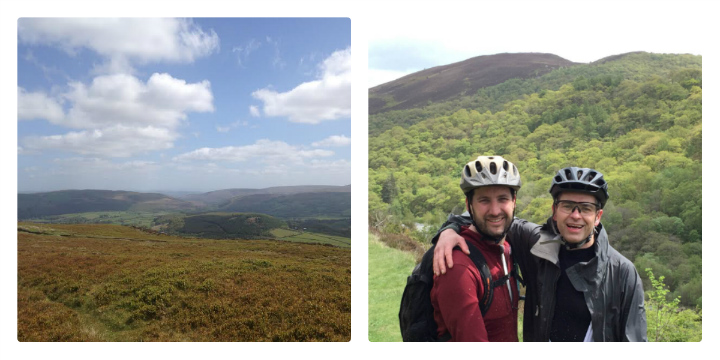 So all in all, a superb weekend over a testing and terrific parcours. Am I an MTB convert? No, but I'll look upon my baggy-short-wearing brethren with more respect and reverence from now on. Chapeau!
The other brother
Now the other brother has bonded with my mates in the mountains, one of my few ambitions in cycling is to persuade my pals to partake in a proper road trip. But what would persuade them?
Nobody can quite believe Sim's metamorphosis. Twenty years ago he entered his mancunian chrysalis a chain-smoking slacker. He somehow emerged the Bear Grylls of the North (with a more sophisticated palate) and has since conquered the Alps and crushed the Himalayas. The mountains are his manor. Partial to a bit of technical outerwear. A serial upgrader of kit. Sadly, thus far it's proved impossible to coax him into lycra.
If anyone was born to ride, it was Damo. He never leaves anything in the tank, or on a plate for that matter. A tenacious, turbo-training terrier. A pasta-powered master of the mixed grill. An ale lover and a fighter. This man would make the cannibal look like a vegan - on a diet. He even eats the shell of his crab claws.
Mad Marsh discovered the glories of the road years before any of us. Glutes of steel forged over long lonely rides to Jubilee Tower and back. A natural athlete now hidden away inside a sedentary Soho screening room. A caged beast. It would take something deeply special (not to mention cheap and convenient) to draw this cycling recluse out of semi-retirement.
So... Mountains. Gear. Easy. Beer. It would have to be Italy and the Dolomites. To the Stelvio my friends... (one day).
Check out our Facebook page and follow us on Twitter @broleurcc