The Paris-Roubaix Sportive
The Paris-Roubaix Challenge covers 175 kilometres, with 54 of them over horribly bobbly cobbles. Where would the pleasure possibly be found in that? Not the perineum, that's for sure.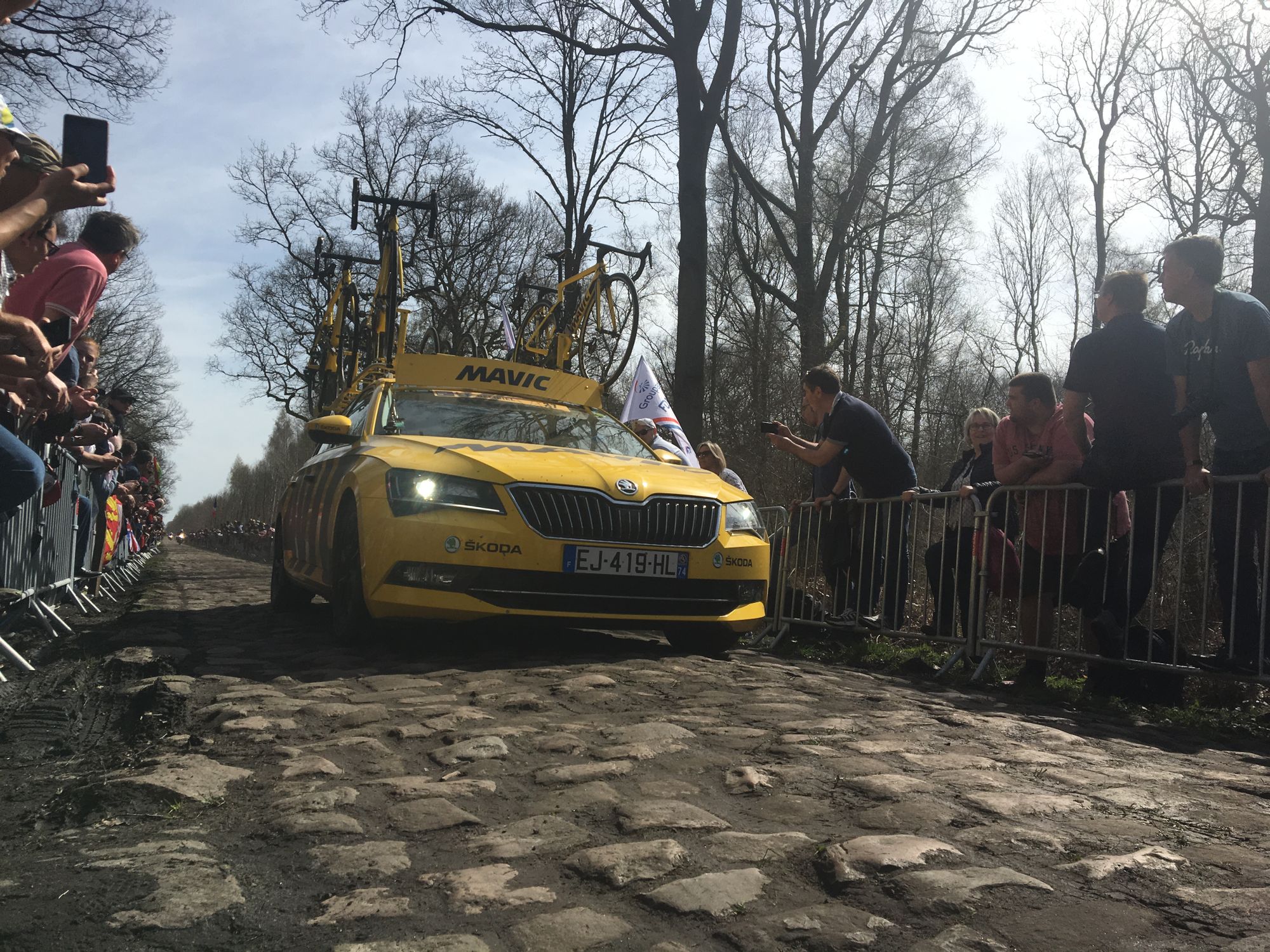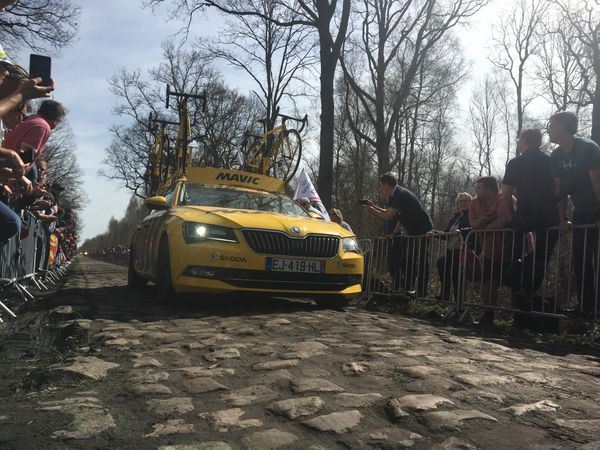 It is absolutely possible to over-estimate the difficulty of a ride. To catastrophise the climbing, or dramatise the distance. Don't underestimate what you're capable of on two wheels. Don't ever let fear hold you back from clicking the 'enter' button. Look at me. Look. At. Me. You can do it. How can I be so sure? Because we rode Paris-Roubaix.
L'enfer du nord: the hell of the north. I distinctly remember us agreeing after the Tour of Flanders that nothing could tempt us into taking it on. 175 kilometres with 54 of them over horribly bobbly cobbles. No way. Where would the pleasure possibly be in that? Not the perineum, that's for sure.
Four years on and we'd chalked off Liège-Bastogne-Liège and the Amstel Gold Race. Spring 2018 was lacking some lustre. There was a cobble-shaped hole in the Broleur trophy cabinet. It had to be done.
But there was little of the usual lip-smacking relish in signing up. Our taste for torture was tainted. Nerves were still damaged - literally and figuratively - from the tendon-numbing bitterness of the Amstel Cold Race. The sun couldn't possibly shine in April. Puncture would follow dispiriting puncture. One or both of us was certain to slip on greasy pavé. Injury was inevitable. Three dreaded letters loomed large: DNF.
To be prepared is half the victory
Knowledge overcomes fear, right? So we read reviews, like Sam Challis' brilliant one in Cyclist magazine (not now, read it later), studied GCN how-to videos on YouTube, watched Eddie Merckx' endeavours in A Sunday in Hell and as our day of reckoning approached, pored over the taunting tweets from Les Amis de Paris Roubaix - the fabled keepers of the cobbles. Each in turn only added to the trepidation.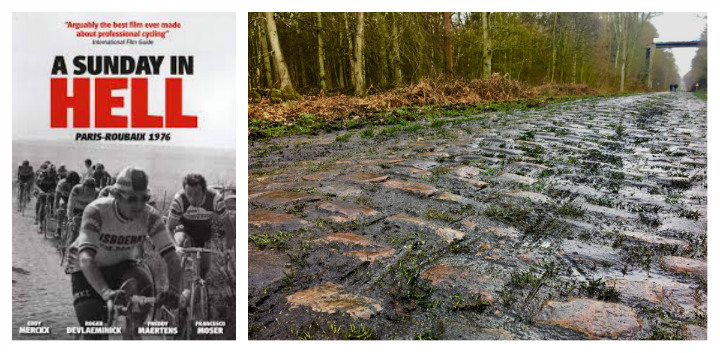 Like drowning men, we clung to the few encouraging words we could find:
"I don't think it is that bad ... I think sometimes people exaggerate how tough Roubaix is."
Thank you Philippe Gilbert, you were our only hope.
We accentuated the positive. The fact we made an early Euro Tunnel departure. The relatively short drive to Roubaix, near Lille. Our little room at the conveniently situated B&B Hotel (ideal for a short spell in solitary). A magnificent pre-ride dish of 'Pancook' at the eponymous restaurant nearby.
We took precautions. A flexing Ergon seatpost, boxer's tape on the hands and enough paracetamol, ibuprofen and codeine to numb me from the waist down. For the other brother, Michelin man handlebars, double gloves and sensible clothes (yes, he learnt to layer). That night in our humble hotel room we assembled two magnificent ancien ham and camembert breakfast baguettes that would be the envy of the entire peloton.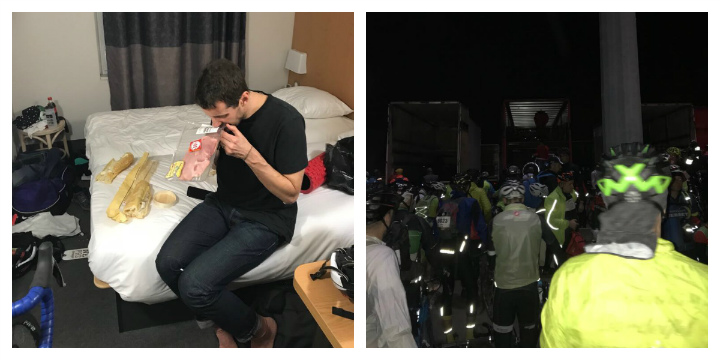 Pre-dawn we drove to a side road close to the Roubaix Velodrome finish and parked. Then we coasted through the still darkness to the coaches and lorries that would transport us 100km to the start. The coach was hushed. The other brother napped. I washed my super-sized sandwich down with flat coke and watched the sun rise over the horizon. In bustling Busigny we rendezvoused with our friend Geiseur and then, fortified by thin coffee, rolled out under blue skies - 'twas a sign.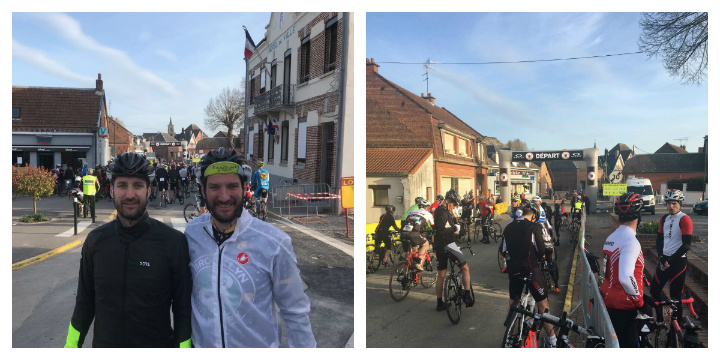 Let's get it on
The first 11km is cobble-free and fast. Smooth road equals high speeds. Geiseur was in fine form leading from the front. We were easily touching the high thirties simply by turning the legs. And th-th-en it-it-it w-w-was up-up-up-on us. The first cobbled secteur. Only th-th-ree st-st-ars, b-b-but enough to rat-at-at-tle the bike, j-jolt the b-b-b-body, and leave the fingers buzzing like the tines of a tuning fork.
It was like attaching electrodes to your nipples and experiencing a mild electric shock (I'd imagine - because I've never done that, right). Somewhat unpleasant, but the anticipation was way worse than the reality - at least to begin with.
We had been given a top tube sticker listing the 29 sectors, with their distance from the start and star ratings for difficulty. A pattern was established as we worked our way down the list. Cruise over four, five, or maybe seven kilometres of very gently undulating roads before bouncing unceremoniously over a two or three kilometre interval of cobbles. Ten minutes of gain followed by five of pain. No guts, no glory.
Hit terminal velocity and it's claimed one can "float" over the pavé. Absolute bollocks. I didn't see anyone floating over anything - apart from the smug mountain bikers flying past on their fat-tyred 29ers. It's possible on some stretches to skirt the worst of it by taking to the gutters, but early on we decreed that "real men ride in the middle" and chose the path of most resistance (at least when riding in view of each other).
There's no point in dawdling and dragging out the displeasure. It's simply a case of picking your gear, holding your line and going for it. Maybe it was marginally smoother riding down the central hump of the roads, maybe not. Perhaps the three star sections were easier than the four star sections, hard to say. Would you rather sandpaper your eyeballs or take a hammer to your teeth? It's just not nice, either way.
Every one of the 29 sectors claimed its victims. Bidons were strewn across the pavé like discarded shell casings. Casualties lined the sides of the sectors, tending wounds, fixing punctures and replacing slipped chains. And yet we emerged each time miraculously unscathed, like lycra-clad cats with 29 lives.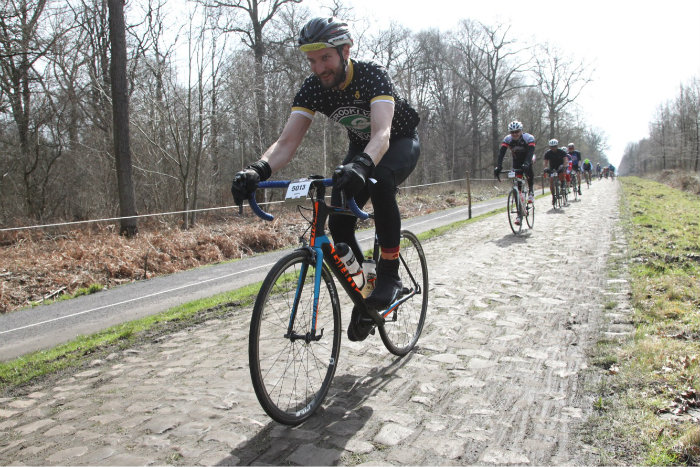 Survivor's euphoria took hold of the other brother as we hit the Trouée d'Arenberg, the interminable trench that intersects the Arenberg Forest. He giggled as he jiggled his way along the most notorious of the three timed sections on the route, clinging to his handlebars as if taming an errant jackhammer.
It's the final countdown
Beyond halfway and blisters were forming on red raw palms. Nobody was laughing now. It simply wasn't fun any more. The novelty had completely worn off, together with the epidermis. Section-by-bum-numbing-wrist-wracking-jaw-juddering-section we progressed. Six sections to go. Five to go. Then the final five-star section of the Carrefour de l'Arbre. Just three left. Then two. And one. Virtually done.
The joy of knowing we would complete was exquisite. There was definitely a sprint finish left in the legs, but the red lights of Roubaix were having none of it. A ceremonial half-lap of the sun-soaked velodrome and it was over. The biggest worry now was whether the beer kegs would run dry.
Would we do it again? Most likely not. But would we recommend others give it a crack? Absolutely. Your palms may not thank you, but your palmares will certainly look a whole lot better.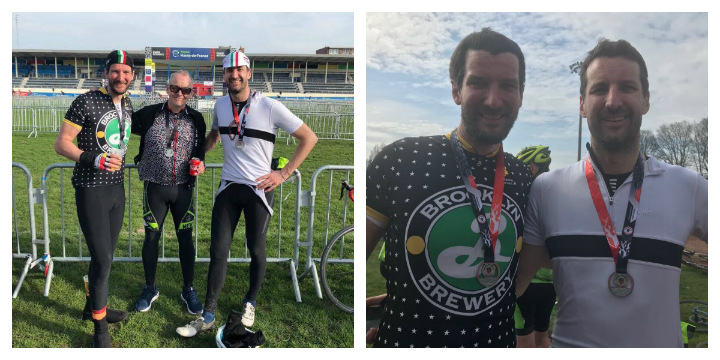 The other brother
It's hard to beat the feeling - a mixture of elation and relief - when you conquer an iconic climb like Ventoux, Stelvio, Tourmalet, Alpe d'Huez or Galibier. And in the Monuments, the Koppenberg and La Redoute are tackled with a heady cocktail of heart-thumping fear and sweaty-palm excitement.
But there is barely a hill, let alone a proper climb, in the Paris-Roubaix Challenge, so I had to get my 'fix' elsewhere.
The Arenberg Forest provided it. Arrow straight and flanked by trees (admittedly no great surprise there, the clue is in the name), it's instantly recognisable and foreboding. It sounds overly dramatic but I could almost hear the chain slap of the legends who have hammered across this absolutely crazy stretch of cobbles as I bobbled all over the place.
I knew it was going to be lumpy but, unless you've done the Arenberg before, you can't begin to imagine just how calypso it is. I was slow, torturously tortoise-like, but I honestly didn't care. I even found myself chuckling in disbelief.
Passing through the black banner to signal the end of the endurance test, with no punctures and both bike and body in one piece, I was buzzing and couldn't stop smiling. The Broleur brothers had just done the Arenberg Forest and no one could take that away from us. More importantly, I learnt that you don't need a big climb for a sportive to sear itself into your memory.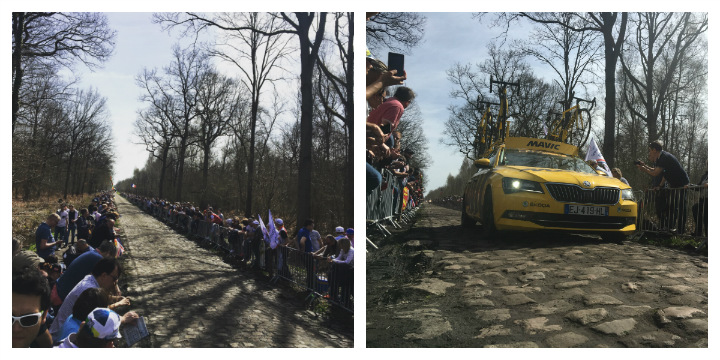 We returned the next day to watch the pros, over a few cold Jupilers, power through at roughly three times the speed we managed.
But then there were the stragglers, left behind long ago by the peloton, grinding their way through, despite having no hope of having any impact on the race. They also just wanted to be able to say they'd done the Arenberg, completed Paris-Roubaix.
We urged them on with shouts of 'Allez!' and 'Go on!' We knew what they were going through and what it meant to them. We'd been there.
Check out our Facebook page and follow us on Twitter @broleurcc