Top 10 toughest cycling climbs in the Kent Alps
Broleur ranks and rates the steepest hills of the infamous Kent Alps. Yorks Hill, White Lane, Toys Hill and Westerham all make the list - but what's our number one col?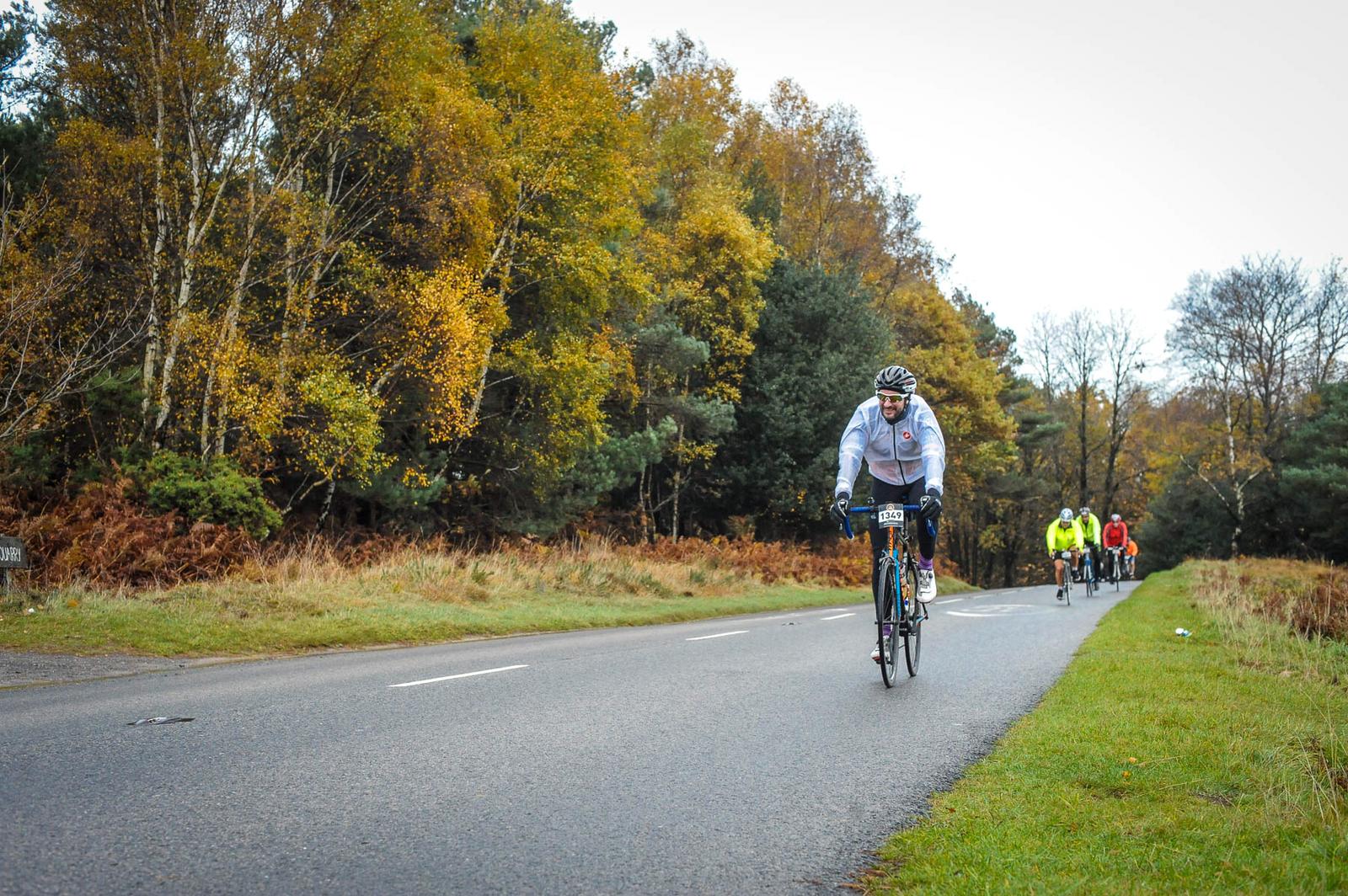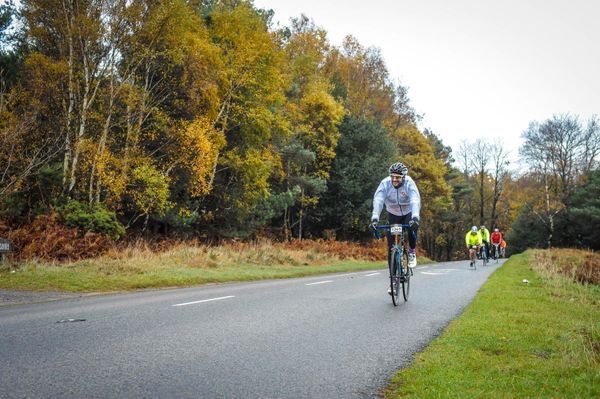 I must be a glutton for punishment as I've always loved climbing.
It can sometimes appear very different as I slog my way up the Kent Alps, cursing, sweat dripping into my eyes, legs on fire, pedals turning square...yet I keep returning for more.
Maybe it's the promise of a chocolate cannoli and flat white at Westerham's Deli di Luca that keeps me going. Perhaps it's the need to live up to Broleur's moniker 'The Mountain Goat'. It could also be the feeling you get, the rush of adrenaline, when you see the summit and realise you're going to make it. When you've taken all that the hill can throw at you and you've beaten it.
In fact, it's probably a combination of all three.
So, having cycled up, down and all around south-east England in the past two years, here are Broleur's top 10 climbs in the Kent Alps. If you disagree, or we've missed one out, please let us know on our Facebook page or via Twitter @broleurcc.
10. Carter's Hill
On the recommendation of Johnny Edwards, Broleur was dispatched in Flandrian conditions to see if Carter's merited a place on this distinguished list.
Head out of Sevenoaks along the A225, take a left on to Bank Lane and a left again at the junction to get to Underriver and get an energy gel down you, for Carter's Hill awaits, aka One Tree Hill.
Don't believe the hype, there are loads of trees, plus a tempting-looking pub at the bottom - but you're not here to imbibe ale, that can wait.
The start of the climb is gentle enough but then it brings the hurt - a middle section that will have you out of the saddle at close to 20%. It then eases off a touch, allowing you to regather your strength for the final, steep attack to the top.
9. Boxley Hill
After Andy Wheeler noted that this list is predominantly west Kent, we had to pick up the gauntlet that had been thrown down and head east to try Boxley Hill, just outside Maidstone.
The first 2km of the climb is gentle enough but make sure you leave plenty in the tank because, once you hit the hairpin, it really kicks up for the best part of a kilometre.
At its worst, it's a shade under 24% and had me tempted to dot down a foot but keep plugging away and savour the view - and sense of satisfaction - at the top.
8. Warren Road
There are lots of nice, quiet cycle lanes in the Maidstone area, so please use them and don't do what I did to reach Warren Road and go on the A229. Error. It's basically a motorway in all but name.
Neil Lampert and Jack Austin gave us this tip on our Facebook page and is close to Kit's Coty and Blue Bell Hill. Take a left off Lower Warren Road and there's no easing into it as you're straight into a viciously steep climb.
The road surface is poor and it's claustrophobically narrow. There are three sections of 20%-plus (maxing out at nearly 30%), although as Warren is only 700m long it feels as though they merge into one long grind to the top.
7. Lockyers Hill
Hidden away in the murky woodlands of Kent lurks a monster of a gradient in Lockyers Hill, not too far from Rochester and Gravesend.
Lockyers is short, at just a few hundred metres, but is at 25% for nearly all of them. Looking up as you start the climb, you can't help but feel crampons and a pick-axe would come in handy.
A handy tip is to descend it before turning around at the junction with Buckland Road and heading back up. It allows you to note where the climb really kicks in: a tree on your right covered in ivy - and the top: a yellow gritting bin on your left.
It's narrow and slippy - possibly from the sweat of other riders' exertions - so if a car happens to come the other way, don't expect to set a Strava PB. But it's a damn hard climb, well worth a visit, especially if you combine it with the No4 on this list, Vigo Hill.
6. Toys Hill (South Face)
The north face of Toys from Brasted is a long and steady climb but it's the south face that separates the wheat from the chaff.
Almost immediately after taking the left turn from Ide Hill Road (B2042) the road surface disintegrates and then ramps up, so you'll be out of the saddle for most of it.
You should be going into the red when you hit the row of houses on your left and you think that you're past the worst part. But, oh no, Toys kicks on again, draining the last ounce of energy out of you before you hit the Fox & Hounds pub (well worth a visit for the thirsty cyclist) at the summit.
5. Downe Road (aka the 'Downerberg')
Once you hit the village of Downe, take a left at the junction and head down Hangrove Hill for a real test of your mettle on the Downerberg.
Be careful on the way down, there's a long, blind corner and cars tend to come flying up in the opposite direction, which unfortunately means you'll hit the Downerberg with virtually no momentum.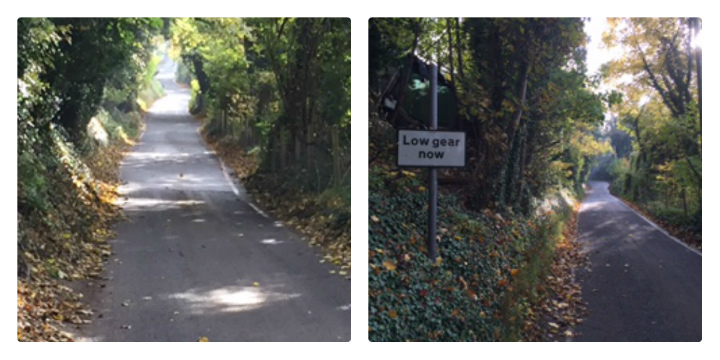 The first bit is manageable but then comes the sledgehammer as it ramps up to 25%.
You'll be in the great-grandmother of granny gears as you reach a blind, left-hand turn. But it doesn't stop there. This bad boy then veers up again as you drag yourself up to the junction with Cudham Lane. You'll certainly be blowing by then.
4. Vigo Hill
This was a fantastic suggestion by Peter Nuttall of the Cycling West Kent Facebook group - and by fantastic, I mean ridiculously tough.
Probably the quietest and prettiest approach to Vigo Hill from London is along Pilgrims Way - both West and East versions - until you eventually reach the lovely villages of Wrotham and Trottiscliffe.
At Trottiscliffe, take a left on to Taylors Lane, which gently lulls you into a false sense of security as it slowly rises up. Curve round to the left and ka-boom, Vigo hits you straight between the eyes.
It feels impossibly steep, in places it's more than 25%, but you do at least have a target on which to focus your efforts - a bridge - so just order your legs to get you past that and you're over the worst of it.
At the top, I recommend you reward yourself by locating nearby Trosley Country Park and its Bluebell Cafe, where you can get an amazing bacon sarnie - thanks for the tip, Geoff Hunt.
3. Westerham Hill
The first time I attempted this beast with the other brother, I was on the verge of either ditching the bike and walking or hitching a lift by grabbing on to a passing lorry. It was that exhausting.
It's the deadly combination of hard gradient, poor road surface and the constant stream of traffic going by that destroys your mojo.
It's just a soul-sapping experience - again, you think you've reached the top as the road winds to the left, but you're mistaken. On and on it goes until you reach the bus stop at the top.
2. Brasted Hill (aka Barsted)
Broleur renamed this gruesome climb after struggling up it on a wet and cold winter ride. Along Pilgrims Way, there are six good climbs but Brasted is the hardest of the lot.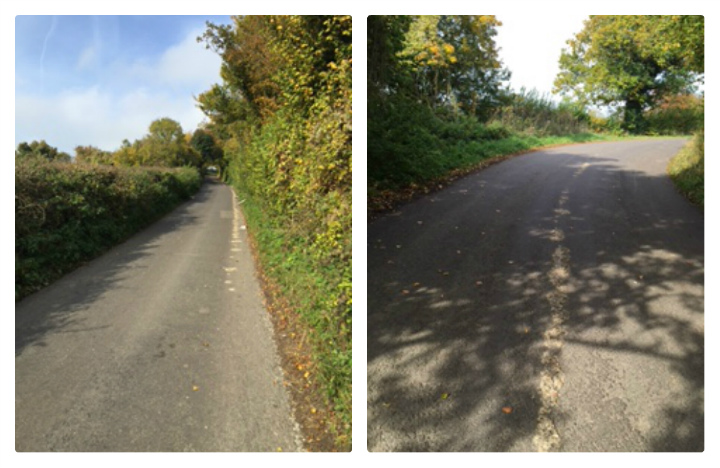 Barsted doesn't let up once you get into the steep part of the climb and you also have to navigate its lunar surface with potholes aplenty.
You reach the aptly-named 'Agony Corner', the pedals are barely turning, and your heart sinks when it dawns on you that it isn't the summit and there's still another 100m or so to go.
But plough on to the farmhouse on your right before giving yourself a well-earned pat on the back for taming such a tough climb.
1. Yorks Hill
If you want a taste of what the Koppenberg or Paterberg are like in the Tour of Flanders, then you should try the vicious Yorks Hill.
It's basically a dirt track and so narrow that there's barely enough room for you and your bike, let alone a car. It's muddy, rough - like cycling in treacle - and so steep in places that it knocks the stuffing out of you.
If there is one hill that nearly defeated me, this is it. I was this close to quitting. It's the grittiest of climbs, taking you to the limit, but you just have to grind it out and remember it will end.
And when it does, you can take a left and head to Ide Hill cafe for the reward of a bacon sarnie and a stunning view of Bough Beech Reservoir.
OUT Hollingbourne Hill
Hollingbourne is worth a visit if for no other reason than to stop by The Dirty Habit at the base of the climb for some refreshment. The food looked amazing and they have Curious Brew on tap, a lovely drop.
I rewarded myself with a pint of the good stuff after finally following the advice of Andy Wheeler, Benjamin Insall, Richard Cottam and Nick Frawley to give Hollingbourne a try. It's about 10km away from the No9 on the list, Boxley, so both could be done on the same ride.
Unlike Boxley, there are no switchbacks and no instantly noticeable change in the gradient, Hollingbourne just gradually gets steeper and steeper - and hence harder and harder - until the final 200m or so are pushing 20%.
OUT Birling Hill
Most hills in Kent tend to be of the short, sharp variety but if you fancy a longer climb, then give Birling Hill a go.
Recommended by Duncan Neish on our Facebook page and in the comments section by Steven Rodgers, Birling is a beautiful 2.5km climb close to the homely village of Addington (was so tempted to visit the local pub and/or retire there).
The first part is delightfully easy-going and you can build up some good momentum for what lies ahead. Compared to other climbs in Kent, there's room for a vehicle to pass, the road surface is fine and dandy and the gradient isn't too heinous (maxing out at a nudge over 16%).
But where it will grind you down is the length - there's no let-up for about a kilometre and, while it won't have you cursing at the cycling gods, it isn't one that you can just punch through out of the saddle. At some point, you'll have to dig in and just hammer those pedals.
With the roots of the trees by the side of the road exposed, Birling reminded me of some of the climbs in the Surrey Pyrenees. That or the Shire from Lord of the Rings. There are some nice views out to your left as well, if you're not too out of breath. It's well worth a visit if you're in the area.
OUT Sunningvale Avenue
Very close to Biggin Airport, this climb comes out of the blue. You're cycling happily along on a lush carpet of a road then wham, you suddenly find yourself off piste, going up a steep and narrow road with potholes and loose stones all over the place, and a gradient that must be 20% at the least.
The only plus is once you reach the top, you can take a left and enjoy a long and speedy descent all the way into Bromley.
OUT Lusted Hall Lane
Not far from Sunningvale Avenue, this ridiculously steep climb kicks in instantly once you take a left at the bottom of Ricketts Hill Road. There isn't much space, it's unrelenting and above 20% in places.
Once you've bypassed the field of onlooking sheep, it eases off and you can take a moment to get your breath back.
OUT Saltbox Hill
At the crossroads at the top of Layhams Road, take a left, head down Jewels and get those legs spinning for Saltbox.
It's a fairly relentless churn to the top - a junction by Biggin Airport – so take a right, let the legs recover a bit and head to Westerham, where bigger and badder beasts await.
OUT Jewels Hill
We thought Saltbox Hill was bad enough - until Broleur went the opposite way and discovered this 'jewel' in the climbing crown. Like what I did there?
It's tough, really tough in fact, with a thigh-burning middle section that hovers above the 20% mark and where you're just praying it will give you a break. It flattens out eventually but you'll have used up one of your three 'matches' in the process.
OUT Magpie Bottom
Thanks to Reg Oakley and the members of Cycling West Kent Facebook group for the suggestion of Magpie Bottom.
Close to the village of Otford, take a right on to Fackenden Lane from the A225, where you'll have a good warm-up for Magpie as the road rises up immediately through Doctor's Wood.
Carry on to the fork in the road, where you veer left on to Magpie Bottom and a bit of a hairy descent before going up the other side.
It's a fairly intimidating start to the climb with the road narrowing - Reg described Yorks Hill as "a motorway" in comparison - and plenty of mud and woodland debris to throw you off kilter.
But just get into granny gear, bang out a steady rhythm with your cadence and you'll be OK. Sure enough, it does flatten out a bit before the gradient pushes up again towards 20% to the summit.
OUT Fordcombe Hill
This little beauty is always included in Broleur's round trip to the Velo House in Tunbridge Wells.
Approach it along the B2188 from the beautiful village of Penshurst and you get a lovely downhill section where you can really build up some momentum for the climb ahead.
The first part is fine and dandy but then the gradient starts to wear you down after you take a left, about two-thirds of the way up.
By the time you reach the sign for the village, you think you've conquered it, but it keeps going and going. Plus there always seems to be an audience of old ladies outside the bus stop at the Village Hall to witness your expletives combined with the inevitable glob of spittle on your chin.
OUT Rowdow Hill
OUT Exedown Hill
OUT Old Polhill
If I thought Yorks was narrow and muddy, that was before I attempted Old Polhill, on the recommendation of Steve Warner from the comments section below.
It's located just off Filston Lane, near Otford, right by the train tracks and is easy to miss unless you're looking at your Garmin/phone.
Unfortunately as it's a bit off the beaten track, it appears to be a haven for fly-tipping. But if you can ignore the washing machines and used tyres, it's well worth a go.
It's not horrifically steep, maxing out at 14%, but the narrowness (in some places two bikes couldn't fit side by side) and the mud (it might be best to try it in the spring or summer) make it challenging. And the fact that it's traffic-free (closed to cars at both the bottom and the top), with a couple of switchbacks make it a pleasant climb. Now, if only the council could clean it up a bit...
OUT Hesiers Hill (aka Sticky Hill)
This nasty little climb earned its moniker when we first came across it during the second day of the London Revolution. It really feels like cycling in treacle.
You can enjoy a lovely descent down Beddlestead before you swing round to the left and the climb begins. It's short, sharp and decidedly unpleasant.
OUT Beddlestead Lane
Obviously if you go the other way, down Hesiers, then you can do Beddlestead.
At 3km, it's one of the longer climbs in the area and is a really good test. It doesn't get horribly steep but gradually saps the legs instead. Be careful coming down Hesiers by the way, not only is there a patch of gravel at the bottom but it also seems to be a favourite dumping ground for fly-tippers.
OUT Fox Hill
If you're more of a puncheur than grimpeur, try out Fox Hill in Keston.
It's only 500m long but ramps up to a gritty 19%. Perfect for those who like to punch through a climb. Even better is there are a couple of nice-looking pubs at the top, which will allow you to pore over those Strava stats.
OUT Ide Hill
Ide is nowhere near as tough as the nearby Toys or Yorks, but it's still a challenge, especially with a good few miles in the legs.
Again, this is one where you probably won't have to get out of the saddle, unless you're an Alberto Contador-style climber, and there's always the carrot of a bacon sarnie and coffee at Ide Hill cafe so you can savour the view.
OUT Sundridge Hill (aka Son of a B*tch Hill)
We'd almost forgotten about Sundridge (the nickname came from my brother's exclamation when he went up it the first time) until we did it again recently in a Bowman Cycles group ride, which is highly recommended by Broleur.
The first part, just when you turn left off Pilgrims Way, is most definitely the worst, so make sure you're in granny gear.
It will feel like that hard section will never end - it's about 400m - but Sundridge does ease up eventually. Make sure you don't do the same, though, as the Strava segment carries on until you're near the end of the road.
OUT Star Hill
Star Hill is another one of those climbs where you reach the start of it with seemingly no momentum whatsoever, as if someone has thrown down tacks on the road.
It reaches up to nearly 15% but once you pass a white house or a pub (I never remember which) on your right, you've got through the worst of it.
It's not all bad though, if it's a clear day, the hedges are cut back and you're not staring at your stem, you can get a wonderful view of the surrounding countryside on your left.
OUT Bower Lane
I'm ashamed to admit I've completely forgotten who recommended Bower Lane (if it was you, then step forth from the shadows and I'll credit you).
Anyway, Bower Lane is a good, long climb at 5km, with a hefty ramp at the start when you take the turning out of Eynsford.
The gradient isn't going to force you to go into the red but that will allow to enjoy some of the beautiful countryside and not-so-beautiful countryside smells of Kent.
OUT Hubbards Hill (aka Old Mother Hubbard)
My brother and I stumbled across Hubbards by accident on a Sunday ride when he said: "Why don't we go this way for a change?"
Hubbards, which Tracey Woolmore recommends/dislikes in the comments below, turned out to be an absolute gut punch and features on quite a few local sportives. It isn't to be taken lightly with a real sting in the tail in the final few hundred metres before you hit the crossroads.
OUT Riverhill
As Martin Kerans says in the comments section, this Riverhill is similar to Westerham in that it's busy with traffic and just distinctly unpleasant as you head towards Sevenoaks.
It's one, however, you can tie in with Carter's and Bayleys before getting to Sevenoaks as fast as you can to get some respite from the lorries that roar past far too close for comfort.
OUT Hogtrough Hill
Westerham, Brasted and Sundridge are all meaner than Hogtrough but it's still worthy of a mention.
It's just off Pilgrims Way, between Westerham and Brasted (the oft-ignored middle child) and leads you out towards Cudham.
OUT Cotman's Ash Lane
Here's a Broleur shout-out to Colin Stanley, who recommended Cotman's to us.
It's a climb in the splendid village of Kemsing, near Otford, again just off Pilgrims Way. Facts you need to know: 600m long, pretty straight, max of 16%, average of 11%. So not a stroll in the park but nothing too hairy.
OUT Bayley's Hill
Apologies to the person who suggested Bayley's as I've forgotten your name (going to hazard a guess at David Friend).
It's not too far from Yorks in the Weald and could serve as a decent warm-up for the No1 toughest climb in Kent (at the moment), but my brother's reaction to cresting Bayley's neatly sums it up.
OUT Bassetts Lane
Mark Gidney felt Bassetts would be a good tester for Broleur – and so it proved.
You get a good run-up to it in Moat Lane, in Cowden, although the road can be a bit narrow and slippy, depending on the time of year. If Bassetts went on for another few hundred metres, it might be challenging for a place in the top 10. As it is, it has to settle for a spot amongst the nearly-men.
OUT Rooks Hill
Like Broleur, Carter's has an uglier brother (obviously the other one) nearby in Rooks Hill. It's easy to miss, just off Underriver House Road, but is well worth combining the two on a ride.
It's a dead end - unless you own a fatbike and fancy a bit of off-road action - and, as Andrew Zdzylowski says in the comments section, it does feel a lot like Yorks. It's narrow, rutted and very steep, particularly near the top at about 20%.
My wheel slipped twice on the gravel on a perfectly dry, spring day so heaven knows how grim it would be in winter. I might have to revisit Rooks again then to see if it should be bumped up into the top 10.
Main photo credit: big thanks to HARDYCC @hardyccphotos on Twitter and Instagram.
What top Kent cycling climbs did we miss?
Everyone has their favourite, which one's yours? If there's any we've missed, you can challenge Broleur to ride it and we'll post the videos on Facebook.