The Tour of the Hills Audax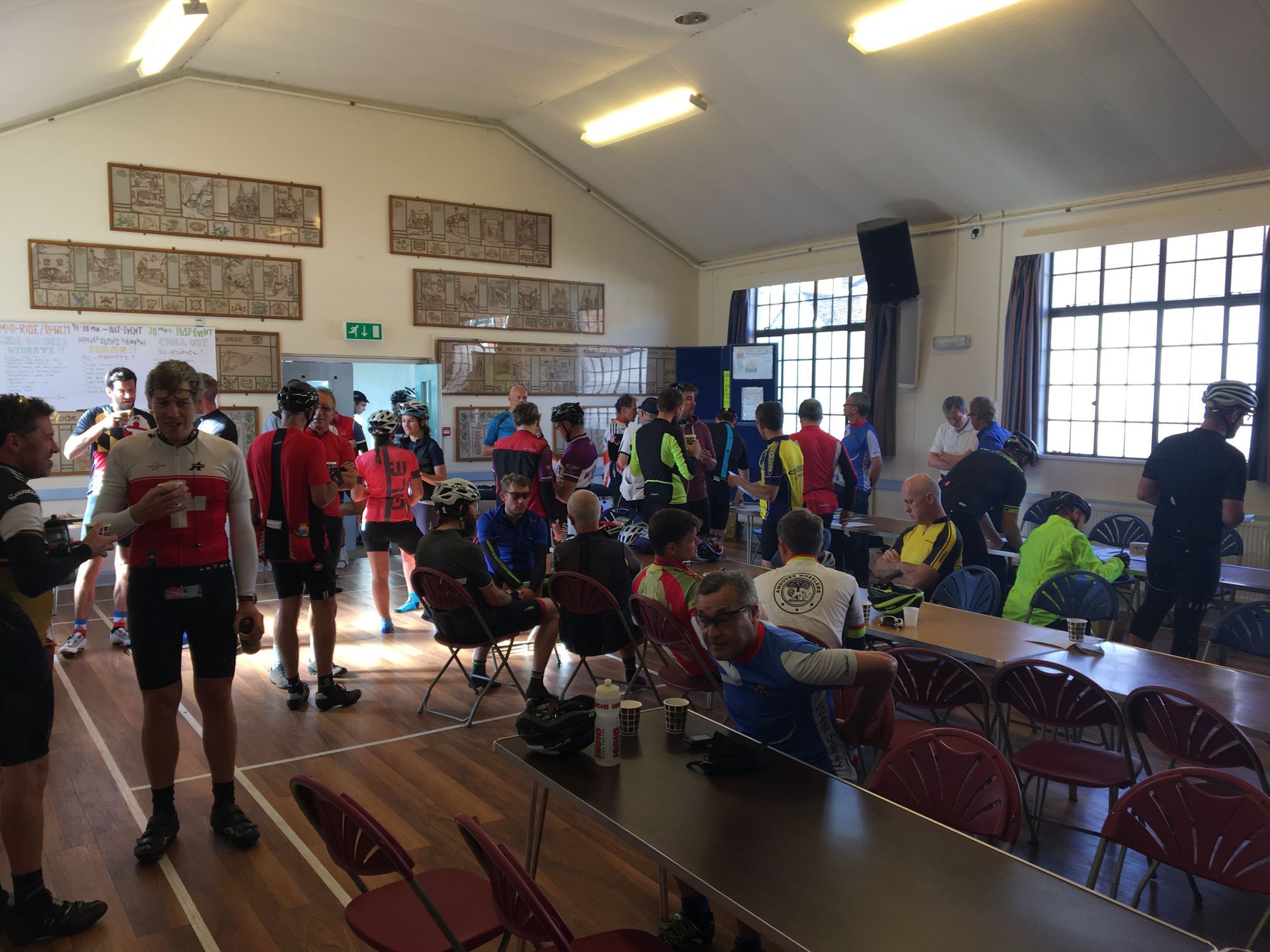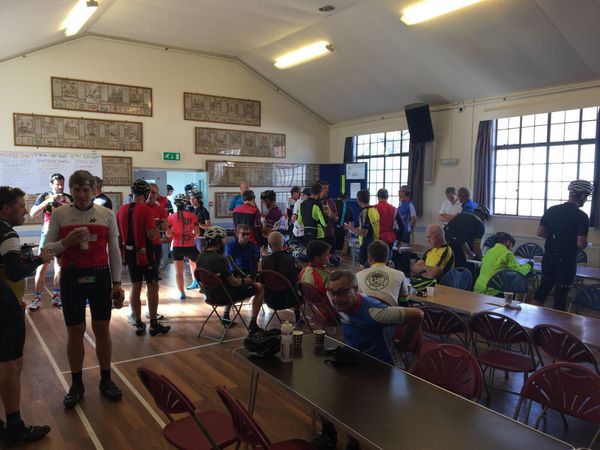 I couldn't sleep. The same thoughts kept circling around like vultures in my head. Where do I go from here? What's the point? What comes next? What does it all mean?
They weren't existential questions that were bothering me. Oh no, it was far more serious than that. I was in a mid-season cycling crisis.
The Marmotte had been the main target all year. Most amateur cyclists will work towards a big goal, and this was ours. Every training ride - even the Amstel Gold, Etape Caledonia and Dragon Ride - had been done with the Marmotte in mind, staging posts to the grand Alpine destination. The be-all and end-all to the season.
Lambrusco Supernova
The high is inevitably followed by a low, though. The problem was our be-all and end-all was in early July. Nearly two months to the next challenge. The Marmotte was like a mid-season supernova. It was brilliant and mind-blowing while it lasted but afterwards it left a giant black hole in our cycling lives, into which was sucked all our energy and desire to get out on the bike.
Domestic rides couldn't escape the pull of the Marmotte event horizon. The same-old sportives over average distances with no iconic climbs just didn't hold much appeal and our training suffered as a result.
Our usual 100km+ rides together on a Sunday turned into 20-40km solo midweek pootles; belts were loosened another notch; the cycling banter between the brothers went from hourly to daily to weekly.
We needed something different. Something to put some fire in our bellies, rather than just beer.
It's all down to Shere luck
Thankfully, one of the Facebook broleurs, Duncan Neish, saved us from a month of navel-gazing and self-loathing by suggesting the Tour of the Hills Audax in Surrey.

An appeal for domestiques was put out on the Broleur CC Strava group and Paul Tippett, one of the Broleur team for Revolve24, stuck his hand up. Great to have him along for the ride. A friendly rivalry... now that really did stoke the fires.
"You're saying there are no bugles to herald the start?"
First, though, I had to Google 'Audax' to see what one actually was. Initially it appeared to be a Sportive Lite. No closed roads, no signs, no mechanical support, no fanfare. Just a GPX file to follow and a start and a finish.
That goes some way to explain the minimal cost - £10 (£8 to Audax UK members) but there is nothing minimal about the distances an audax can cover. Most seem to be between 200-400km long and can go even further. There's a time limit and checkpoints to go through but, other than that, you are left to your own devices. The Tour of the Hills is one of the shorter options on offer, at just 115km, but with about 2,300m of climbing, it is far from a gentle spin (as we'd find out).
It also takes in most of our toughest climbs in Surrey with Combe Lane and its nasty kick of 20% coming almost immediately after we'd rolled out from Shere Village Hall. Obviously we pride ourselves on actually riding the climbs we write about and rate but we usually take in one or two at a time. The Tour of the Hills gave us a great opportunity to do a bunch of them in one go.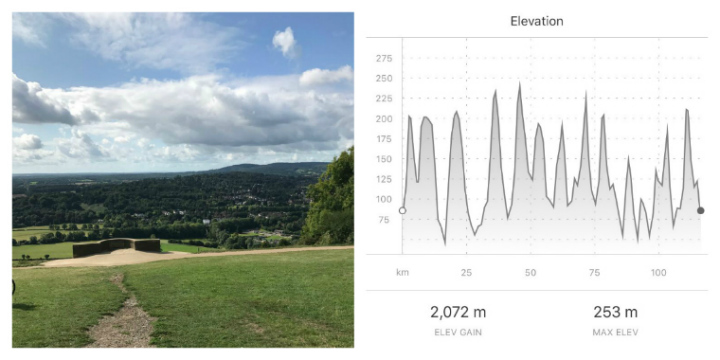 The climbs come in quick succession in the first 65km - Box Hill, Coldharbour Lane, Leith Hill and the very steep Whitedown - but some of the views are glorious in this Area of Outstanding Natural Beauty (particularly the one from the top of Box Hill) and you are always rewarded with a descent to allow you to get your breath back.
Most Surrey hills follow the same pattern: between 1.5-2km long with a gradient of around 7-8% and with about 200m of something a bit more vicious. They're never going to compare favourably with an Alpine mountain, or even some of the climbs up north, but underestimate them at your peril. Coming that thick and fast, they certainly sap the legs, so we were glad to eventually get back to Shere and the feed station.
"I can feel that flapjack going down to my toes."
At most sportives (the Dragon Ride being an obvious exception), we get so sick - almost literally - of the various gels, chalk-dry bars, energy drinks that erode your stomach lining, and flapjacks which have all the moistness and texture of concrete that we'll often forego refuelling altogether in the final third.
This audax was different gravy. Coffee and tea, flat coke, apple juice, melt-in-your-mouth flapjacks, Nutella sandwiches, jam sandwiches, fruit and bowls of nuts. All of it served with a friendliness that made me think they'd shipped in northerners specially for the event. It was a bonhomie matched by the volunteers at every checkpoint, with their profferings of jelly babies and encouragement from their deckchairs.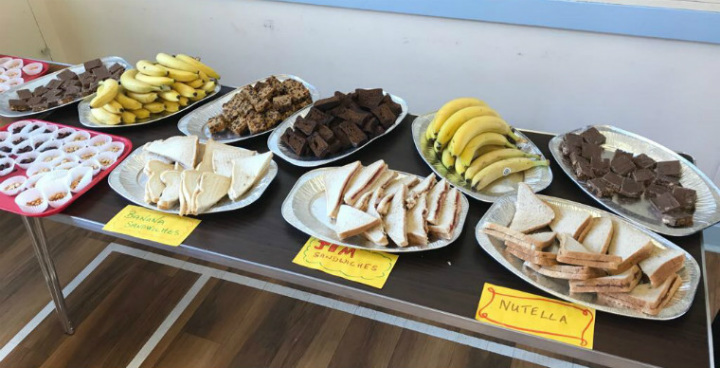 The beast of Barhatch
The second half of the ride had the picturesque climb of Radnor Road, the slightly more gritty Pitch Hill and the nasty surprise of Guildford Lane. But the cloud on the horizon, the fly in the ointment, the unflushable floater in the toilet bowl was Barhatch Lane in the last 5k, the much-debated No1 on the Surrey list.
By the time we reached the final checkpoint near the base of Barhatch, we were all starting to feel the strain. Paul, who was unarguably the strongest rider throughout, and I were getting the first unwelcome tweaks of cramp, while the other brother hadn't had his best day at the office. As Geraint Thomas once said: "Some days you're the hammer; some days you're the cheap IKEA nail."
Barhatch lulls you into a false sense of security, small inclines followed by flatter parts, but the final section is brutal - a 25%+ gradient - where it's ever so tempting to dot down a foot. With cramp setting in, I probably would have done so if Paul hadn't been there battling against me. If there had been any spectators, it would have been a laughable duel to watch. Two men going at a snail-like pace, breathing like snorting bulls, with only pride to play for.
I edged this particular skirmish but there had been plenty of climbs, such as Radnor, Pitch and Leith, where he'd distanced me. We'd discovered Broleur's 'supeur' domestique.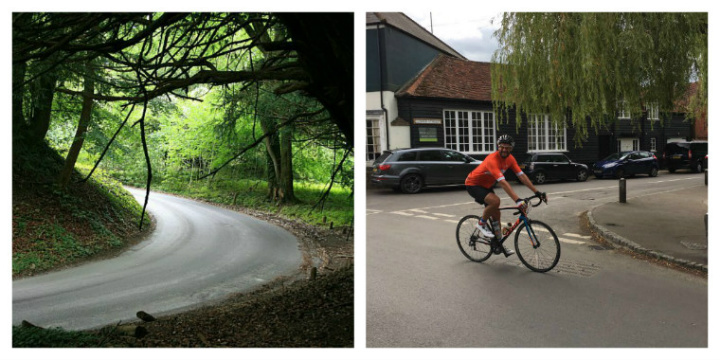 With Barhatch now happily dispatched beyond the U-bend, we enjoyed the serene roll back into Shere. There'd be no inflatable arch to go under, no chip timer to cross and no photographers to capture the moment, but it didn't matter. The sense of elation was still there, the feeling of accomplishment that I'd been so sorely missing. There was even an unexpected small medal to satisfy my magpie-like craving for shiny treasures. The vultures had been shooed away. For now...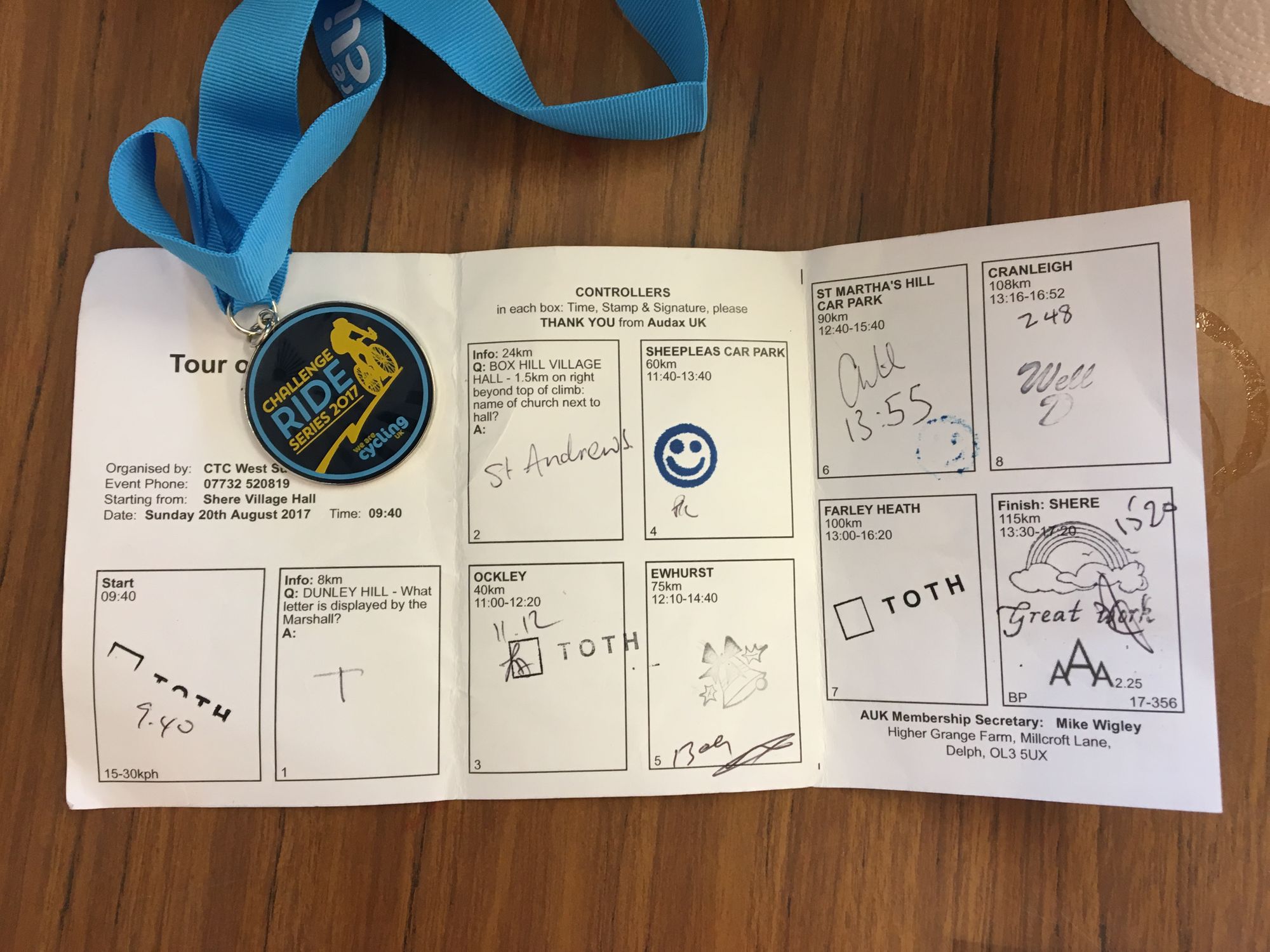 The other brother
Ride lots. That's what Eddy Merckx famously advised. That's how you get good.
We've not ridden anywhere near as lots as Eddy, but if you want to get gooder, here's a Broleur tip: do lots of the kind of riding you want to get good at.
If you want to get better at climbing, climb lots. If you want to improve your stamina, ride all day, and then some. If you want to go faster, try riding faster, maybe with faster riders if you're not fast enough.
And if you want to take a on a gruelling 115km tour of Surrey's hills, you'd probably be advised to get out and ride up some of Surrey's hills, on rides of 115km or more. Don't you dare think you can get away with a couple of lung-busting laps of a picturesque local park twice a week, even if it's a fairly lumpy one. Don't kid yourself that twenty minutes sweating on an indoor rowing machine is any substitute for pushing pedals, even if it is very good for the core and the perfect cross-training exercise for cyclists actually. Just because your 20-minute cycle commute to work happens to raise your metabolism and keep your weight down, don't kid yourself that you're in shape and ready. Because you're patently not.
Next up: Revolve24. 24 hours featuring as part of a 6-man relay team going full throttle round a Formula One track. Best get riding. Lots.
Check out our Facebook page and follow us on Twitter @broleurcc