The Trans Cambrian Way by Mountain Bike
On paper (well, Google maps) the Trans Cambrian Way looks like a leisurely three days of mountain biking. No problemo boyo - we'd be supping welsh ale by tea time.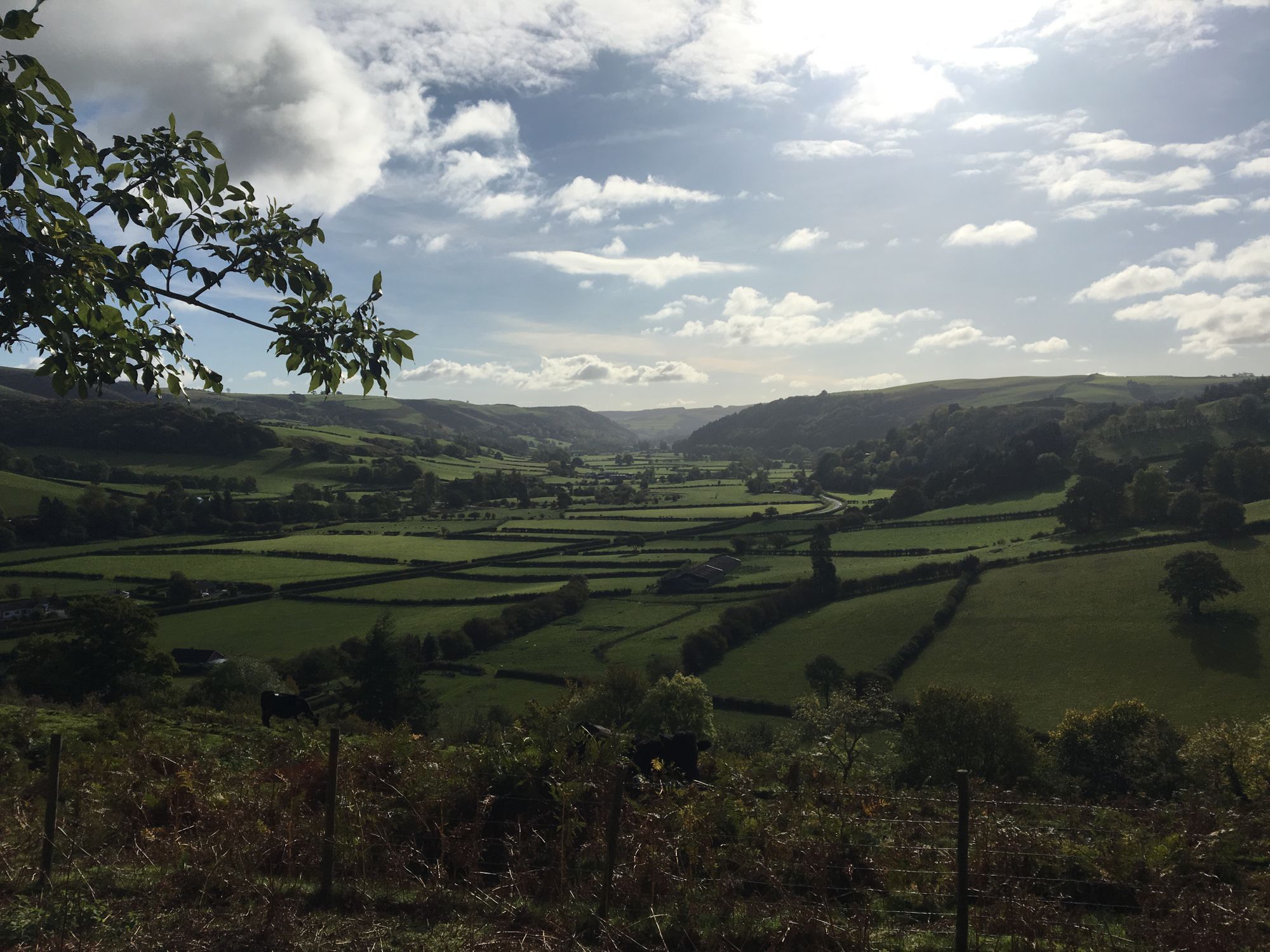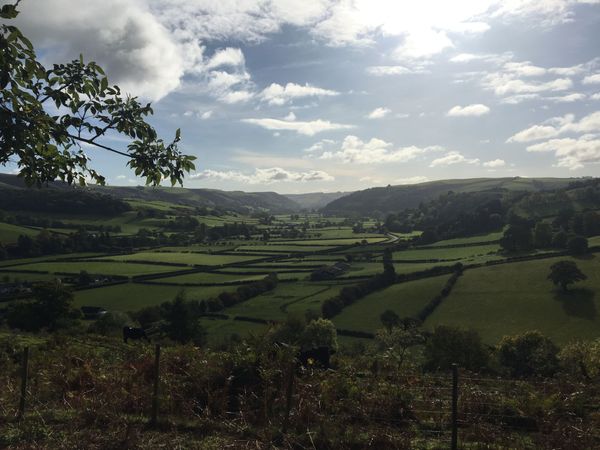 Many years ago, pre-Broleur, I joined some of my old school mates (or should that be old school-mates, or old-school mates?) to ride the South Downs way from Eastbourne to Chichester over three days. We were expecting a glorified pub crawl. It came as something of a surprise when there proved to be a lot more struggling ups than rolling downs.
On paper (well, Google maps) the Trans Cambrian Way looks like a leisurely three-day trek across Wales. The official route starts in Knighton, just over the border from Ludlow in Shropshire, and finishes one hundred miles later on the coast in Machynlleth. A distance and elevation we'd accomplished easily-ish enough in a single day. We'd be supping Welsh ale by tea time.
They say a wise man learns from his mistakes, while the wiser man learns from the mistakes of others. The group of men with little to no wisdom whatsoever between them repeat their mistakes year upon year...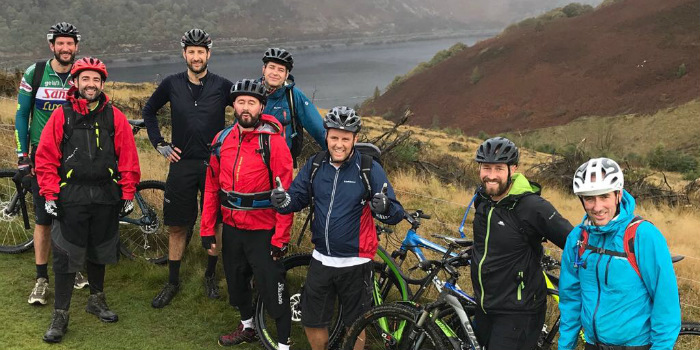 Broleur's MTB theorem
The roadies out there are possibly still bemused: "OK, so there's a few bumps and puddles. But you've got fat knobbly tyres, a gazillion gears and dual suspension. Big deal."
Obviously these lycra-clad naysayers are not familiar with the formula commonly used to calculate the relative difficulty of mountain biking.
It's fairly straightforward. Take one road cycling route. Multiply the distance by two. Take the total ascent and triple it. Calculate the net descent and apply the fear factor. Now subtract the number of tumbles, divide by the number of gates to hold open, and add the sum of the average depth of bog times the total width of river crossing.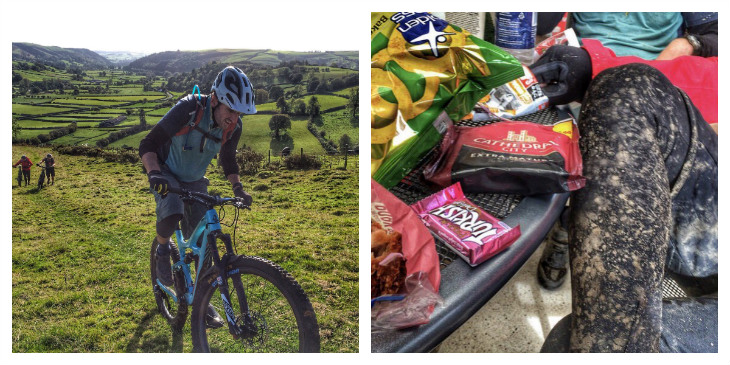 Struggling? (we were). Let's break it down for the uninitiated.
Normal hard roads on a mountain bike are abnormally hard. Downhill feels flat, flat feels like false flat, false flat feels like riding on flats, and uphill is flat-out horrible.

Grassy climbs are worse. They featured a lot on day one. Imagine trying to sprint up a sand dune into the wind with a parachute attached to your back. Dismount and it's like you're trying to push a step machine up a hill, while standing on it.

Hill bog is an interesting one. It turns out that water flows uphill in Wales, mostly pooling at the top of grassy climbs. To simulate riding through bog, deflate your tyres and sharply apply your brakes before planting your feet in a bucket of slurry.

Rutted tracks are relatively easy to navigate using the correct technique. You simply have to ride at a speed that will result in you hurtling over the handlebars if your pedals happen to clip the sides of the rut. Most ruts happen to be marginally narrower than the width of your pedals.

Streams and rivers are basically the same as rutted tracks but with slippery, uneven boulders and fast flowing water. Don't worry, if they get too wide and deep you can always fall in at a place called a ford.

Technical stuff is the term experienced mountain bikers use to describe what the rest of us would call "ridiculous" - it's mostly designed to humiliate the weak and fearful. Just be careful not to grasp your "accident levers" (brakes) as you descend.
But mountain biking isn't all fun. Despite the variety, after eight or nine hours it can all get quite tiring. Fortunately, there's plenty of welcome distractions.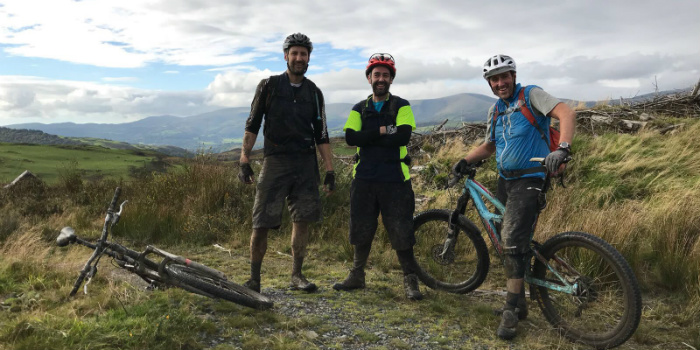 Welcome distractions
There's breaks. Lots of them. Breaks to open gates, drop saddles, eat snacks, pop painkillers and to regroup atop the climbs. These breaks provide a welcome opportunity to chat - something you don't always remember to do on relentless road rides. Mountain biking - at distinctly amateur level - is sociable.
The absolute best breaks are the food breaks. At lunch in Llanbadarn Ffynydd, Mike was able to break known culinary boundaries with a pork pie, Cathedral City cheddar, family bag of onion rings and Turkish Delight combo. Beat that Heston. This feast was topped by Glyndwr's cafe in Bwlch-y-Sarnau where the gorgeous ladies had opened up specially for us, serving tea in proper pots and warm home made scones with lashings of cream and jam, or was that jam and cream?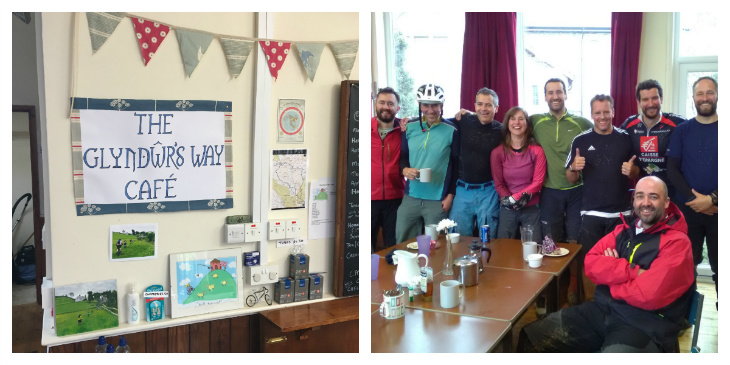 After the eating, there's the silence. The kind of silence you can only experience far away from roads and traffic. Just the buffeting wind on which red kites and sparrow hawks soar, hovering above in the hope of picking off the lame straggler who falls too far behind the group.
There's frequent entertainment, or at least stifled mirth. It comes in the form of watching your bestest mates - accomplished in so many other ways - pitch sideways, cartwheel, slip and somersault in an undignified carnival of misfortune.
Then there are the views. Epic, panoramic, 360 degree views that all the megapixels, filters and retina displays in the world can't do justice to (although our guide Phill gives it a pretty good go). Viridescent greens, brackish browns, heathery purples and steely greys. And you're not just looking at the views from a distance, you're immersed in them.
And finally, there's the hospitality at the end of a long day in - and out - of the saddle. Stone-flagged fireplaces so high you can walk into them, fine ales at 80s prices, sodden cycling shoes left on the aga overnight, and at the Bluebell pub in Llangurig, a basket left outside your room for filthy bike-wear to be whisked away and washed and dried overnight. Heaven.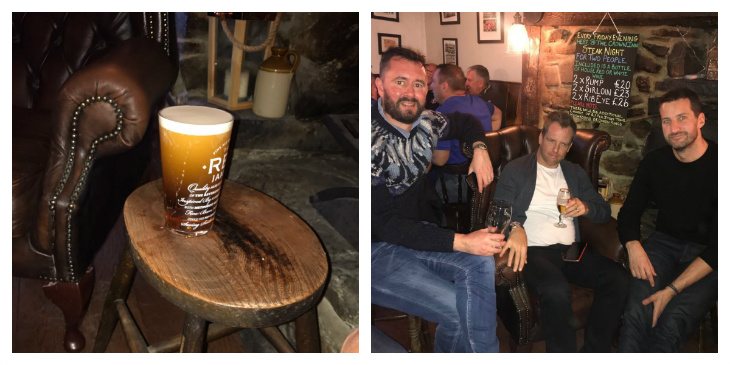 The other brother
Whilst I have no desire to see another rutted bog for a long, long time, there's something for everyone to enjoy in this three-day jaunt.
Whether you like testing climbs (I do), technical descents (I don't), beautiful scenery (I do), or splashing through rivers and puddles that might as well be rivers (I definitely don't), then the Trans-Cambrian Way has all of these and then some.
Day 1 - Knighton to Rhayader
Quiet country lanes for a few kilometres then you go seriously off piste - or pissed off - for the first major hill above Lloyney is an absolute ball-breaker of a climb. A grassy bog at about 20%, unless you find the Angliru a breeze, anyone will struggle. But the views at the top are so worth the pain getting there.
That sets the scene for a lot of the first day of about 50km - stunning scenery being the reward for stunningly hard climbs in Beacon Hill and Stankey Hill.
Day 2 - Rhayader to Llangurig
This is the day that separates the wheat from the chaff as you cover approximately 70km.
For you 'roadies', there's a great/hard climb on blessed tarmac early doors, the amazingly named Puke Hill.
Prepare yourself to get soaked along the Sunken Road to the mightily impressive Claerwen Dam and the Teifi Pools. And there's also a beautiful descent through a forest on the Hafod Estate. A more hairy one for only true mountain bikers is the drop through the Cwmystwyth Valley and its old lead mines.
There are two long climbs towards the end, a punishing one up the Broken Road and a slightly easier one through the Tarenig Forest.
Day 3 - Llangurig to Machynlleth
The highlight of the final 50km or so has to be the views on the Foel Fadian descent (although it was way too scary for me to handle).
You then finish along Glyndwrs Way but, for the who are brave/foolish enough, Phill could take you on a detour for what he describes as a "true mountain biker's finish" down a ridiculously steep descent. I chickened out; the other brother opted in, acquainting himself with a pile of Welsh turf in the process.
Now bring on the Brecon Beacons in 2018!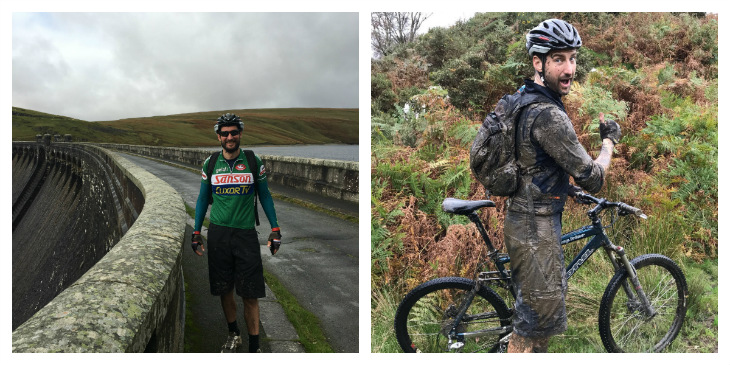 Check out our Facebook page and follow us on Twitter @broleurcc