The Wiggle Spring Saddle


"Go! Just go!" Three simple words, but they signified a sea-change in attitude, as the other brother urged me to drop the hammer and drive for the finish line of the Wiggle Spring Saddle.
In previous organised rides, it was different. The emphasis was on crossing the line together, brothers in arms, sharing the feeling of exultation, the sense of accomplishment. There was little concern over times or placings.
But attitudes had hardened over winter months of mind- and toe-numbing laps of Richmond Park: learning to talk instead of just gasping for air, honing drafting skills, putting on our big boy pants. The first sportive of the season wasn't about 'completing' any more, it was all about 'competing'.
Horses for courses
For those thinking of notching their first century, or looking for a confidence-boosting canter to open their season, the Spring Saddle is perfect. Suffolk offers a parcours as flat as a pancake with negligible climbs, virtually traffic-free roads and thanks to the near-universal reach of Wiggle, a packed field - kindling to fuel the competitive fires.
The other brother, the self-proclaimed King of the Hillocks and Emperor of the Gentle Rise, was bullish. We'd never be so foolish as to under-estimate a hundred-miler, but there really could be no excuses, especially as I'd be sporting my 'Flandrian best' colours for the attempt.
The night before, we plundered the low-lying lands like norse raiders of old - feasting on meat-heavy dishes and frothy mead at the fantastic Fox Inn in Ousden before retiring to our room at the splendid Bloodstock Barn B&B, ready for battle at dawn.
Time to saddle up
Last out of the gates, but off at a gallop from Newmarket Racecourse on an overcast but thankfully dry and still day. We were instantly on the lookout for a group to join, having learnt the benefits of drafting from La Ronde Picarde. But there was nobody who could stay with us over the first 50km. We shunned the first feed station - I lived up to my Bunteur moniker by having enough tuck in my pockets to feed a horse - but then latched on to two guys in white jerseys with a big red dot on the back (henceforth known as Team Japan).
Rather than engage in ungentlemanly drafting, we sportingly enquired if they would care to work together as a team. And we did just that for a while - Tally-ho! But their kamikaze pace was unsustainable. We needed to save something for the finish. The famed 'three matches' you get to strike during a ride would be kept in the box. We'd been burned too many times.
Time and again, our paths would cross. We'd overtake Team Japan[1]:, then they would suddenly come steaming past and leave us in their wake. If only East and West could have worked together...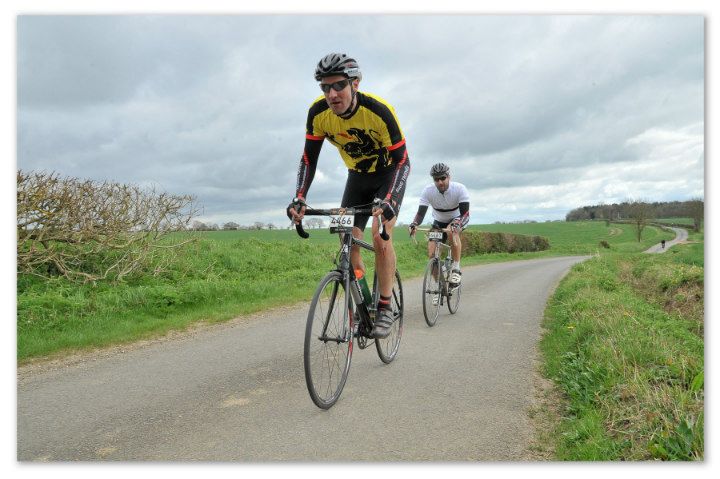 Galloping for the finish
Our attention soon switched to another target, 'Team Yellow', a very strong male-female combo who were professionally easing their way up through the field ahead.
20km to go. Team Yellow a good 400m ahead. I'm straining to go but the other brother has a firm grip on the reins. The gentle voice of the horse whisperer in my ear: "Easy, easy. Don't go too early. We'll catch them. Easy, easy."
The gap narrows. 15km, then 10km. As we hit the last 5km stretch they're just a couple of lengths ahead. And then a hill. A hill in East Anglia, of all places. Surely a sign. Time to burn one of those matches. I look back for the nod of approval.
I get it - and I am gone.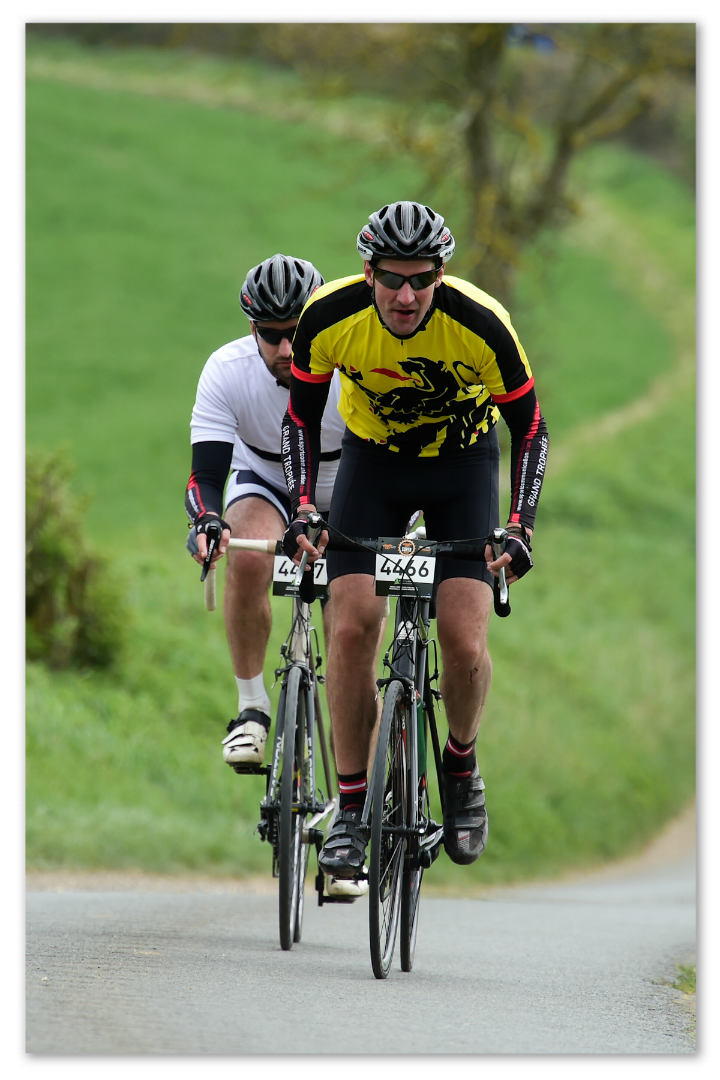 The other brother joins me at the summit, flanks quivering and foaming at the mouth. We enter the final furlongs. There would be no yo-yoing this time. Heads down for the finish.
Eyes moistened with pride as we crossed the line. We'd left nothing out there, recording a top-70 time of 5hrs 43mins (yes, I was sad enough to sit at a laptop and count the number of riders who had beaten our efforts for the 'epic') and we were buzzing.
A new era for Broleur had begun.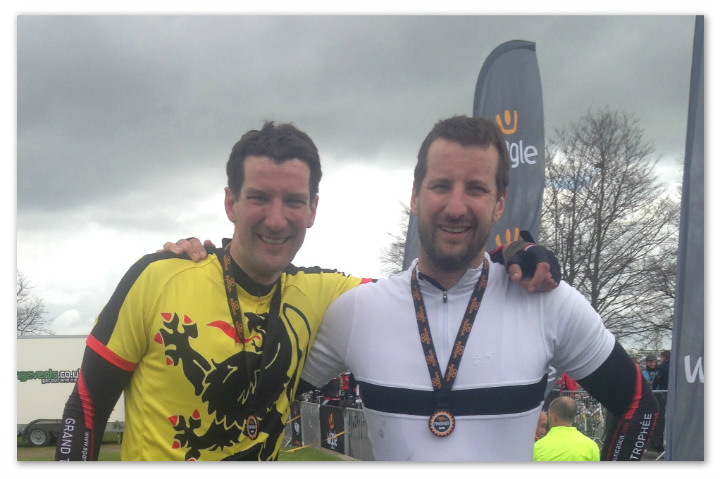 The other brother
Is it really a competition if the competitors you're competing with don't actually know they're competing? Is it really a race if you're the only one that knows where the start begins and the finish ends? Can you really be a winner if the loser doesn't know that they've lost?
These are just some of the questions that never occur to me while riding.
Mine is an inglorious sporting past. Asthmatic and mono-paced, with knees described as 'knots in cotton' by a pitying Grandma. I swam my first width underwater because I couldn't stay on the surface. In my all-conquering Cub football team I was the water carrier - a workmanlike Didier Deschamps in a team of Zidanes. When post-season plaudits were presented for school rugby, I received the (highly-coveted) 'ever-present' award. The furthest I've ever ridden on a surfboard was lying down, facing backwards.
Now is my time. In my mind at least, that ordinary boy has matured into an extraordinary athlete. Albeit one whose recovery drinks are mostly of the golden, hoppy variety. And thankfully, one not particularly motivated by chasing fleeting PBs and KOMs. Viewed through the cruel lens of Strava I remain distinctly average, even through the marginally more forgiving 35-44, 85-95kg filter.
For the most part I ride for and within myself. I'm happy enough - proud even - when the other, younger, lighter, fitter, faster brother bests me. But be warned, the following triggers have been known to awaken the competitor buried deep within; aero and tri bars, coloured tyres, Oakley glasses, Castelli kit (no idea why), Dulwich Paragon kit (no other team), fluoro shoe covers, shaved legs (men only), red light-jumping, excessive-tucking, unacknowledged-drafting - especially if accompanied by the sound of a free hub, saying hello when passing (patronising), not saying hello when passing (rude), being on Anerley Hill, being anywhere in Richmond Park.
Check out our Facebook page and follow us on Twitter @broleurcc
---
Afterwards, we shook hands with Team Japan and congratulated them on the strength of their ride, simultaneously logging their numbers so we could check their times. It was close but chalk up a victory for Broleur. ↩︎