Down the Downs Link
Longing for adventure? Try London to Brighton the long and gravelly way. Join us on an off-road autumnal adventure, taking in the Thames Path, River Wey Navigation Route and the Downs Link.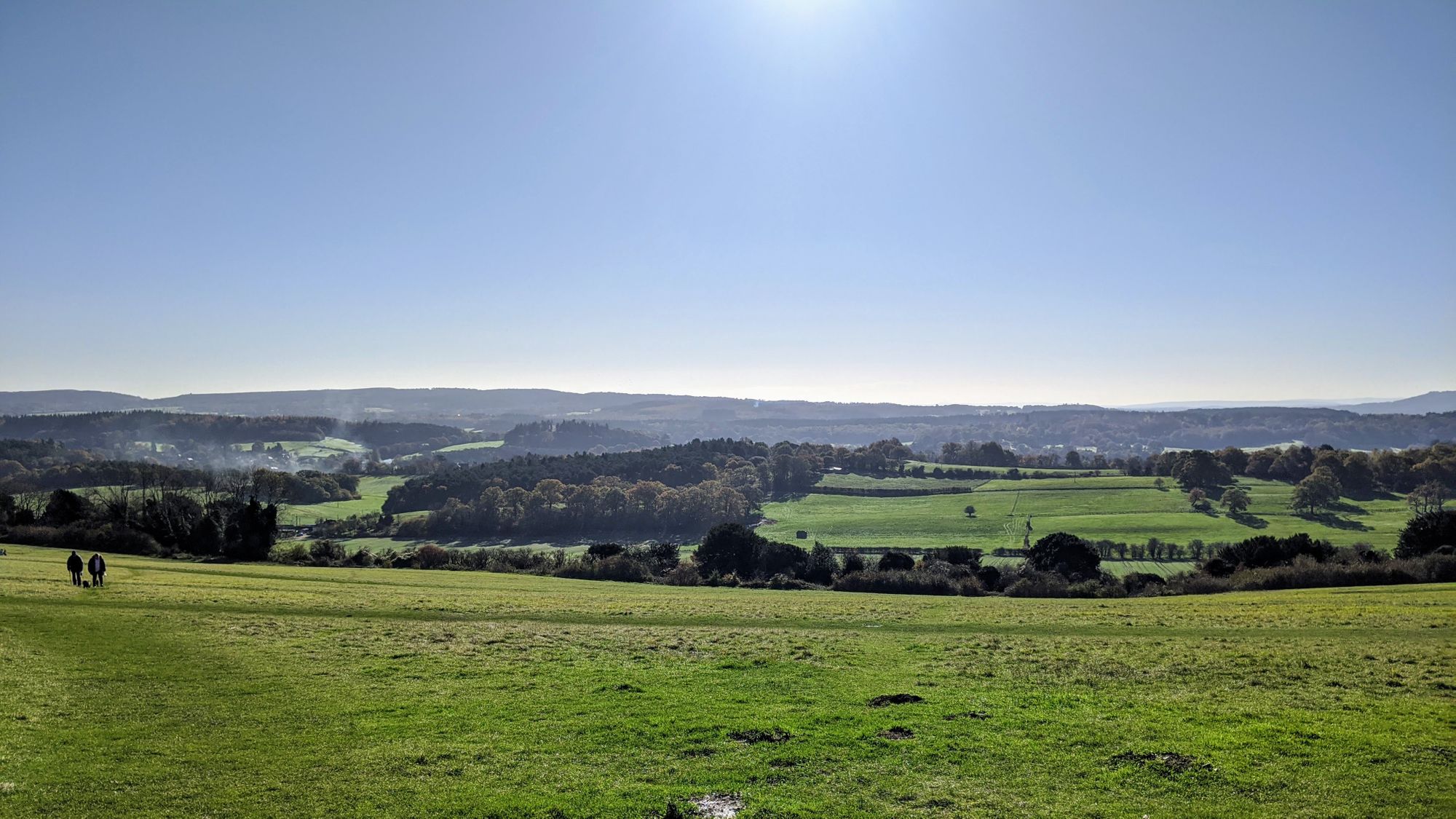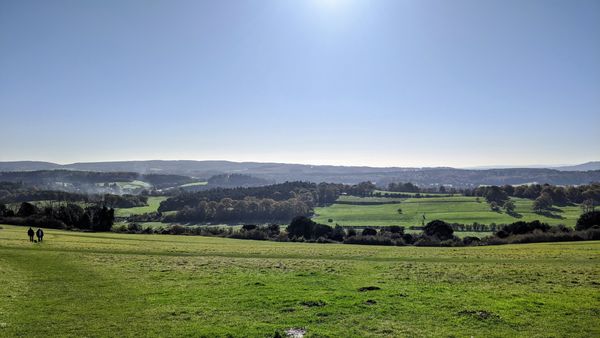 A severe case of cabin fever
The lockdown(s) of 2020 left many people isolated and lonely. I don't, for a moment, want to appear smug, ungrateful or in any way resentful, but our household was uncharacteristically busy. Two teens and a wife at home, the wifi straining to cope with concurrent Netflix streams, the washing machine in a perpetual spin, and a queue for the toaster at lunchtime (breakfast time for some).
I contracted a mild case of cabin fever - at least I think that's what it was, I was never actually tested. The symptoms included general irritation, an itchy brain, and a compulsive desire to be alone outdoors. It's not something I'd wish on anyone. I first tried isolating in my home office, then long walks with the dog, but getting out on a bike ride proved to be the most effective treatment.
Then I started looking at adventure bikes, because, well, I was craving some adventure. I stumbled upon Bikepacking.com and one particularly evocative article featuring the rigs of the Atlas Mountain Race. Something stirred deep within me. A passing interest fast became an obsession. Turns out bike porn can be addictive.
#newbikeday
A few weeks later, following a major loft and shed clear out and some eBay action, a big brown box arrived. What on earth could it be?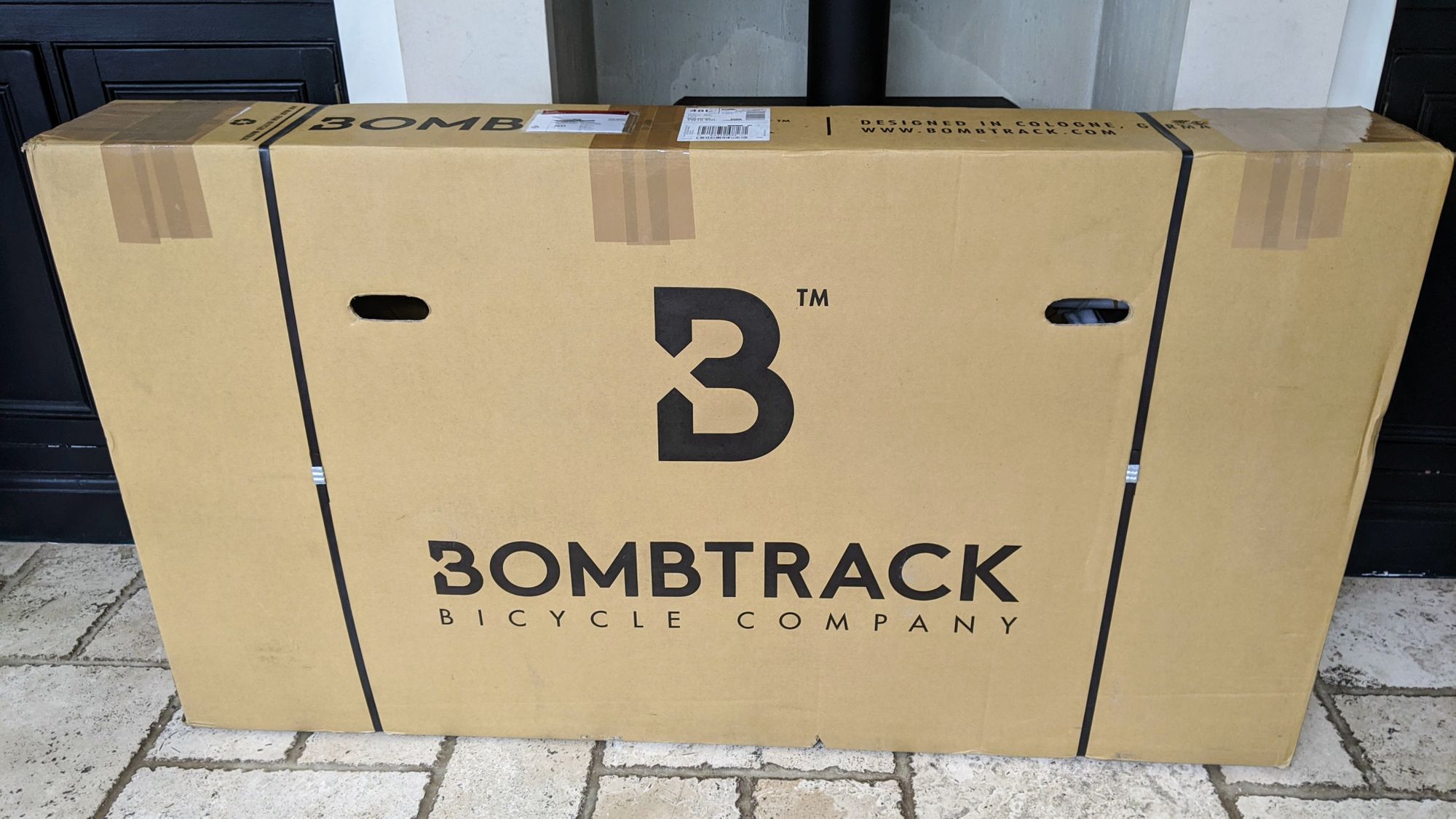 That's right! Despite a national bike shortage, I managed to secure a steel-framed Bombtrack Beyond in antique (dull) gold, with flared drops, a SRAM Apex groupset, disc brakes, 29 inch wheels and 2.2 inch WTB tyres. The proper billy bollocks.
Sadly, Richmond (Surrey) is a long way from the Atlas Mountains. Or any mountains come to mention it. Tackling the Tamsin Trail or tearing up the Thames Path is like doing the school run in a Land Rover Defender. You know you're not pushing your adventure bike to its limits when you see someone coming the other way on a Brompton. I felt like a complete fake. Nothing more than a flat-track/trail/path bully.
Convinced a world existed beyond the M25, I poured over maps like a modern-day Magellan. The Thames Path had to lead somewhere. The source of this great waterway surely couldn't be West Molesey? A route gradually revealed itself to me, a 120km, mostly off-road, with only around 500m of climbing. I shall now reveal it to you. Sharing is caring, after all.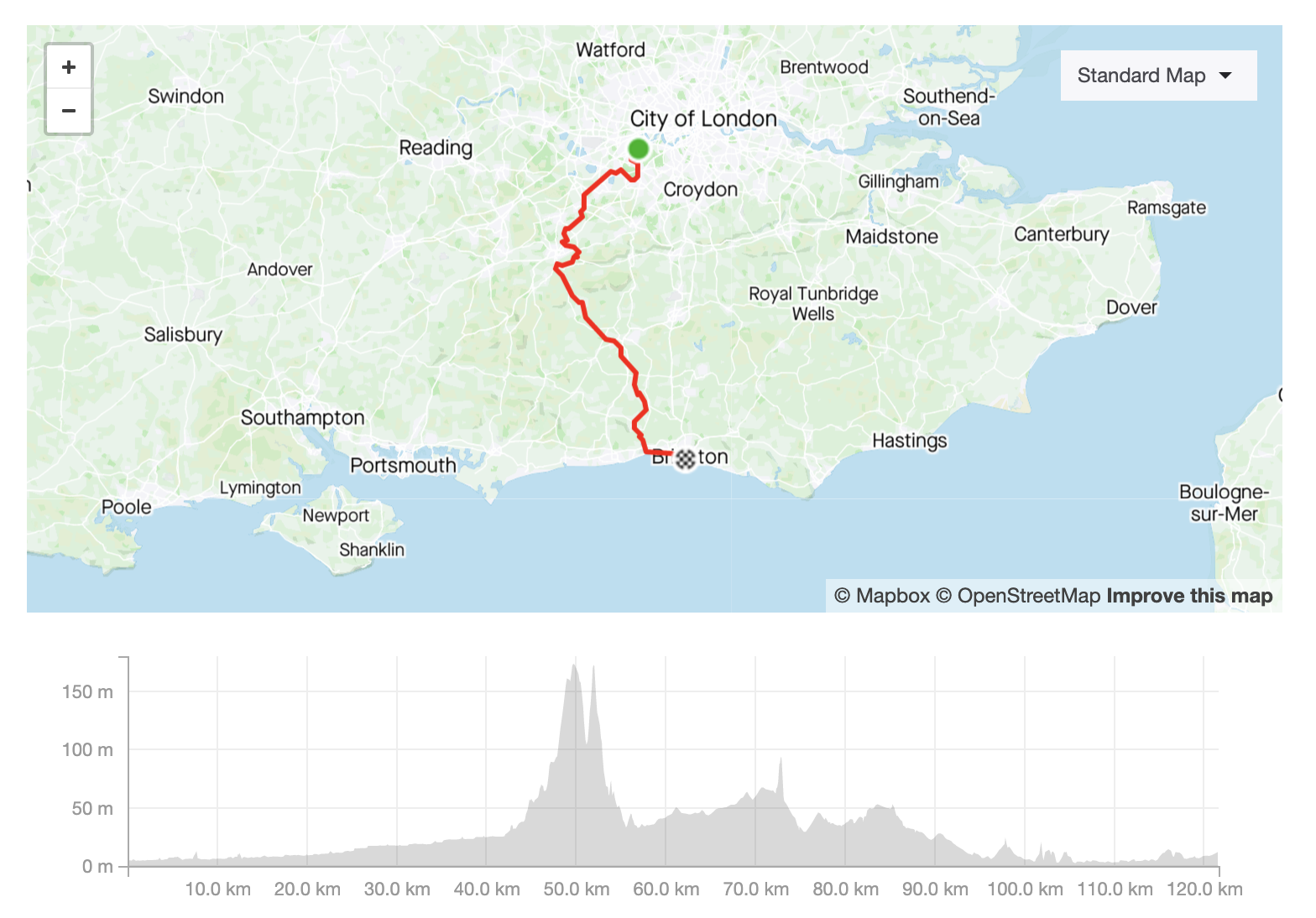 What to take down the Downs
I've done my homework. This wouldn't be a proper bikepacking blog without one of those insta-friendly flat lays and a gear list. When you're not doing a proper overnighter, one of this stuff is strictly necessary of course, but I really wanted to give it a go (and enjoy a coffee on the way, given that most cafes would be closed).  "That's the most you thing I've ever seen" mocked my wife.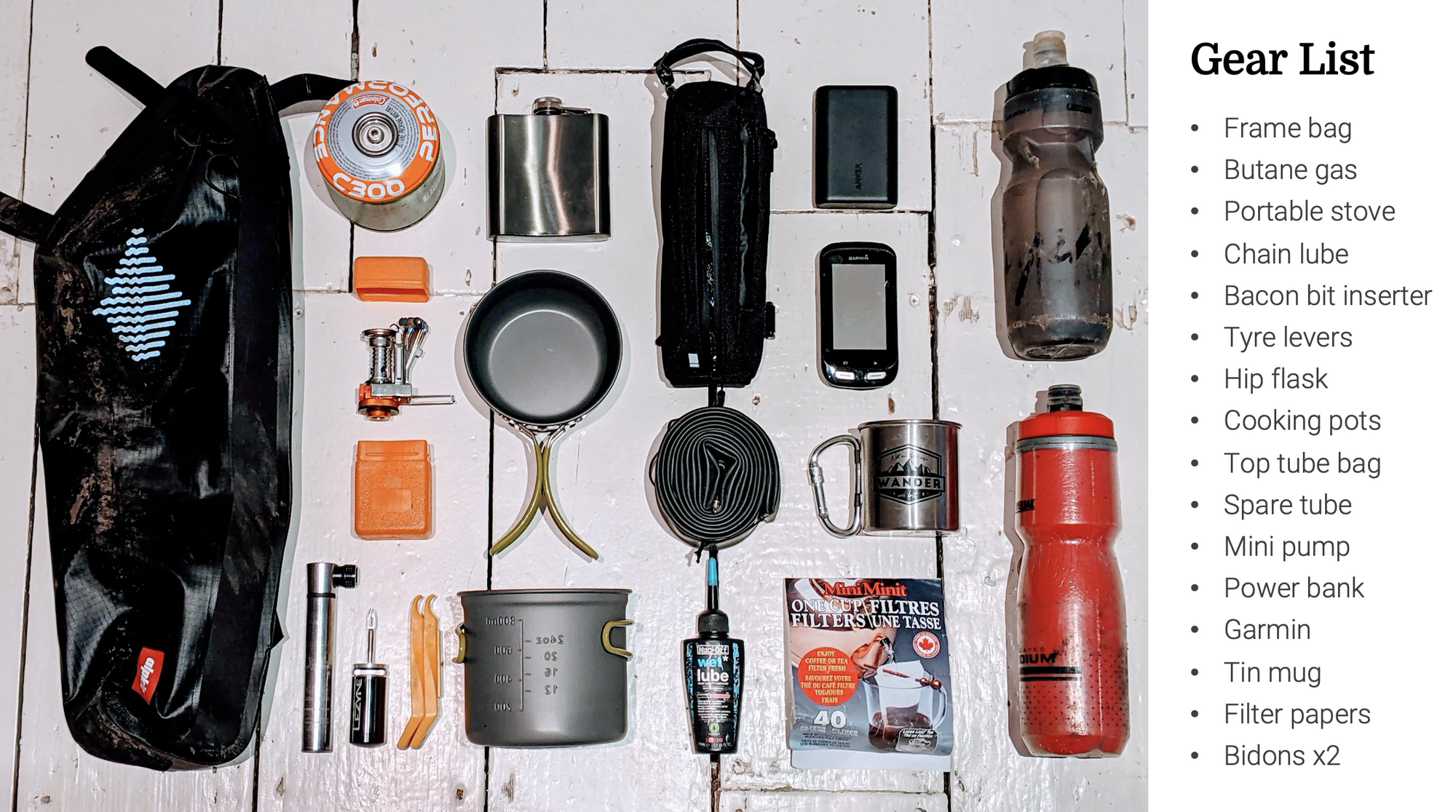 Take me to the river
It was bitterly cold on the morning of the day I set off. The kind of post-Autumnal chill that laughs at gloves and mocks the thickest of socks.
The route starts on the Thames Path, which you could in theory join anywhere from Putney to Kingston. It's very nice if you're a tourist, dog walker, jogger, family bike rider, or into fishing. It's not ideally suited to intrepid adventure bike enthusiasts, mainly because it's frequented by the aforementioned throng. If you've got plenty of time on your hands and a bell on your bike, go for it. Otherwise, you may be better off – and definitely quicker – taking the road.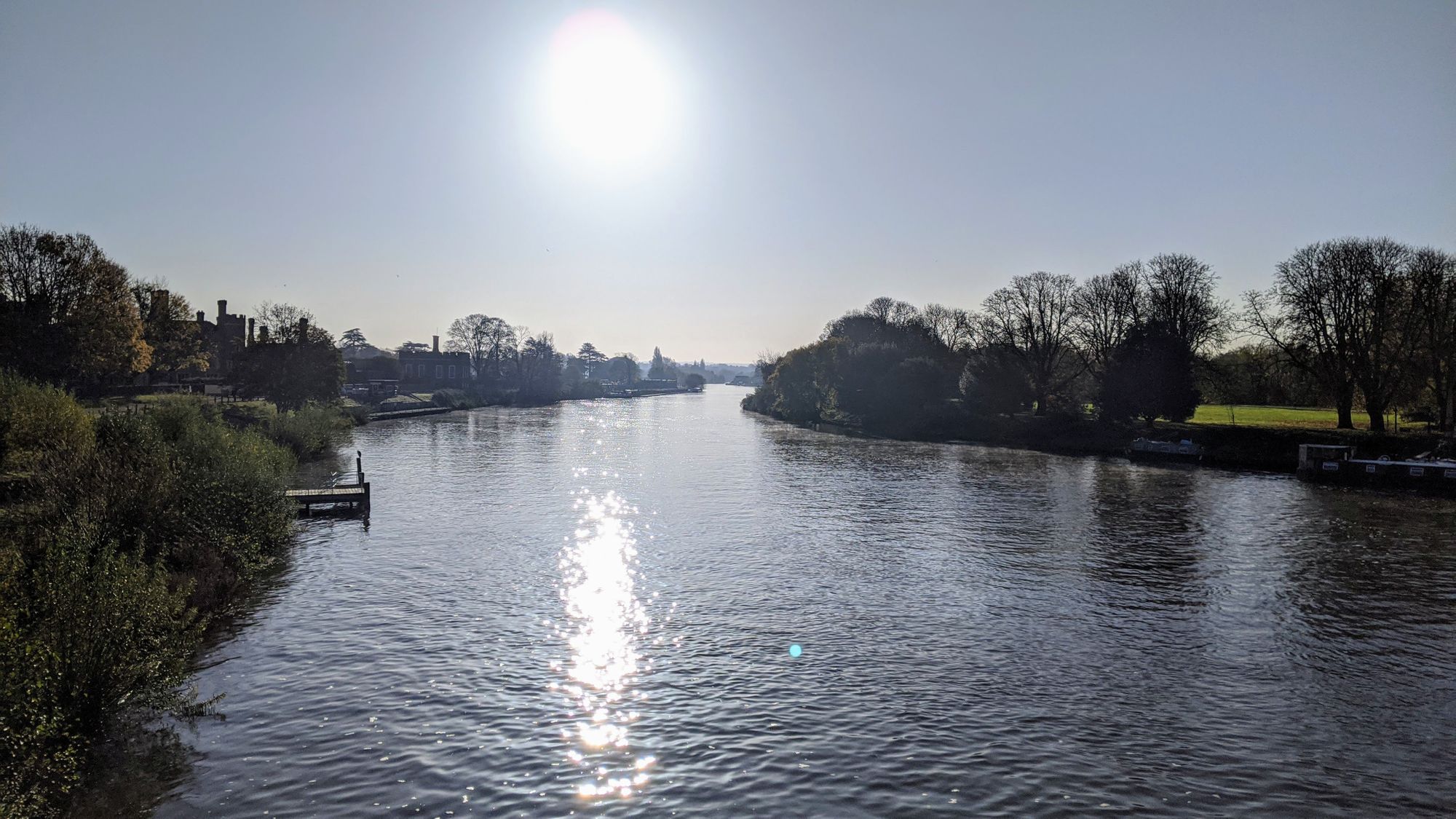 There's landmarks aplenty for those new to the area: Eel Pie Island, Teddington Lock, Hampton Court Palace, Walton Advanced Water Treatment Works. At Weybridge, where the River Thames meets the River Wey, I took a left to follow the Wey Navigation Route south.
From here the path gets narrower. It feels more like a canal towpath, the water is millpond-still rather than tidal and the banks are lined with narrowboats and other assorted pleasure craft. Pedestrians need to be obliging and step aside if you're to pass comfortably on a bike. Approaching Guildford, towpath turns to track and it gets tufty and rutty, not ideal for maintaining a decent pace – especially if there's been any rainfall in the preceding days.
This Wey or that-a-way?
You have two options from here, depending on your appetite for ascents. If you're a fan of the flat, follow the River Wey Navigation into the centre of Guildford and join the Downs Link at Shalford. If you're up for some uphill, join the road at Bowers Lock and head towards East Clandon. Roadies will be familiar with the climb from there to Newlands Corner (great caff). What they may not know is there's an off-road trail runs parallel to the A25, which takes you to the top of Martha's Hill, official start of the Downs Link.
It's a great spot to stop, take in the view and be thankful. I put the stove on and brewed up a first fresh filter coffee of the day. Everything tastes better outdoors. Fact.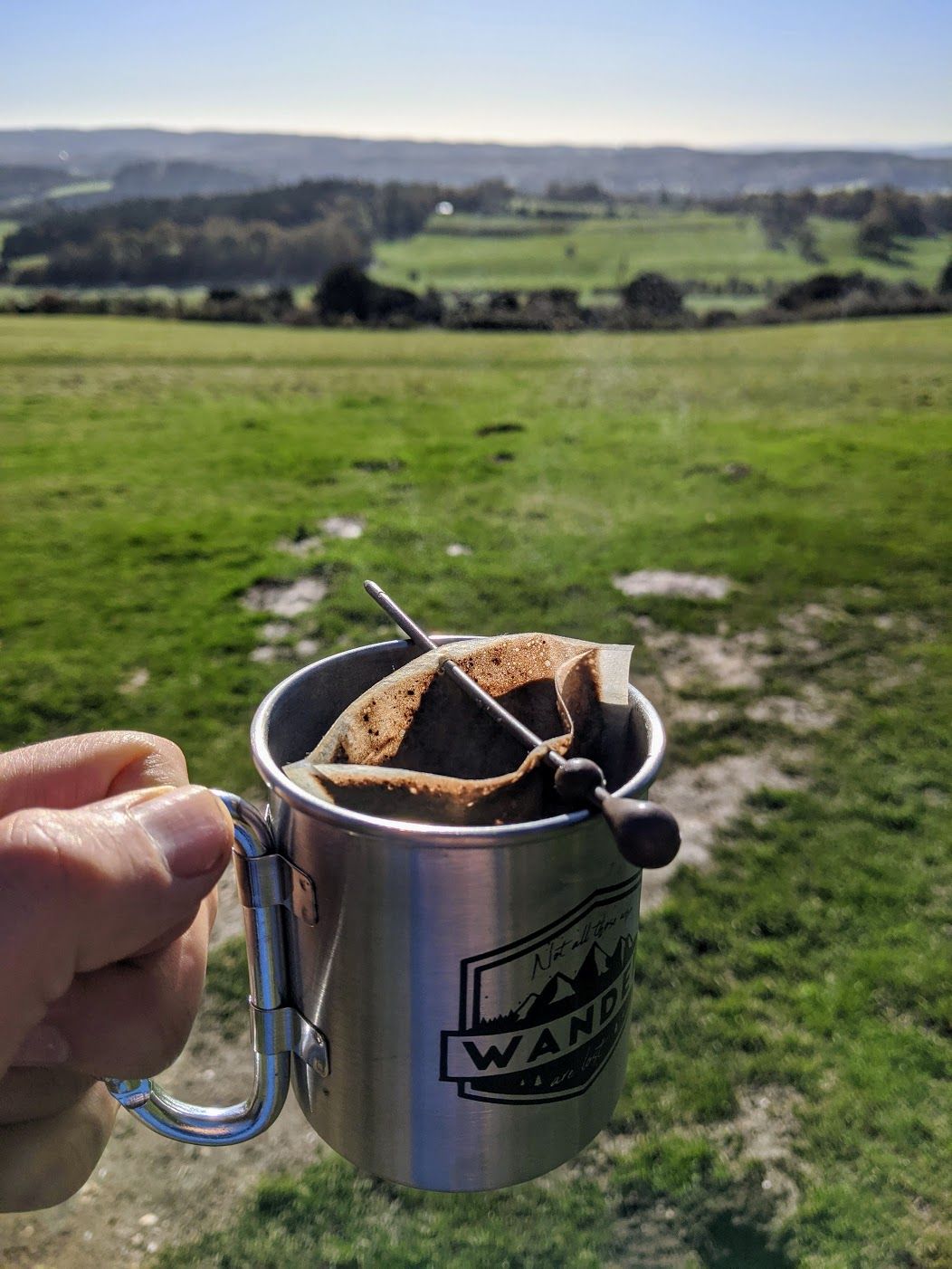 Descending Martha's Hill is the only bit of this route that's remotely technical. The one time you might be glad of a bit of front suspension. You could do it on a gravel bike running 38s, but I'm not sure you'd want to.
From Shalford, it really does feel like you're on an old railway line. Bridges cross overhead and there's even the occasional abandoned platform either side. There's a surface for every kind of tyre, and this one is tailor-made for fast-rolling knobblies. After the stop-start-slog of the Wey Navigation path, it felt good to be covering ground at express speed. Choo-choo!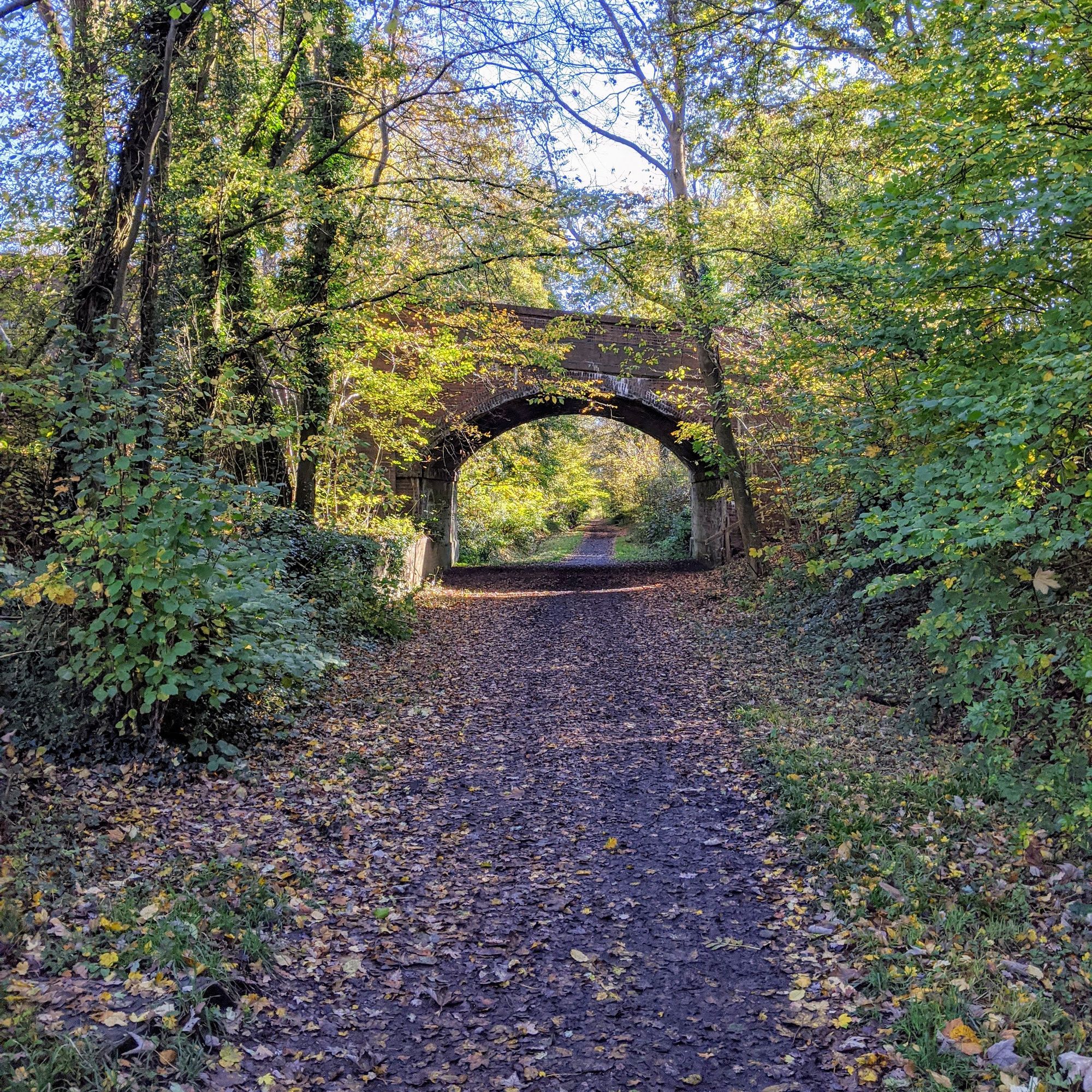 Lunch was taken at what used to be West Grinstead station. There's an old train carriage and a few other railway artefacts a Hornby-buff might want to nose around. I was more concerned with refuelling my engine. With no spork, I was forced to use a plastic tyre lever to shovel in my ravioli. Fail to prepare, prepare to fail.
Now the disadvantage of being on the old train track is there's not much of a view, unless you consider banks of earth and trees a vista. There's little variation in the terrain either, although at one point there is a steep little up and down through Broomhall Copse to contend with. It would be great for a family day out, but it's not the best material for a biking blog frankly. Let's move on.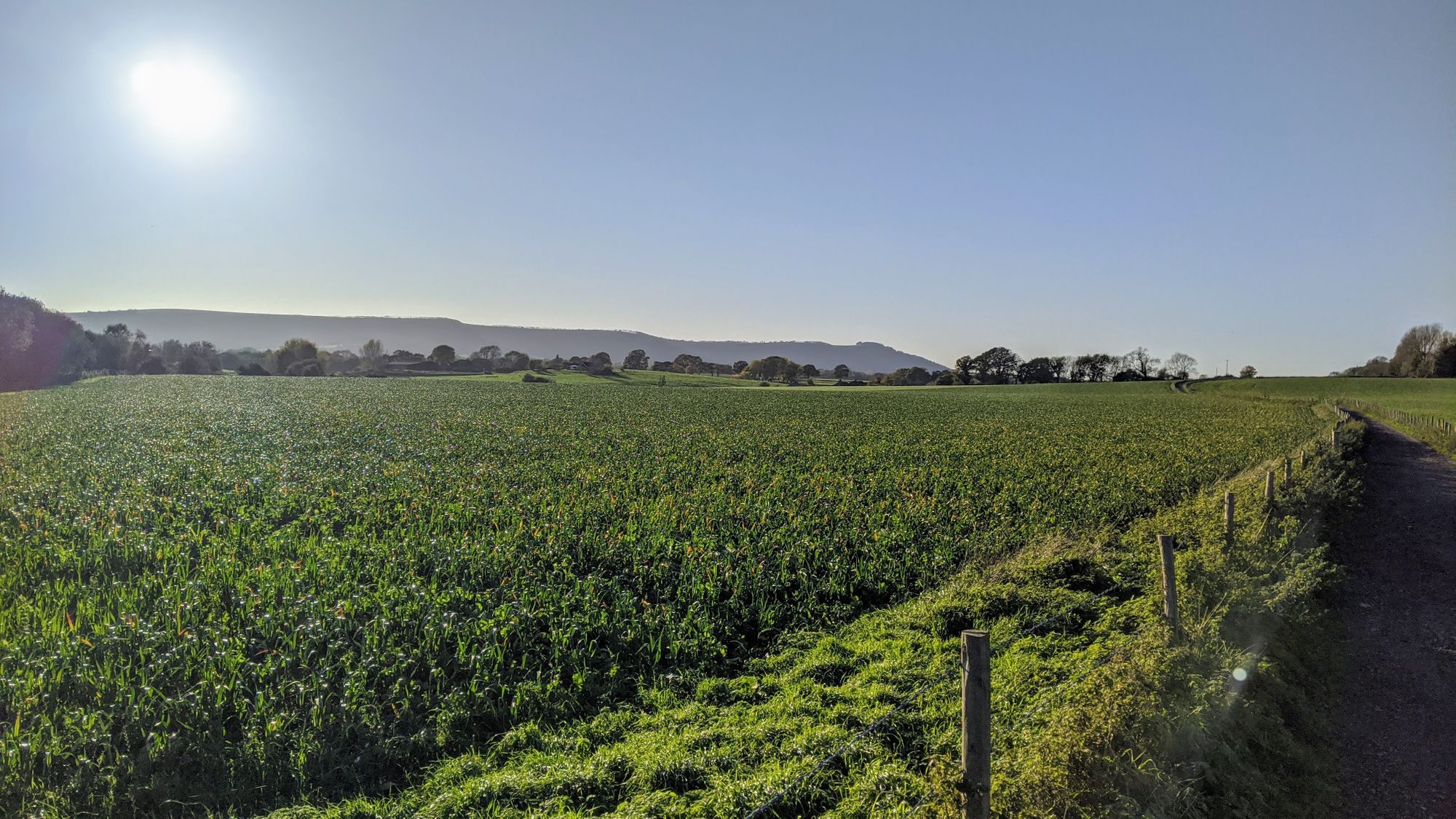 Beyond Steyning, which is where the Downs Link meets the South Downs Way, things get a little more interesting. There's a zig and a zag or two and expansive views of countryside and crops, with the chalky threat of the South Downs in the distance. The Coastal Link takes you from there towards Shoreham-by-Sea, passing over and alongside the picturesque River Adur.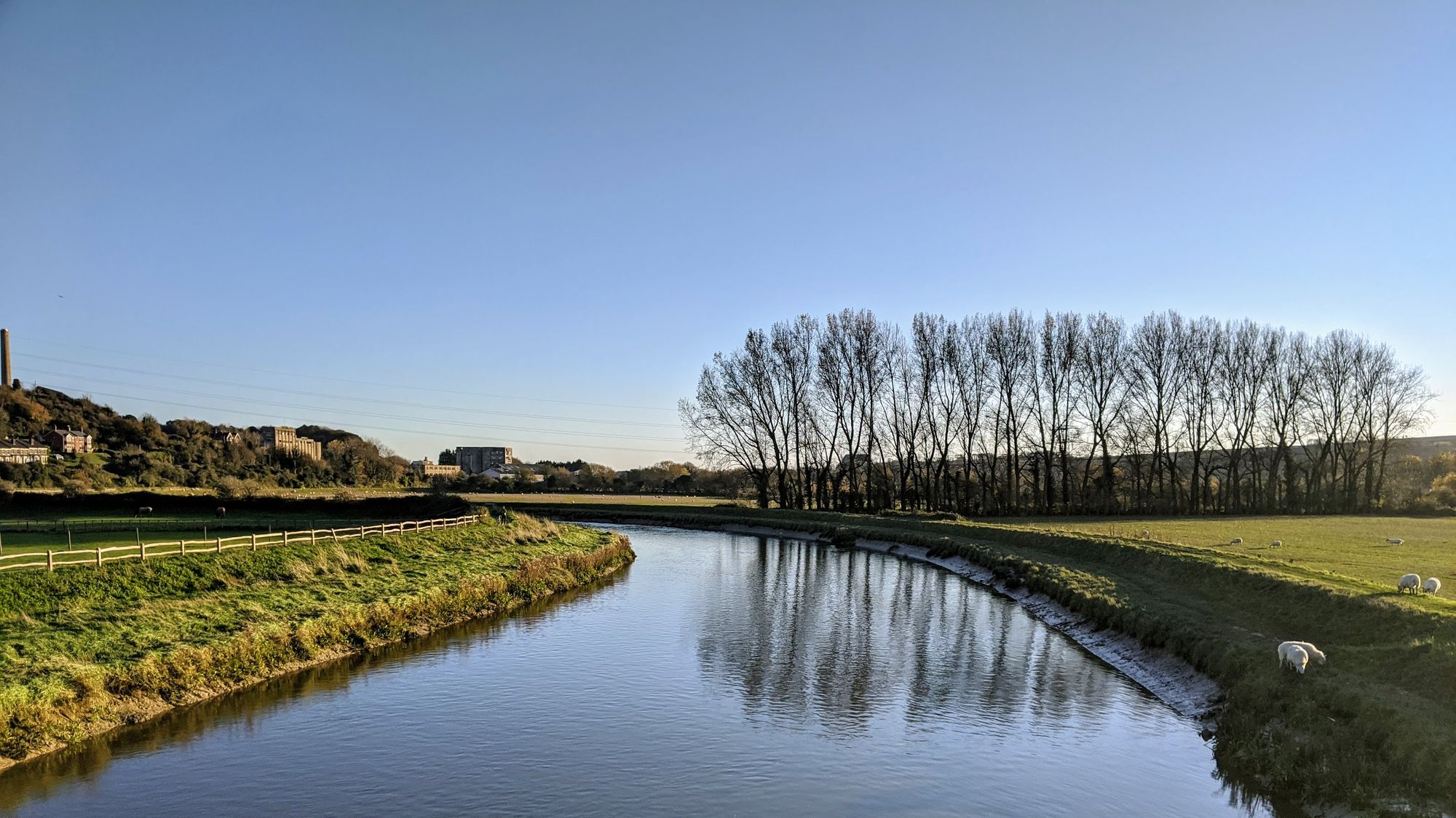 Shoreham isn't the quaint little seaside town I imagined. It is at least by-the-Sea, but light aircraft buzz in and out of Brighton City Airport to the west and it gives off a surprisingly down-at-heel, provincial-industrial vibe. There was no obvious place to stop, so I pushed on along the seafront past the port, through genteel Hove and into buzzy Brighton to catch the train home. With the sun low in the winter sky, I did at least get the fairy-tale ending I had in mind. One last coffee, parked on the pebbles of beautiful Brighton Beach. Bliss.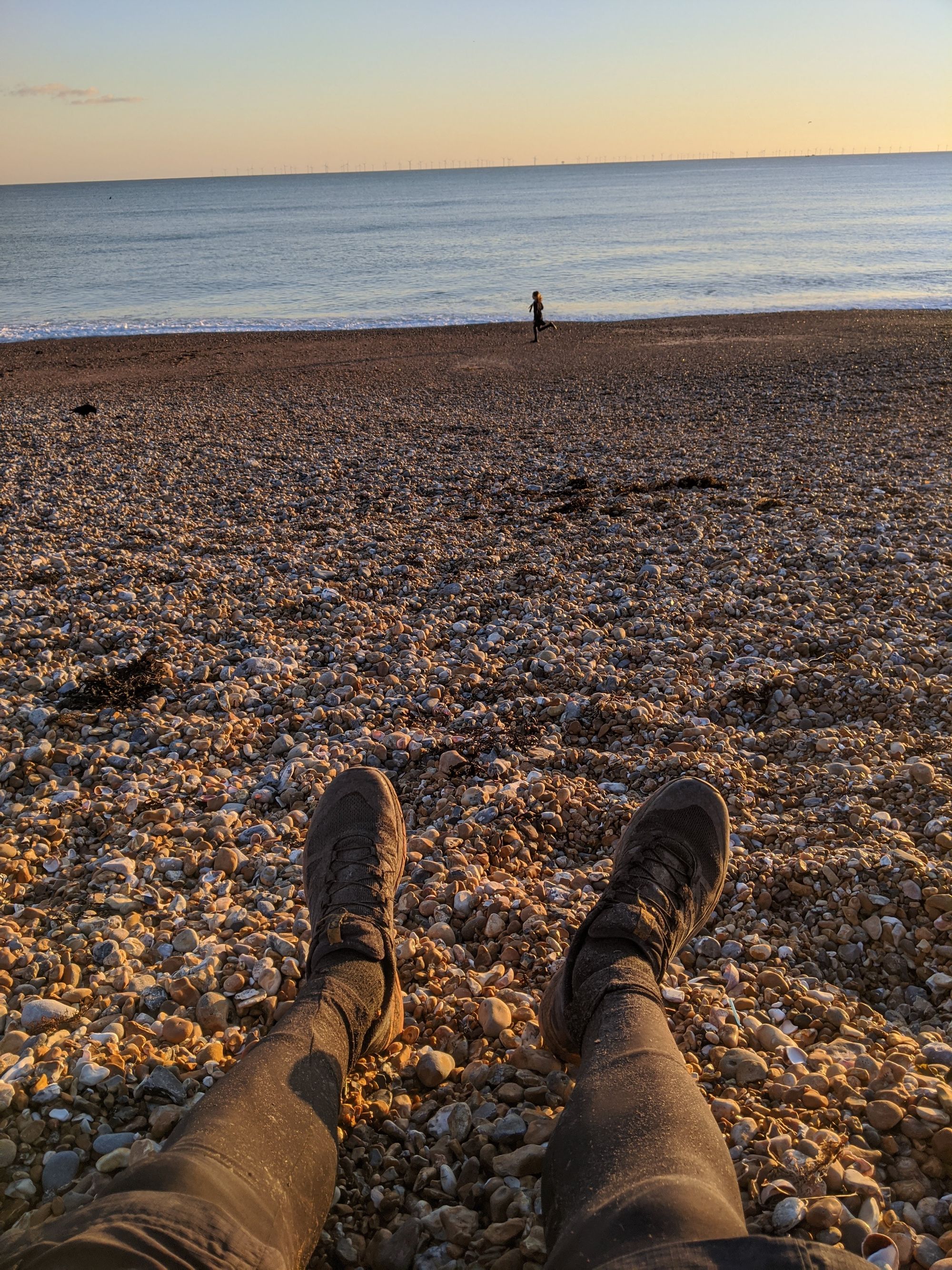 The other brother
Bikepacking and my brother? You've got be kidding? They go together like tuna and lamb.
I'm not suggesting Steve's soft - I've never seen anything that comes remotely close to the teeth-grinding grit and determination he showed to overcome the cold and cramp in the Amstel Gold Race - but he does appreciate his creature comforts on our trips abroad.
Bargain basement B&B? No thanks, we'll take the five-star, Egyptian cotton, rooftop pool option. Morning espresso and fruit medley, light lunch with a Louis Latour, late-afternoon massage, evening cocktail, Michelin-starred dinner and late-night digestif.
I'm not complaining (he pays for nearly all of it) but I am surprised he's so up for roughing it. How would he answer the call of nature if the end of his loo roll wasn't folded into a neat triangle? Still, I'm willing to take a chance with the bikepacking concept and sign up for some overland adventure. Especially if he can work out how to brew a punchy IPA to go along with the campfire coffee...