The Tour of the Roses
The Tour of the Roses is a small, social and super-challenging ride through three of the UK's most beautiful cycling regions: the Yorkshire Dales, Lake District and Forest of Bowland. Even better, it's organised by Broleur.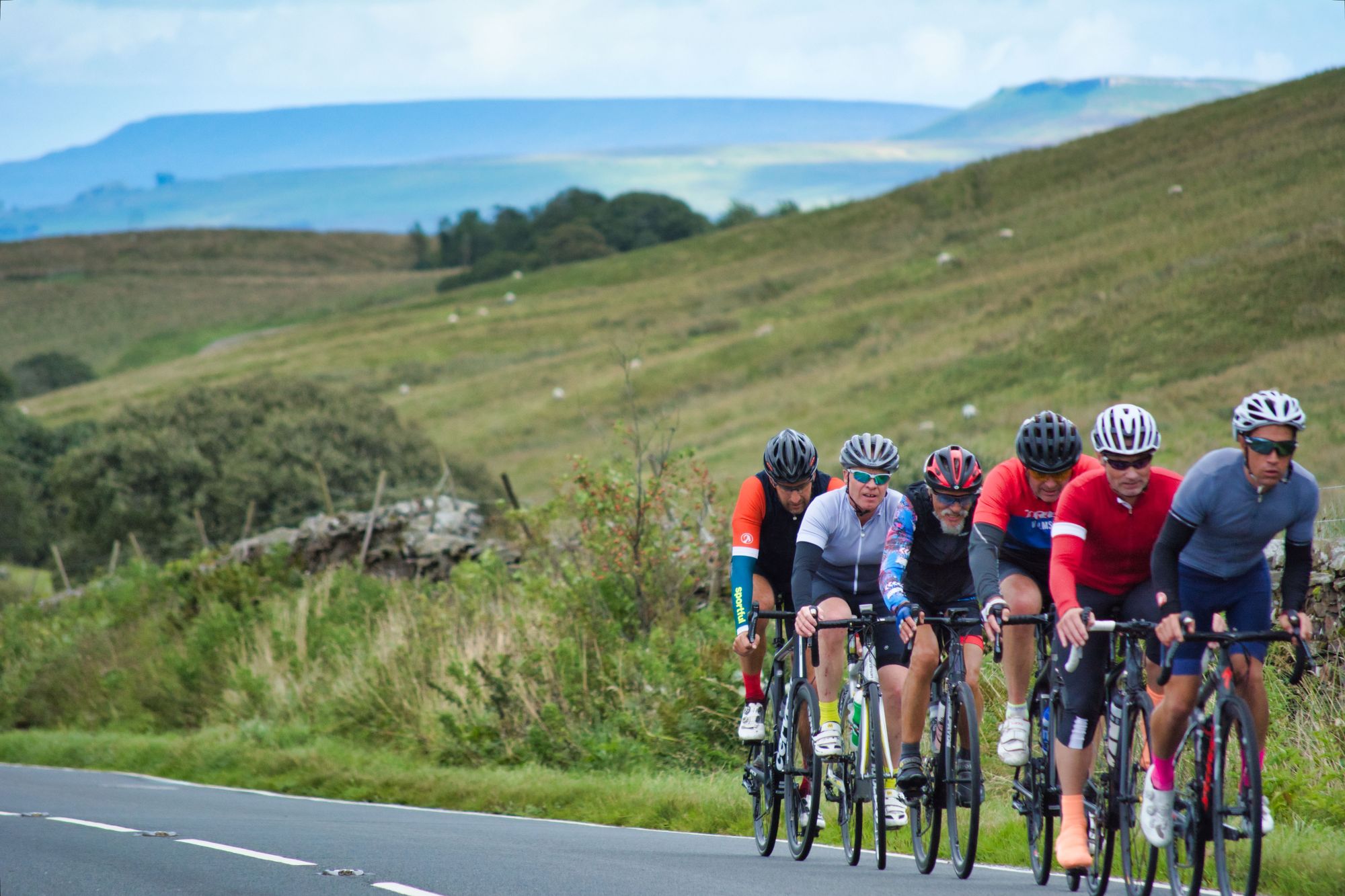 Day One - Yorkshire
I wouldn't say I'm anti-social, I just get toe-curlingly nervous when meeting new people. I say the wrong things, I fidget, I can't make eye contact, I forget everybody's name... I'm basically way out of my comfort zone.
What made my anxiety worse was that this was 'our' event, Broleur's inaugural Tour of the Roses. People had actually ponied up to take part. What if it was crap? What if they didn't like us? What if I couldn't keep up?
The meet-and-greet on the Friday morning at our base of operations, the Castle Green Hotel in Kendal, filled me with a dentist appointment-like dread (especially after waking up to 40mph winds and window-hammering rain). But I couldn't let the bro down. Not after the time and effort he'd put in to make the Tour of the Roses happen. So I had to suck it up and go full-on chat show host. I'd like to think I managed a mix of Terry Wogan, Michael Parkinson and Graham Norton, but I was probably more Alan Partridge.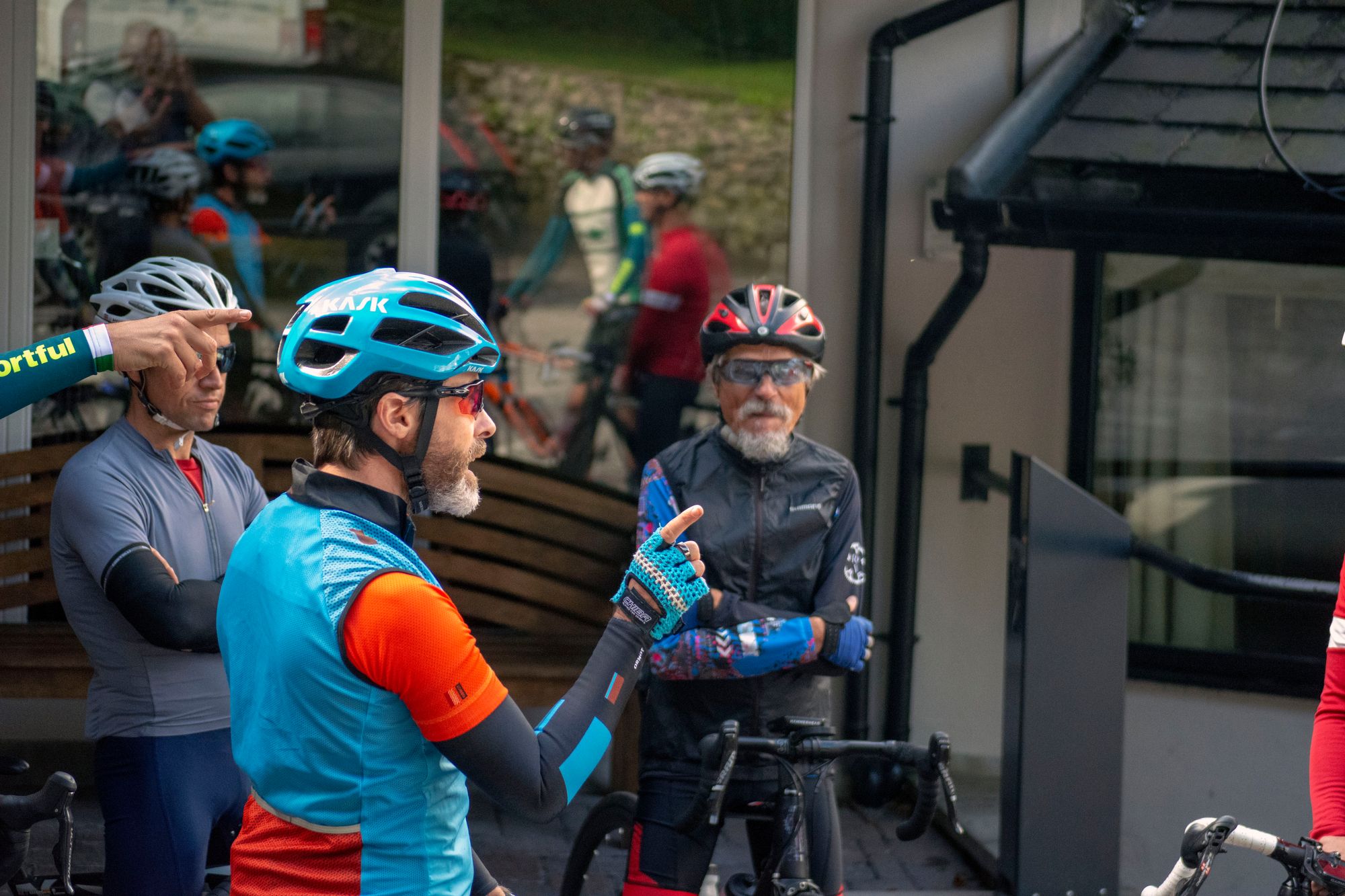 Thankfully, we had our support act (some would argue star of the show)... brotheur-in-law, the man in the van, photographer, mechanic, problem-solver and cheerleader (minus the short skirt and pom-poms).
CJ can talk to anyone about anything. Sit him down with Donald Trump and AOC and they'd be besties in five minutes. Any awkwardness instantly evaporated. Fuelled by his boundless positivity and pots of coffee, everyone was soon chatting away and getting to know each other. The strong winds had eased and there was even the odd patch of blue peeking from behind the grey curtain of cloud.
Tackle out
No matter how many times you tell each other, 'This isn't a race', no one ever really listens. Despite the good intentions of a neutralised start, it was full gas from the get-go. Like preening peacocks fanning their feathers, everyone was keen to display some early form.
The first 50km passed by in a blur, both metaphorically and literally. I think I recall a vague climbing sensation immediately upon leaving Kendal and maybe another out of Ingleton. Thankfully, it's impossible to forget the views of the stunning Ribblehead Viaduct.
We hit the the lunch stop in Hawes having held a 30kph average speed. It was unsustainable, unpleasant even. This wasn't what the Tour of the Roses was supposed to be about. Everyone agreed it was time to put the wieners back in the pants. No one wants to see them anyway.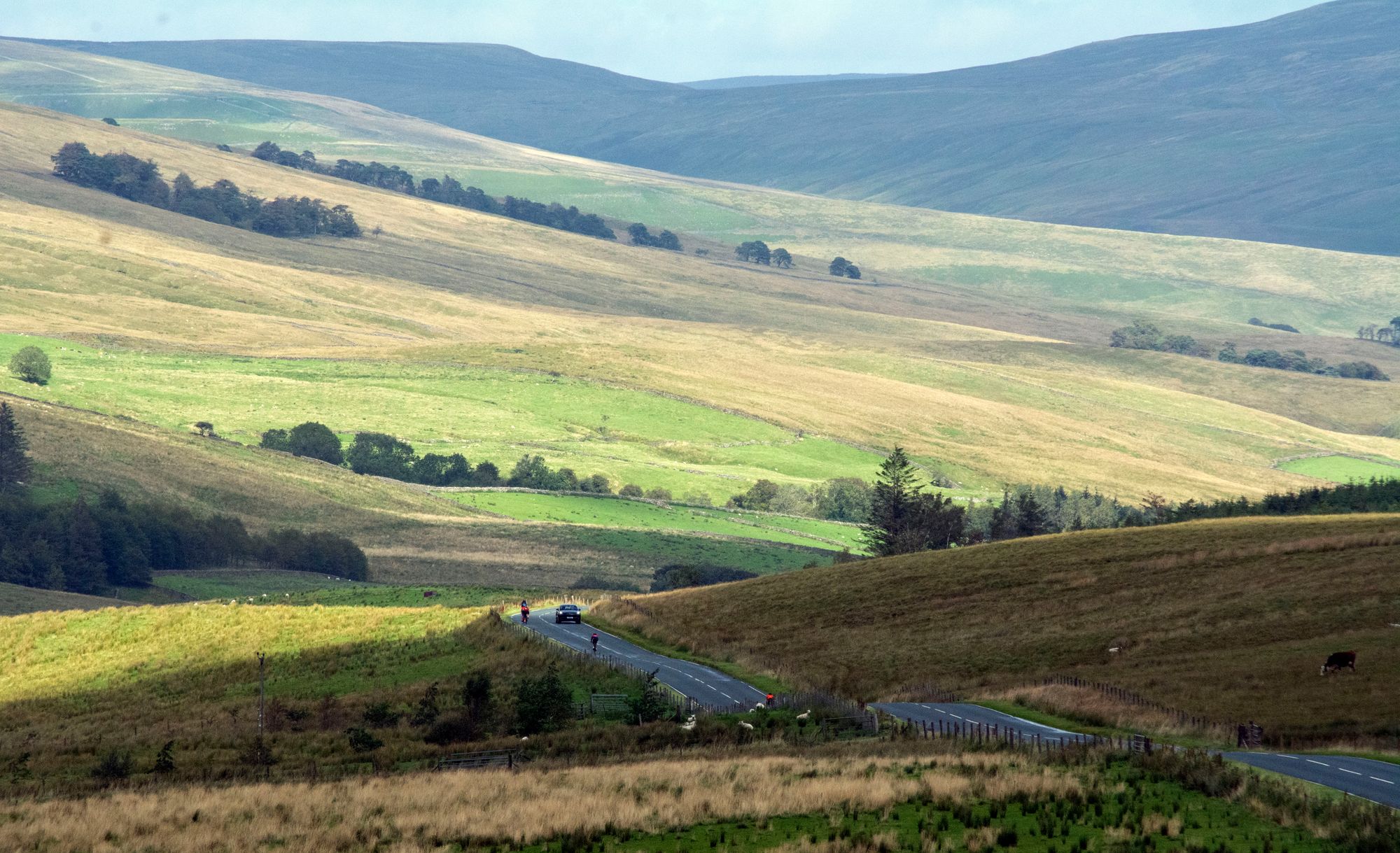 Feast fit for kings
I take after my mum. We inhabit a world of worry and stress over the smallest thing. So I could feel her pain in the build-up to Tour of the Roses. The brother had promised handmade sarnies to order by 'Granny Annie' and there was no way she was going to disappoint her boys.
With back-up from Uncle Brian and Auntie Gill she dished up lovingly prepared chicken & stuffing, ham & mustard and cheese & pickle sandwiches, packets of Seabrook crinkle-cut crisps, cans of coke, hot coffee, homemade cakes and a healthy helping of northern hospitality. She did us proud.
And a good job too. We needed a full belly to stomach the climbs to come.
Utterly butterly
Think of the 2014 Tour de France's Grand Depart in Yorkshire and one of the indelible images is of the hordes of fans lining the 'Cote de Buttertubs'. For that reason alone, it had become a must-do in my mind.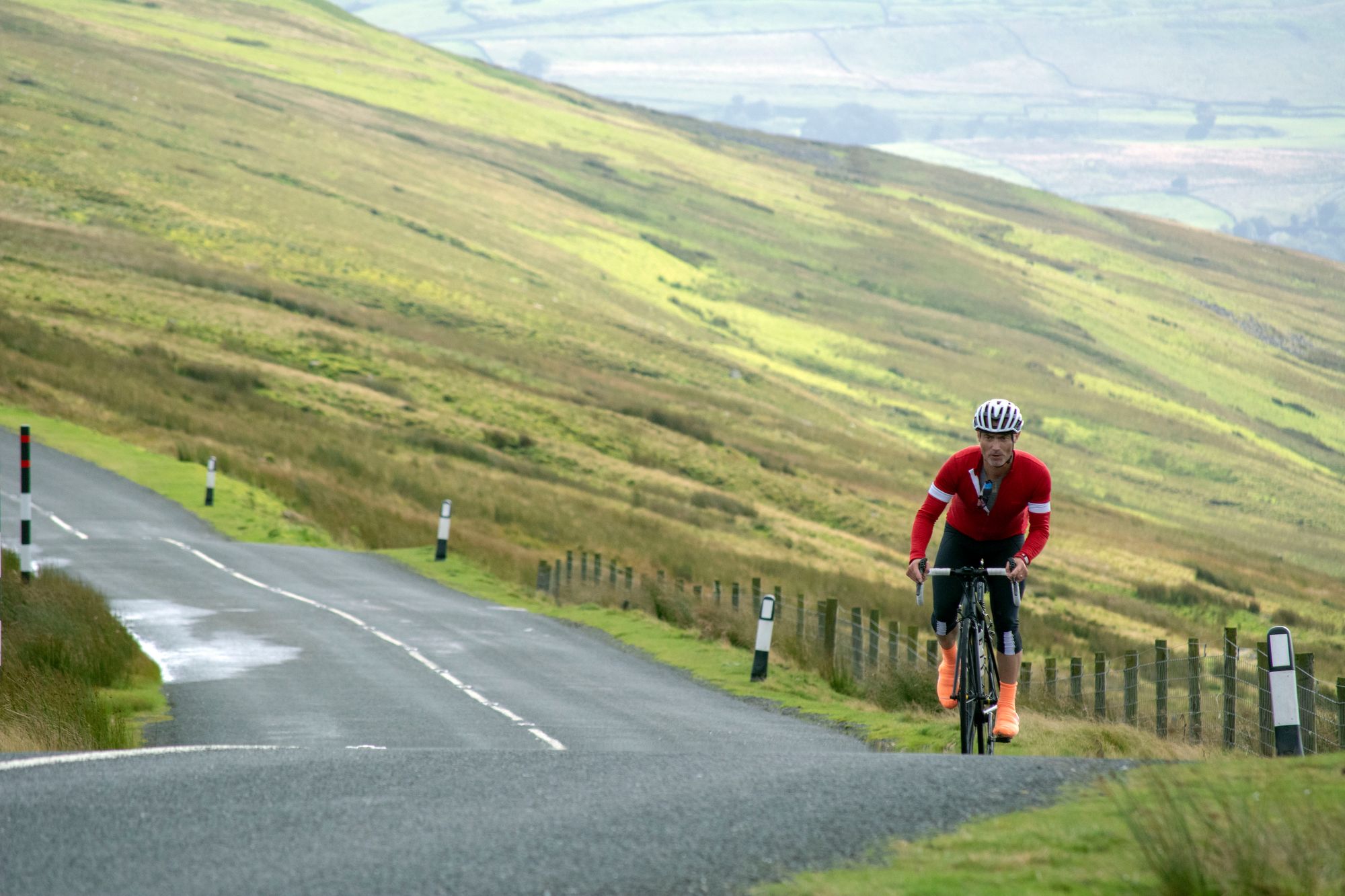 What a view and what a great feeling it was to cross the cattle grid that marks the end of the climb. Cheering every rider over the finish, it was the first time that we didn't feel like a bunch of individuals wanting to prove a point. We were in this together. A bond-forging moment - and there'd be a lot more to come...
Getting a heads up
The new-found bonhomie lasted the 20 minutes or so it took to reach the start of Day One's last biggie, the Coal Road that straddles Garsdale Head. I'd been riding and chatting with a lovely chap, Chris, vowing to stay by his side and coax him up the climb. But talk is cheap.
It was too steep (Veloviewer awards Garsdale a 17% max - balderdash, I say!) to go at anything other than your own pace. I had no choice but to leave him behind. It was every man for himself. On the sinking Titanic, I'd have been the guy pushing the women and children out of the lifeboats.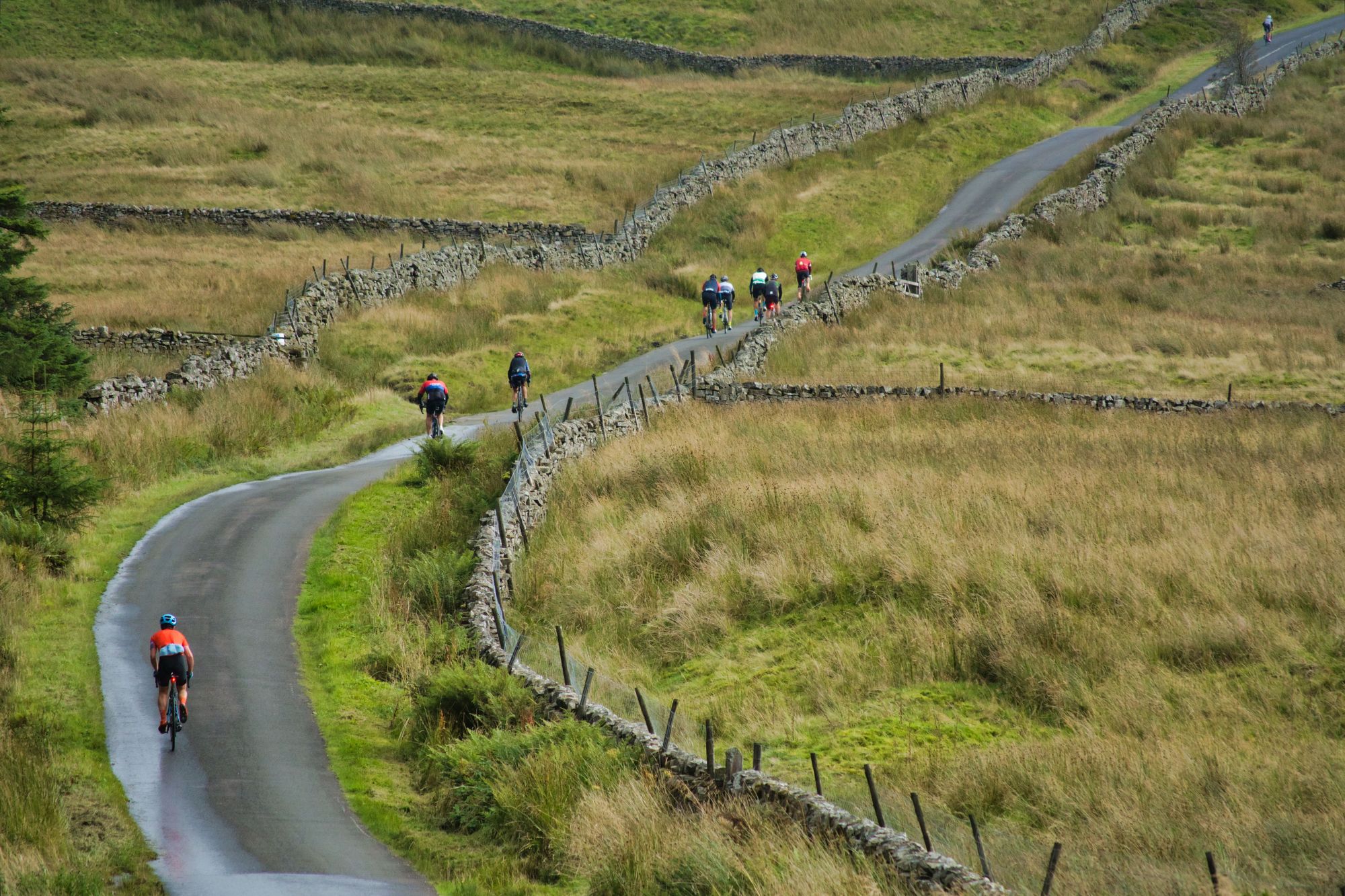 But, credit to Chris, there were no hard feelings (or at least he didn't show any). Perhaps he was placated by the wonderful scenery on the steep descent to Dent and its Paris-Roubaix-style cobbled section. In no time, we'd skirted the ominous-looking Winder Fell that looms over Sedbergh and found ourselves safely back at Kendal base camp.
Frothy local mead was ordered and tales recounted (with a touch more embellishment on my part after the third pint). But it was an early night for one and all. Everyone knew what was in store. If Day One was 'Scream', Day Two was 'A Nightmare on Elm Street'. All five of them combined.
Day Two - Cumbria
By the end of Day Two, I was a gibbering wreck. Totally spent. Exhausted. Beaten. Hungry. Proud. Dazed and confused. I haven't been that tired after a day on the bike since... erm, I actually can't remember when. Maybe the Marmotte? But at least then I could form a coherent sentence afterwards.
How had it come to this?
Extra helpings
My first recollection is hitting breakfast hard. Very hard. While some sensibly went for porridge, poached eggs or fruit and yoghurt, I circled the morning buffet station like an emaciated hyena sniffing out a wildebeest carcass. Bacon, sausages, fried eggs, black pudding, beans, mushrooms, hash browns, croissants and coffee. Followed by round two of the same.
Once on the bike I managed to show a little more restraint. There was no breakaway for the peloton to pull back, no dropping of the hammer from the off. Just a gentle coast into Kendal town centre before the climbing began. Beast Banks. Only 400m at 7.3% but enough to wake up some achy thighs.
To go in to too much detail about Gummer's How, Torver, Kiln Bank Cross and Woodside would be nearly as punishing on my two-forefinger typing skills as it was on my legs, so I'll keep it brief.
The bro forewarned us "You'll hate me for this next bit. I'm sorry." And we did indeed hate him. The odd "What the fuck is that?" was heard as the road pitched up to 20%+ gradients. The pain would fade as we were rewarded with spectacular glimpses of a shimmering Lake Windermere, a serene Coniston or the Cumbrian coastline. Until the next one, where the same scene was replayed. Groundhog Day on a bike.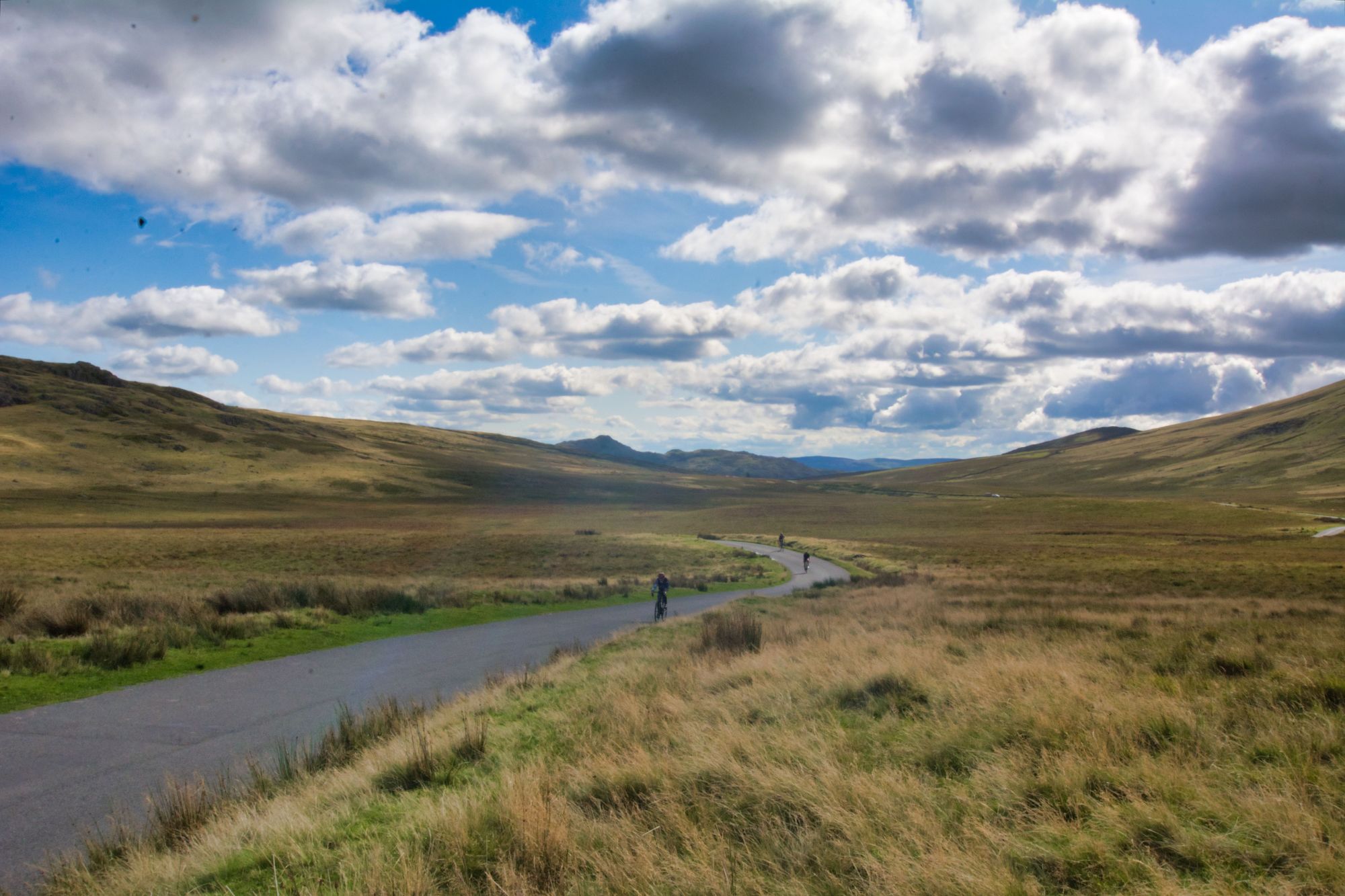 I can't speak for the others, but by the time we stopped for lunch at Eskdale I was feeling battered, physically and mentally.
To say that our friends Simeon and Catherine served up some hearty fare would be doing them a disservice. Humongous bowls of aubergine pasta and chicken and chorizo pasta, various homemade cakes, coke and San Pellegrino. All enjoyed with a side of sunshine and blue skies. Everyone agreed it was one of the highlights of the three days - certainly the best culinary experience I've ever had on a cycling event.
Beaten
Looking at the Day Two profile beforehand, the peaks of Hardknott and Wrynose stood out like the horns of the Devil. Anyone who's done the Fred Whitton can attest to just how evil they are.
I'd watched YouTube videos of Hardknott but they don't do it justice. It's mind-bogglingly steep. And not just on the legendary 33% hairpins. I struggled to make it through the car park at the bottom in granny gear. Misery loves company though - I could see everyone was hurting.
Well, actually that's not strictly true. One guy stood head and shoulders above everyone else, maybe not in height, but certainly in climbing ability. Strap a heavy suitcase to James' back and you'll get a rough idea of the extra baggage I was carrying. He was a speck on the horizon before I'd heaved myself around the first hairpin.
"DIG DEEP" is scrawled on the road about 300m from the top of Hardknott Pass. Dig deep? Yer havin' a laugh. We were digging so deep we'd formed our own Chicxulub crater.
I so nearly made it (honest, guv!). But the last horrendously steep straight had me pedalling square and veering from side to side. I felt like I was going to come to a dead stop and fall off, so had no option to unclip and dot down. A tad gutting, but I only walked for about 20m before clipping back in and grinding on to the top. Every rider from the group was cheered across the brow.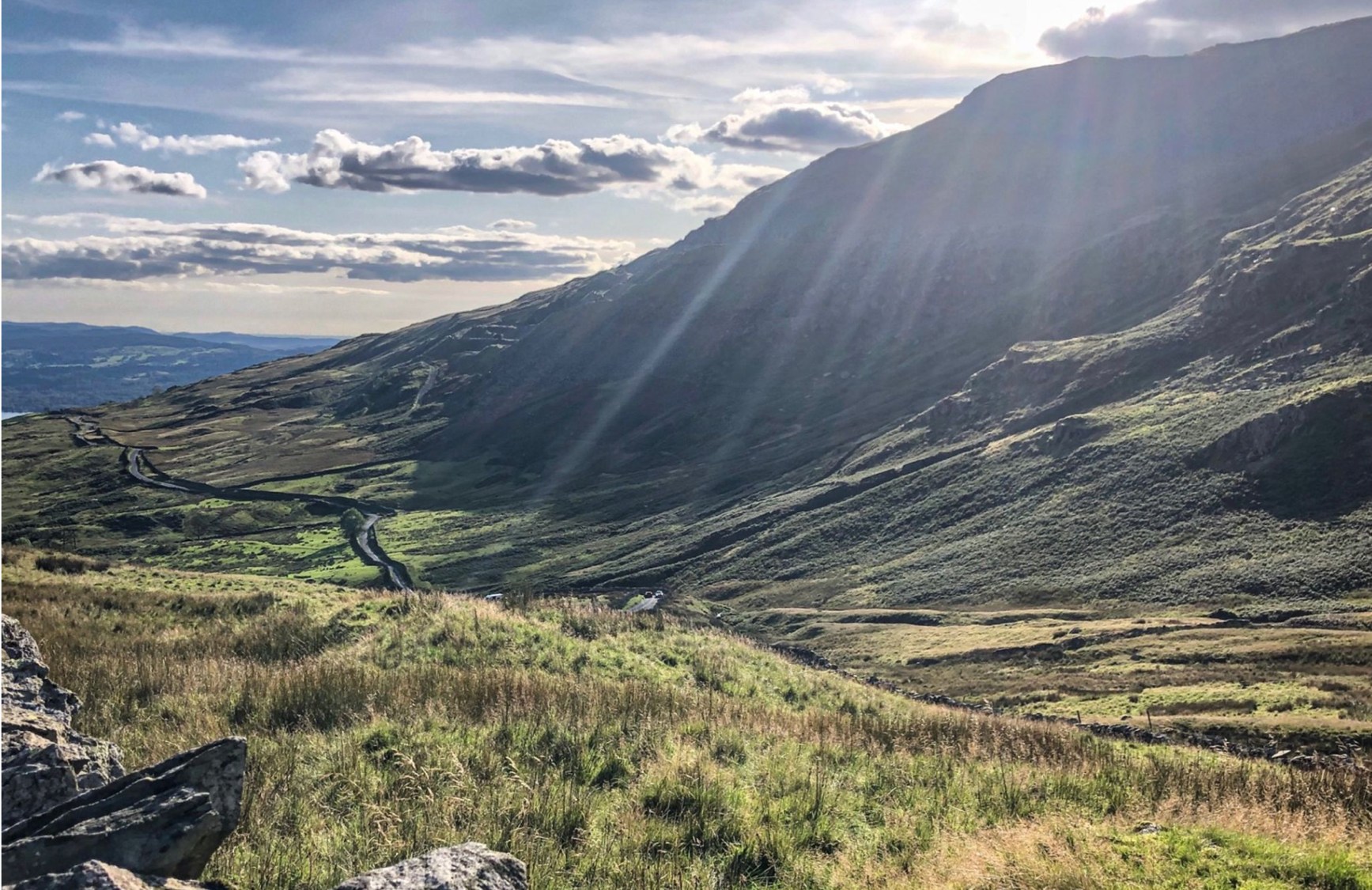 Proud
There wasn't too much time to bask in our achievements. After a brake-screeching descent (Paul's top tip: change your disk pads before attempting the Tour of the Roses), we were almost immediately upon Wrynose, which is almost as hard as Hardknott. The T-800 Terminator up against the T-1000. You wouldn't want to mess with either.
Bathed in the afternoon sunshine, Wrynose looked both resplendent and foreboding. There's an unforgiving and seemingly unrelenting 25% section close to the top, but I wasn't going to tap down again. Instead, I followed the weaving line of our two military men and multiple Marmotte veterans, Craig and Steve. It would be cheap to throw in a battle or war analogy as they've seen enough real ones. All I would say is that I felt a chest-swelling pride to conquer Wrynose in such company.
Exhausted
In Ambleside, we gathered around the van for some final fuelling before an attempt on the Kirkstone Pass. I was cream crackered and more than happy with my day's work. Fortunately I had a get-out clause in my contract... my wife and daughter had journeyed to Kendal to see me. I couldn't possibly leave them hanging around (nudge, nudge!), they'd surely demand I rode directly back to see them (wink, wink!). I made the phone call in front of everyone. Genius!
Except she obviously didn't get the memo... "Don't be silly, you've got to do Kirkstone, I know how much it means to you."
There was no backing out - much to the amusement of the eavesdroppers.
Kirkstone certainly lives up to its moniker "The Struggle". Lasting 4.8 long kilometres, it delivers a stinging smack to the thighs at the start, then just keeps whacking away until you're on the verge of tears.
There's a brief but welcome respite, then you look up at the white pub that marks the top and shake your head in utter disbelief, wondering how you're ever going to make it. It took the last ounce of energy, the final crumb of Clif bar, the last droplet of rhubarb & custard Torq gel to get me there. But I did it... eventually. Surveying the scene below, I decided I did love my wife after all. She'd made the right call. I'd have been kicking myself if I hadn't done The Struggle.
Then the madness set in...
Dazed and confused
At the top of Kirkstone, I spotted one of our group, Andrew, taking photos of the valley. Except it wasn't Andrew, just a random cyclist. What followed had echoes of Alan Partridge's famous "Dan" scene.
"Hey, Andrew! Well done mate, great effort getting up there. Andrew! Andrew! I said great effort pal. Andrew! ANDREW! You're not waiting for the others?"
Clearly terrified by the 'mentalist' haranguing him, he hared it down the descent to Windermere. And I followed.
At this point it gets kind of vague. I remember a brutal extra climb near Windemere school, getting lost in Kendal town centre and swearing on FaceTime at my missus before finally arriving back at the Castle Green, utterly bemused how everyone had beaten me to the finish.
After some much-needed liquid refreshment, I regained my senses in the shower and joined everybody for dinner and the Awards Ceremony. While it may have been lacking a touch of Hollywood glitz and glamour - it did provide a good few laughs and a chance to revel in a monumental ride.
Day Three - Lancashire
If Day Two was a voyage of discovery on choppy seas, Day Three was more of a pleasure cruise on familiar waters.
Following a leisurely breakfast, the group decamped to Lancaster, our home town, for the final leg. 1,250m of climbing over just 71km would usually be daunting, but after what we'd done the previous day, it felt like we were going for a gentle stroll in the park. That said, there were still three climbs worthy of inclusion in Simon Warren's infamous 100 Greatest Cycling Climbs list - Jubilee Tower, the Trough of Bowland and the Cross of Greet.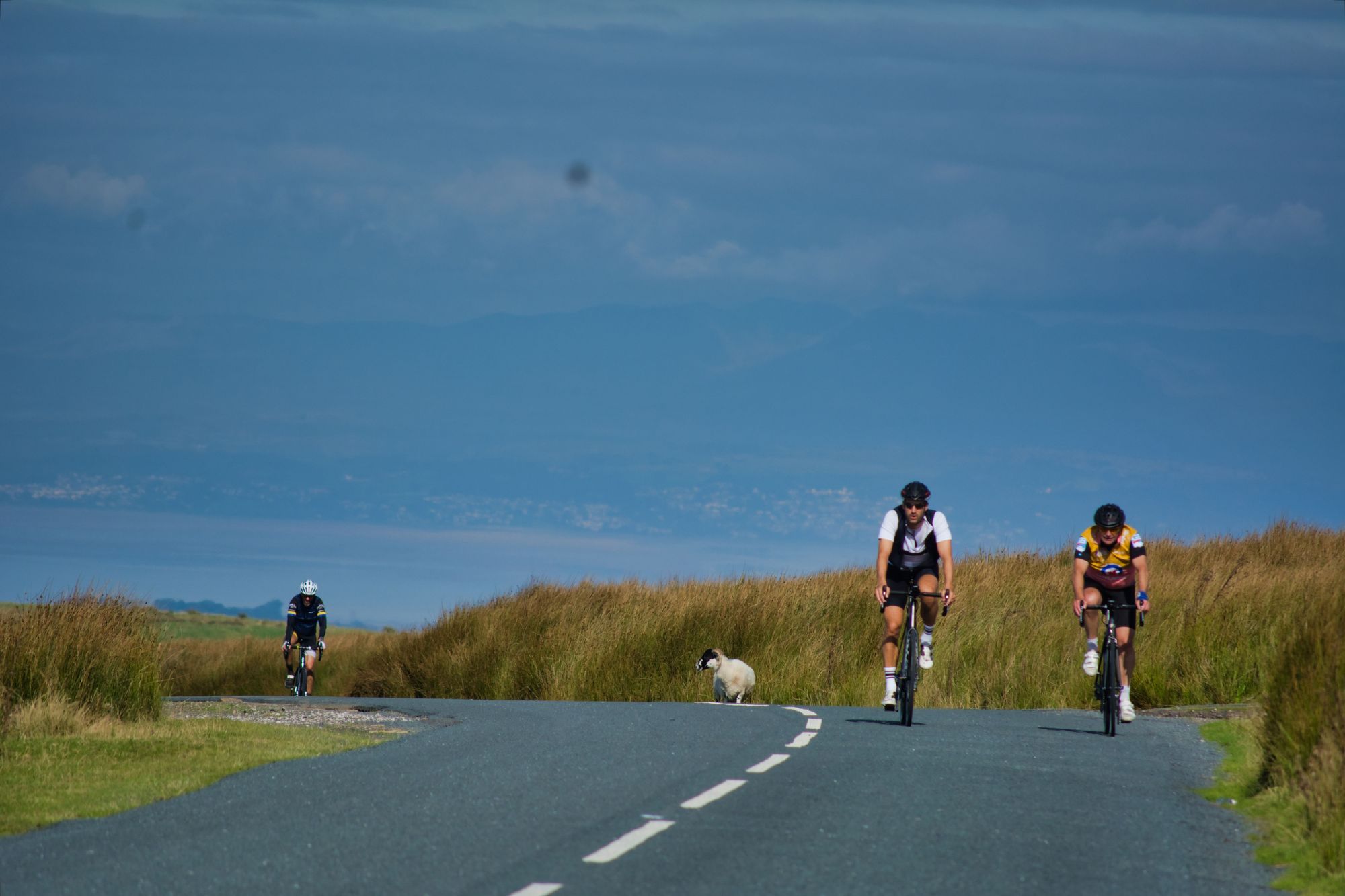 With Jubilee, after a couple of leg-chewing ramps, you have the magnificent view all the way to Morecambe Bay, while the Trough is just gorgeous, sheep munching away by the roadside between little streams and heather bushes as you push up the climb. The descent toward the lunch stop at Slaidburn is even better. Fast, a decent road surface (barring a few cattle grids) and spectacular scenery. If you don't enjoy the Trough, then cycling isn't the sport for you.
After filling our boots for the final time - 'Granny Annie' again going above and beyond in preparing individual sandwich orders - we set off on the last major climb of the Tour of the Roses, the Cross of Greet. I was almost misty-eyed at the prospect.
The Cross of Greet (Lythe Fell) was the only big climb we did over the three days that felt truly Alpine. Fairly long, at 3km, but a steady gradient hovering at about 6%. No 25% horror shows - bliss! The military duo of Steve and Craig were setting a strong pace, so I just sat on their wheels and was dragged along. Double bliss! It was such an enjoyable climb.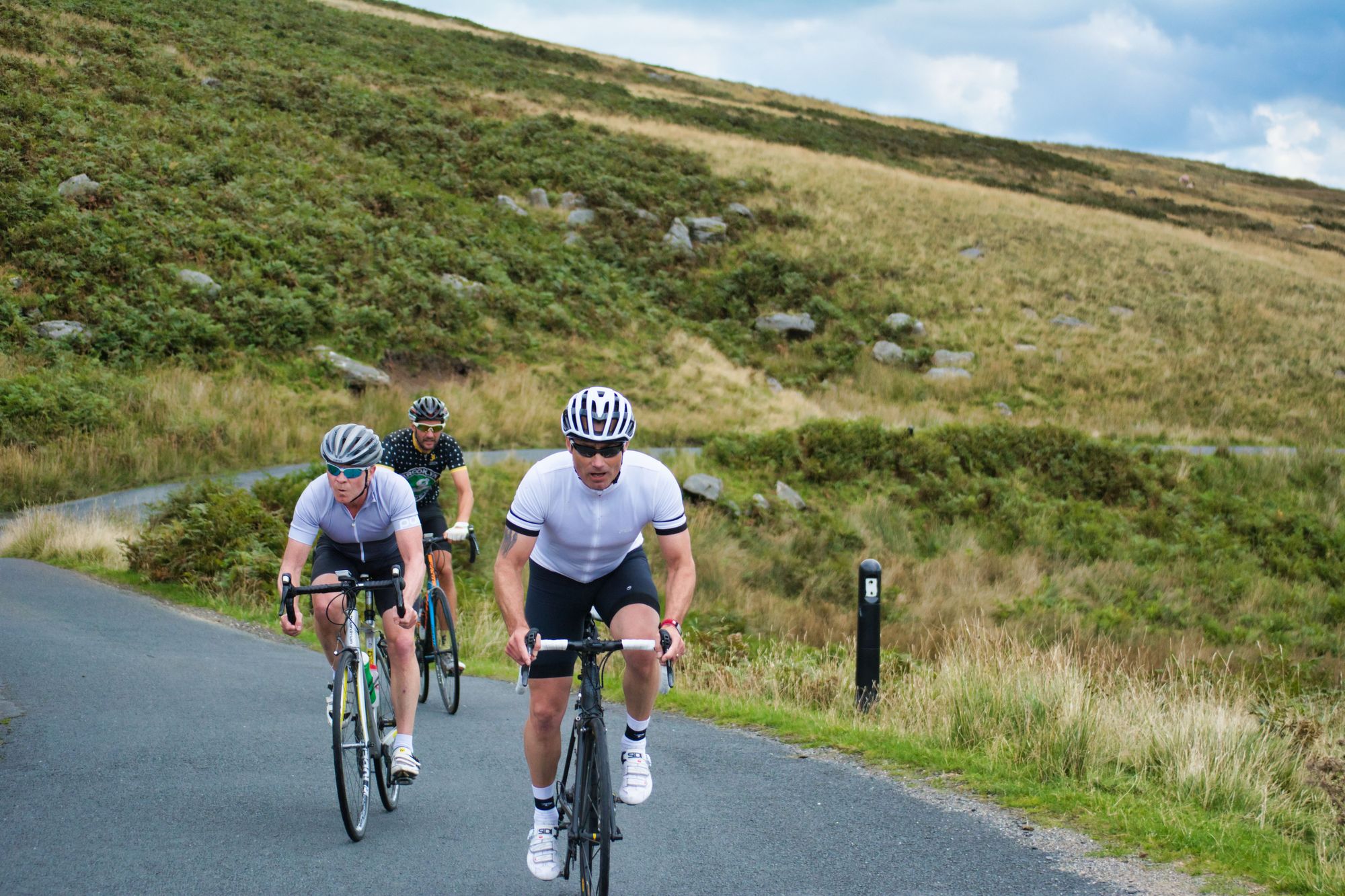 All that remained was a 30km group sprint, largely downhill, through Wray and Caton. I gave a tow to Richard, another member of Richmond Park Velo, who admitted his "legs had gone". No wonder. While at first glance, he looked like a strong gust of wind might blow him over, Richard had been putting in some unfeasibly long turns on the front into headwinds, spinning his way up the climbs and descending like Julian Alaphilippe. It was only fair to pay him back for all the times I'd been wheel-sucking.
It's been emotional
It's hard to describe how I felt when we got back to the Lancaster Leisure Park and the end of the Tour of the Roses. Elated, for sure, having ticked off so many bucket-list climbs. Also relieved the event had been an overwhelming success. But the overriding feeling as we supped an ale or two at the Lancaster Brewery was gratitude.
Grateful that our family had done such a stupendous job in supporting us; grateful that everyone joining the event had entered the spirit of it and come together as a group; grateful that the weather had been extremely kind, but most of all I was grateful to my brother.
I'd had my doubts since he first mooted the idea and purposefully took a back seat during the preparations - in fact it would be more accurate to say I'd been hiding in the boot. Shame on me. Thankfully, he was resolute. The Tour of the Roses was going to happen and it was going to be brilliant. And it was, every bit of it. So much so I've already signed up for next year, but the question is have you?
The other brother
Just about anyone can complete a one-day sportive: the Surrey Sloth, the Lincolnshire Lollop or the Fenlands Flatliner. Three days is different. A seed of doubt can easily germinate during the first day's riding and turn into a full-on man-eating trepidation triffid when you wake exhausted the following morning.
The mental and physical fatigue involved in riding three successive hard days makes a strict regime of rest and recovery paramount. But not all riders exercise the necessary discipline. Usually what goes on the Tour, stays on tour. However, writing exclusively and anonymously for Broleur, the Secret Cyclist can reveal that to the shock of his fellow tour riders, one particular high-profile athlete:
Drank beer immediately following each day's ride. And not just a "cheeky half" but up to four pints of the potent local brew, becoming alarmingly incoherent with each successive swig.
Refused to stretch during the traditional post-ride token warm-down, opting instead to obsessively scroll through his Strava feed to see how he'd fared on the day's categorised climbs.
Gorged on meat at every opportunity, foregoing the cyclist's traditional carb-heavy diet of pasta or rice in favour of foods guaranteed to sit heavily in his bowels the following day.
Ignored the strict team curfew, preferring to remain in the hotel bar to buy 'rounds' and regale fellow-guests with only slightly embellished tales of past glories, rather than getting some much-needed kip.
Little wonder that this as yet unnamed rider went AWOL late on the second day.
"I couldn't believe he actually made it out on day three!" one source familiar with the notorious hill-crusher was quoted as saying, "I've seen people bonk before, but this was something else. Donald Trump makes more sense!"