The Tour de Yorkshire Sportive
As born-and-bred Lancastrians and long-time Londoners, we're naturally scornful of Yorkshire's superiority complex. Sadly, in the case of the Tour de Yorkshire sportive, it's totally justified.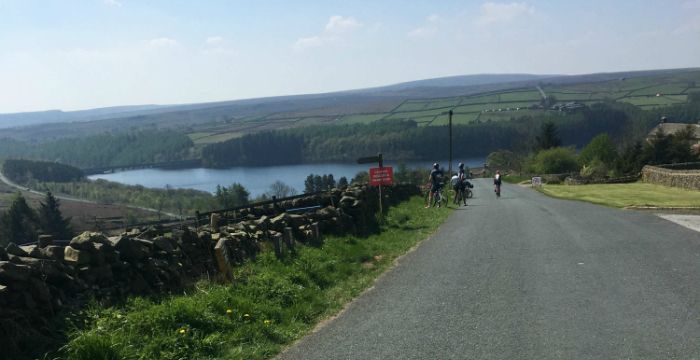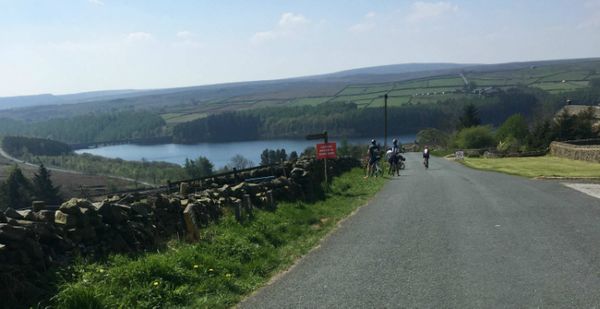 Any place that refers to itself as 'God's Own County' must have delusions of grandeur. After all, I was once trapped in Purgatory, sorry Castleford, for a couple of hours, but it certainly felt like a tortured eternity.
Yorkshire tea, Yorkshire pudding, Yorkshire bitter... you get the overwhelming impression that - apart from having a rather bizarre diet - if it isn't from Yorkshire, it isn't worth having. It's like being beaten over the head with a hammer, which no doubt would have been forged from Yorkshire steel and wielded by a gruff Yorkshire miner.
But while riding the Maserati Tour de Yorkshire, it dawned on us that we're only jealous.
Jealous that Yorkshire can put on such a marvellous sportive; jealous that Yorkshire has embraced cycling to such a degree that an estimated 2.6 million people turned out to watch the men's and women's pro races; jealous of the pride the locals have in their county with their white rose flags in abundance, but mainly just jealous that Lancashire hasn't an event to rival it - yet. As the other brother said:
If you were a Grand Tour boss, where else would you go in Britain other than Yorkshire?
Fun in the sun
Having the family in tow meant that, for once, we were in separate city-centre hotels. But some things never change. After agreeing a 7.30am meet-up at the start line at Woodhouse Moor, I arrived 20 minutes early, while he rocked up 20 minutes late.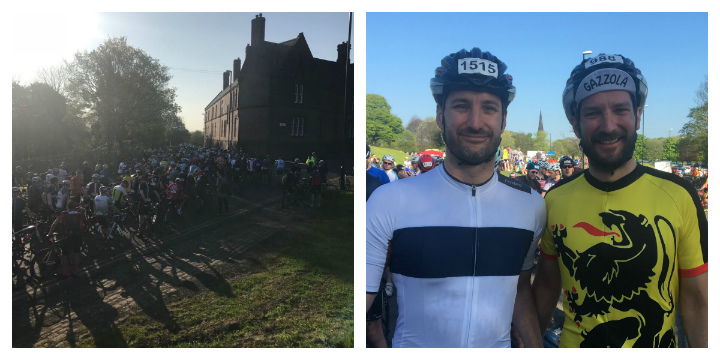 Not that I minded the wait. Cloudless skies, hardly a breath of wind, a warm morning, fingerless gloves, short sleeves and bib shorts, jumpers for goalposts. The scene was set for an epic day's cycling.
Altitude sickness
I'm the broleur who assiduously studies the parcours beforehand, researching the climbs until I know them like the back of my hand. Yet for some inexplicable reason, I hadn't done it for the TdY.
Actually, on second thoughts, it was perfectly explicable. It was going to be a 129km stroll through the countryside. A couple of hard slopes in Greenhow and East Chevin, but with only 1,200m of climbing in total it was going to be a breeze.
Except I'd somehow missed the extra 1,000m of altitude gain we'd have to do.
We headed out of Leeds and into the lush, verdant valleys, resplendent in the sunshine. Latching on to a group of Stockport CC riders clad in Belgian hues, we belted along to the first climb, Rigton Hall. Nothing to make your eyes water or legs seize up, but the steep ramp at the top was a foretaste of things to come.
Hart ache
How on earth had I overlooked Hartwith Bank in my preparation? Even a cursory glance at the stem sticker would have saved me a lot of distasteful soul-searching afterwards. 1.5km at an average of 9.1%, with a substantial section at 21%.
It came as a surprise but I was going OK, bolting away from the other brother and making good progress... But then, oh then, the shame. I can barely bring myself to write it.
Weak thoughts crawled into my head and started to nest and breed. Plenty of riders had begun to walk up and the temptation to dot down a foot and take a breather suddenly became an irresistible craving.
I stopped. There, it's out. I could have kicked myself with a Yorkshire steel-toed boot. Too embarrassed even to cheer on my bro as he came past. Even now, several days later, I'm angry and disappointed at myself. There was only about 100m to go to the top. It was gut-check time and I didn't have the intestinal fortitude to push through the pain.
Bridge of highs
Although I clipped back in after 30 seconds and rode to the top, the only black cloud we saw all day had descended over my head.
Thankfully it only lasted as far as Kirkby Malzeade, where our route joined up with that of the pros. The village had gone to town on yellow-and-blue bunting. Flags and signs were draped from windows and walls, and the locals were clapping and cheering us on. Only the most curmudgeonly curmudgeon could have failed to get a spring back in their pedal stroke.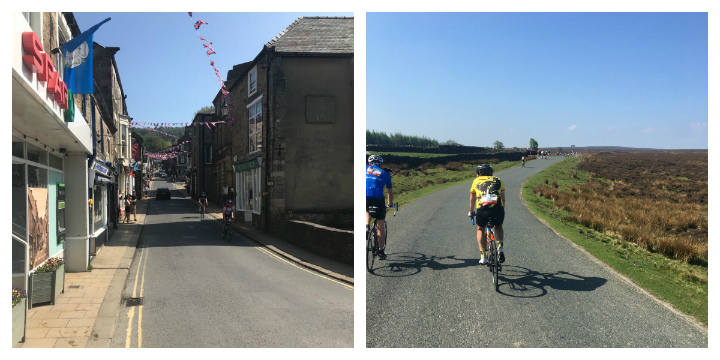 It was a similarly magnificent scene as we descended into Pateley Bridge to stop at the feed station. But in my only criticism of the organisers of what was otherwise a spectacular sportive, the queue for the food and water was ridiculous.It must have been a half-hour long. An executive decision was made to raid the nearby Spar shop for one large bottle of water, two Cokes, a packet of salt and vinegar crisps and the last sandwich they had. All we were missing from our impromptu buffet were mini sausages and cheese and pineapple chunks on cocktail sticks.
Greenhow hard was that?
Almost immediately after leaving the rammed feed station, we were confronted by Greenhow, which is best summed up by the bro's one-word exclamation: "Wow!"
The start is steep, heinously steep, as you go past a pub on your right (a Yorkshire bitter would have tasted ever so sweet right then). I nearly puked up my recently consumed prawn sandwich.
Greenhow eases off after the first 200m but it's ever so hard to build up any momentum before the next 15-20% section. That's repeated another time before you reach the top after 3.3km. The brother powered onwards and upwards into the distance (chapeau!) but while I didn't exactly cover myself in glory, there was no way I was going to tap down again.
Then there was the support. Egging you on; acknowledging the pain and effort involved; nothing but positive praise even if you're going laughably slowly (I was). It felt like they were almost turning the pedals for me.
A 1km sign to the summit... 500m... I even managed to share a joke with a fellow rider how we'd timed our sprint to perfection, lulling everyone else into a false sense of security with our snail-like pace earlier on.
And then finally, after what seems like a prehistoric age has passed, you're cresting Greenhow, with what seems like the whole of Yorkshire below you.
Countryside alliance
And that's precisely why this shouldn't be a tale of woe or a story of suffering. Because it truly isn't. The Yorkshire countryside is simply stunning, the descent to the Thruscross Reservoir beautiful, right up there with the Etape Caledonia.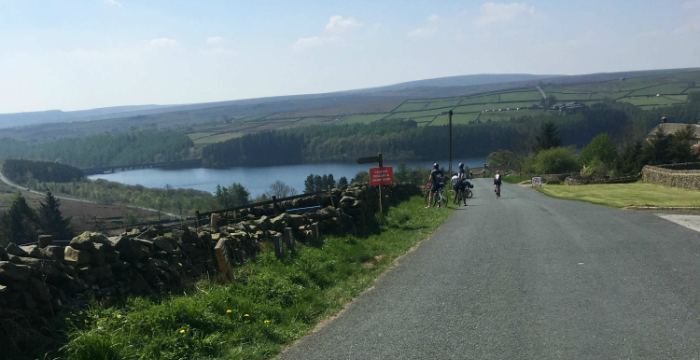 There's a scene in the movie Hall Pass, where the character played by Jason Sudeikis takes 'snapshots' of attractive women by blinking his eyes - and that's what I felt like doing.
Going over the Yorkshire Dales, with sheep rather than people for attendance, it was just as impressive - and its rolling landscape was reminiscent of the day we did in the Tour of Wessex.
Stairway to Chevin
25km to go. Just one bad boy to banish to detention - the Cote de Chevin, leading you out of Otley. It's almost arrow straight but at an average of 10.3% over 1.5km, it had the potential to be as unpleasant as getting a whiff of a Parisian underground carriage. Not a Parisian's undercarriage. Although, come to think of it, the two may be inextricably linked. Anyway, I'm getting sidetracked here...
It was indeed a grind but, again, there was a cracking contingent of supporters lining the roadside and, as silly as it sounds, I didn't want to let them down by walking it, as though they'd feel they wasted their breath in roaring us all on. Some kind souls were even offering jugs of water to refill your bidons near the top.
Coming up smelling of roses
Thankfully, from there it was pretty much all downhill to the finish line in Leeds, save for a fairly vicious kick up Black Hill Road.
Among the throng in the last 200m, I managed to spot my family to give them a celebratory salute - there aren't many better feelings in this world than that.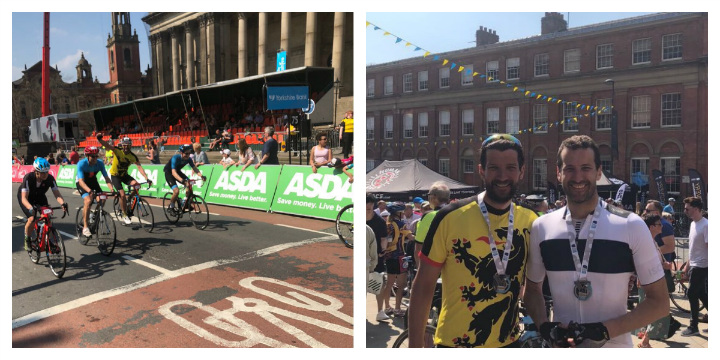 And there aren't many better UK sportives to do than the Tour de Yorkshire. We'd put it in the same bracket as RideLondon and the Velothon. It isn't Fred Whitton or Dragon Ride hard but it is long enough and tough enough to provide a real challenge. Throw in the scenery and support, and the Tour de Yorkshire has become a 'must-do' ride.
Yorkshire, as tough as it is for a Lancastrian to admit, you not only showed the best of the White Rose county, you showed the best of Britain.
The other brother
9:12 am, Friday the 17th June, 2016. Boltby Bank, Yorkshire: #54 on Simon Warren's Official 100 Climbs. Legs fresh after the previous day's riding. No traffic. No inclement conditions. No slipped chain or mis-clip. No excuse, whatsoever.
Everyone remembers the last time they tapped down. Usually there's a reason (read: excuse) besides a heinous gradient. Sometimes it's just a momentary loss of fortitude, a gumption bypass.
But while the relief may be temporary, the regret is immediate, and the psychological scars last an eternity. Like a celtic band tattoo, but without the hope of laser surgery.
The other brother's treatment for PTSD (Post Tap Stress Disorder) is underway. Fortunately he's responding well. The first and mosy important step is public confession, followed by a course of relentless piss-taking. No doubt he'll emerge stronger for it. Pray for him, we're taking on the Mortirolo next.
Check out our Facebook page and follow us on Twitter @broleurcc