The Velo Birmingham Sportive
Velo Birmingham is one of the few closed-road sportives in the UK - and given the number of local complaints, there may not be too many more. Shame, because the ride - and the support - did the midlands proud.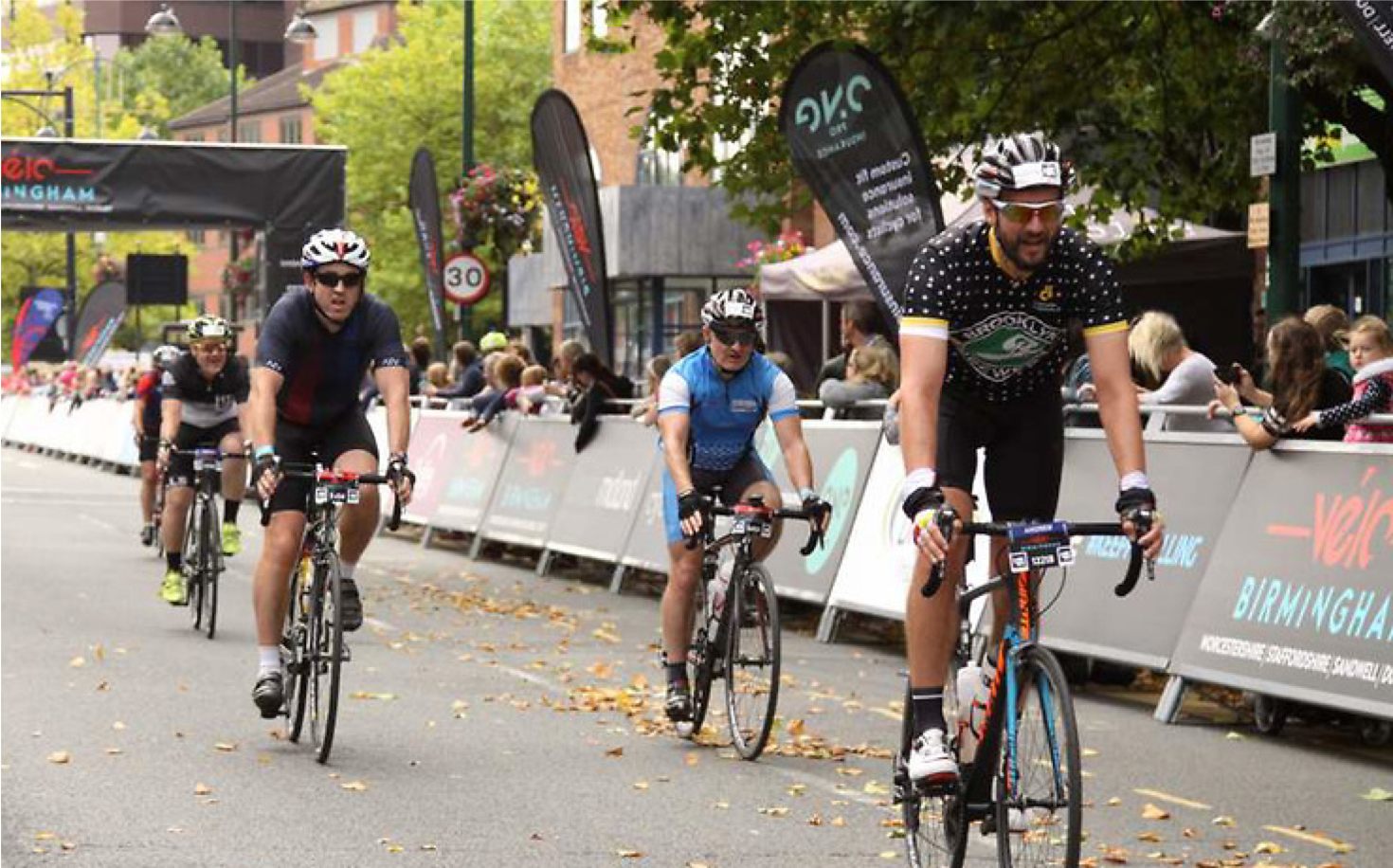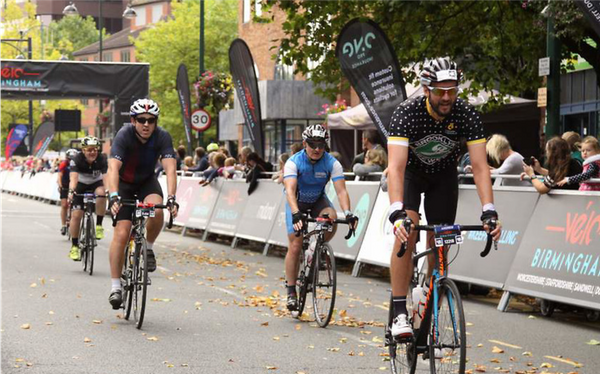 I half expected the locals to storm the barricades at Velo Birmingham, brandishing pitch forks and flaming torches. Riders throwing away their bikes and jumping into the nearest canal to escape the enraged West Midlands hordes. Kids with 'trophy' necklaces of energy gels, laughing maniacally as they threw yet another helmet on to a smouldering pile of plastic.
Everything I'd read on Facebook beforehand suggested the inaugural Velo Birmingham, a 100-mile closed-roads sportive, was about as appealing as syphilis to the local population. Indeed, the burghers of Worcestershire had found the idea so abhorrent that they had forced a late rerouting of the parcours. Participants had also regularly and vociferously complained beforehand on internet forums and Twitter about the eye-watering entry fee - £75 (with the seemingly obligatory booking fee of £3.75 tacked on).
Brum deal
It all added up to a sense of trepidation as my family and I walked round Birmingham city centre on Saturday afternoon after registering at the Barclaycard Arena. I was tempted to stop passers-by and apologise profusely for the inconvenience I'd be causing them the next day.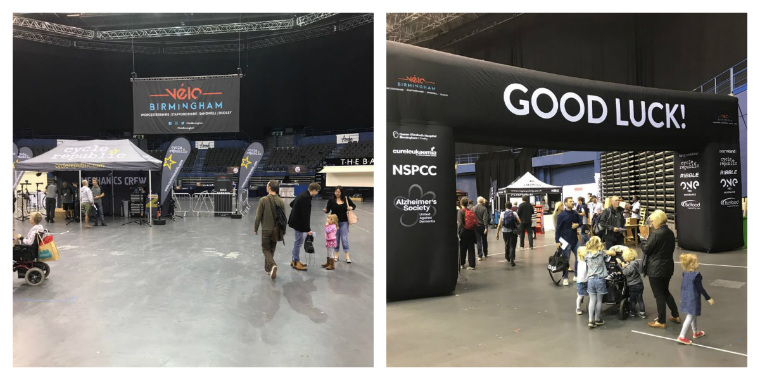 But you shouldn't believe everything you read - something I shouldn't really say as a sports journalist.
Like with Birmingham itself, you hear things enough and you start to believe them. Despite having never visited the Second City before, I'd imagined it to be an ugly, concrete-laden urban sprawl. The reality was very different - as was the reception the Velo Birmingham riders received.
Roaring success
The crowds, the cheering, the support was phenomenal. Amazing. Out of this world. I thought there would be a few people in Birmingham near the start line on Broad Street to holler some encouragement to their loved ones and then it would quickly peter out and turn into a relatively lonely ride for the next 99 miles. That's usually the case on the Continent anyway. Just you, your fellow participants and the gentle hum of your bike.
It didn't, though. Far from it. Every town, every village through Worcestershire, Herefordshire and Staffordshire had people lining the streets, clanging cowbells, blowing vuvuzelas and bugles, waving flags and roaring you on. And when there are around 12,000 riders, that's a heck of a lot of roaring. Sales of throat lozenges must have gone through the roof.
Special mention must be given to the residents of Bewdley. The bunting had been brought out for the occasion, the supporters were three-deep in places and the pubs were doing a tremendous trade, which created a really raucous, party atmosphere.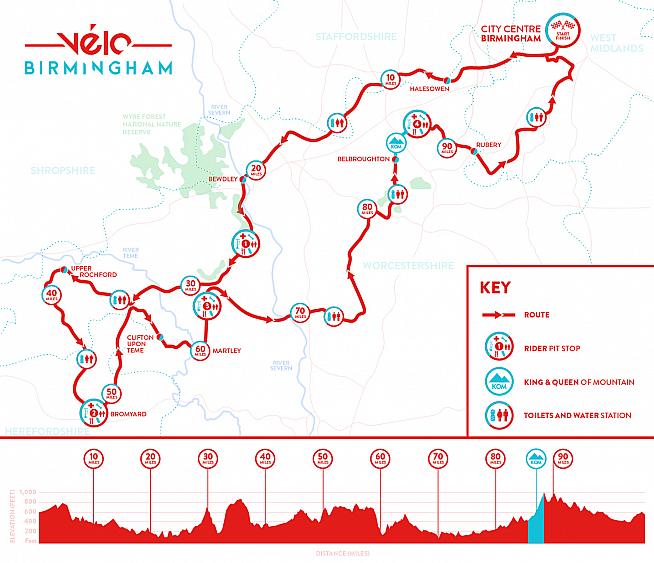 But it wasn't just in the towns and villages. You'd be in the middle of nowhere, heading down a country lane, and there'd still be supporters by the dozen on every corner, or farmers and their families egging you on (metaphorically speaking rather than literally, thank goodness) from outside their barn. Barbecues sizzling in front gardens with friends having a get-together and old folks watching with a cups of tea from their lawn chairs. Children stretching out their hands for a high five. It was truly remarkable (although apologies to the kid whose hand I slapped going at 35kph, I nearly took his arm off).
As we've said before, whenever we've done a 100-mile sportive, there is usually a point when you wonder why you're doing it. A low point, a dark moment when you think it would be better just to call it quits and head to the nearest boozer to drown your sorrows.
But those black clouds were blown away by the crowds. It was a nice touch by the organisers to put your name on the front panel for your bike. It was the perfect pick-me-up when I heard a 'Go on Andrew!', 'You're nearly there!', 'Keep it going!' It felt like my brother was there with me in spirit.
Velo Birmingham was probably the nearest I'll ever get to experiencing the support the pro riders receive in the Tour of Britain - and I absolutely loved the adoration.
Mending a flat
Revolve24 had been a very unique event and it has to be said that, apart from the closed roads like at the Velothon Wales, RideLondon and Etape Caledonia, there is nothing in the Velo Birmingham parcours that makes it particularly stand out. While there was around 1750m of elevation gain, there weren't any major or iconic climbs of note - I didn't need to come out of the big ring all day - and there were no spectacular vistas to make you almost weep. And because I was in the second-to-last group to get away (half an hour late but we'll give the organisers a free pass as this was their first attempt), it was tough to get in a fast-moving group to really eat up those kilometres in the middle stretch that can sap both your strength and spirit.
There were a few lumps in Worcestershire in the final 20 miles, including the KOM section of St Kenelm's Pass 15 miles from the finish, but the kilometre climb doesn't take your breath away at an average of just 5.2% (unlike the size of the crowd at the top). Were it not for that support, the course itself would have been a tad underwhelming - one hedgerow tends to look very much like the next - so maybe that is something for the planners to take a look at next year...
Laying down a marker
Although there had been a mildly irritating wait at the start, there can't be too many complaints about the rest of the organisation for the event.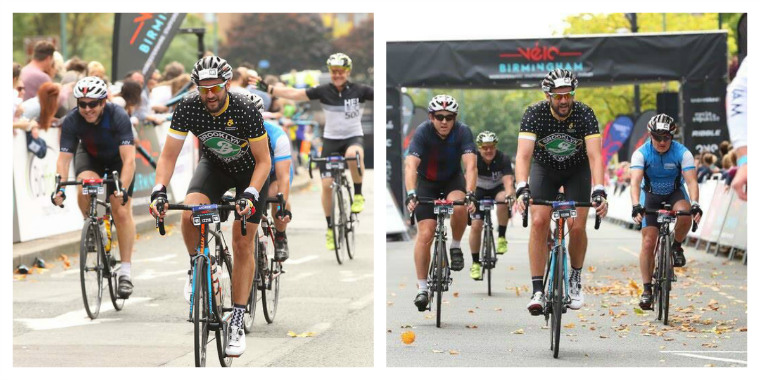 Registering was a breeze, the signage on the route was excellent (it seemed like every slight bend in the road had 100m and 50m markers beforehand), it was well marshalled and the volunteers were enthusiastic and friendly without it ever feeling forced. Mechanical and medical support was seemingly omnipresent and toilet facilities were numerous. No excuse for peeing in a roadside bush.
There is, though, a 'but' - and it is a major one – the feed stations. They were way too small to handle that many riders, didn't have much in the way of variety on the buffet tables (there are only so many bananas and sugary snacks that one can stomach) and apparently they even ran out of food and water for the later waves, which is criminal.
But it isn't the first sportive to have a limited choice of treats on offer and at least Velo Birmingham didn't bury their heads in the sand afterwards – they publicly acknowledged their error, promising that lessons had been learnt and that they'd do better next time. Fair play.
I've also read since that nails and razor blades had been put on the road but, saving for an 'oil spill' that had already been covered by hay, I didn't notice any acts of sabotage.
Beer o'clock
Even the sun came out for the occasion. After being confirmed as Broleur's "weather curse" during Revolve24, it made a pleasant change to be able to peel off the arm-warmers by mid-morning and not be a rain-drenched, teeth-chattering, shivering wreck at the finish like at the Amstel Gold.
And then there was the added bonus of a free beer at the Barclaycard Arena, a perfect self-congratulatory beverage. Sorry if the brewers, Purity, ran out of the amber nectar later as I helped myself to three. Oops.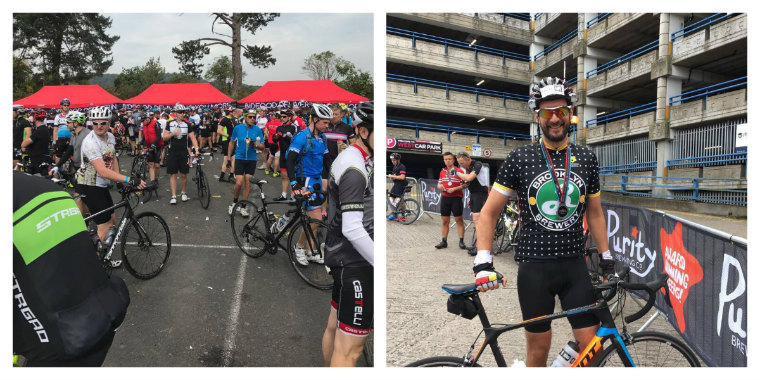 But, most of all, I'd like to raise a glass to those who turned up to cheer us all on in their thousands - including the guy in his pyjamas and dressing gown. You were the ones who made Velo Birmingham special and, in fact, unique.
Hopefully see you all again next year.
The other brother
A confession: I don't actually like watching cycling that much.
The drama of the Armstrong years passed me by. Graeme Obree and his bike built from washing machine parts was a newspaper story. Chris Boardman's bikes barely registered. Jason Queally went to our school and still his Olympian feats went unwitnessed. We got into cycling the year before the London Games, but I can't bring to mind a single one of Chris Hoy's golds.
These days, I like the idea of watching cycling on TV, especially after a ride, but the reality still doesn't grab me the same way a European night at Anfield does, a Six Nations decider against the Irish, or even the Ryder Cup (and I've never even played golf). The hovering helicopters, bugle horns of the caravan and the commentary provide an evocative soundtrack, but five minutes in I'm reaching for the iPhone. One beer and I'm a slack-jawed goner.
Occasionally I'll be grabbed as Froome reels in Contador or Nibali on a climb. I've been momentarily hooked by the novelty of the Keirin and the genius of the Eliminator formats. But the docu-drama of Slaying the Badger, and more recently, Icarus were just as compelling viewing. In real life, watching the Tour pass through Hawes towards Buttertubs pass was a fantastic experience, but the ride from Lancaster with our Uncle will live longer in the memory.
So major kudos to the civilians who turn out in force to cheer on our amateur endeavours. They may be watching us fly - or crawl - past and thinking, "Ooh, not sure I fancy that much", but I'm mostly thinking exactly the same.
Check out our Facebook page and follow us on Twitter @broleurcc