The Gravel Grape Crusher
A mixed terrain ride across three states. Gravel tracks, grassy climbs, boulders and brews by the bucketful. Could a ride that starts with a beer have a happy ending?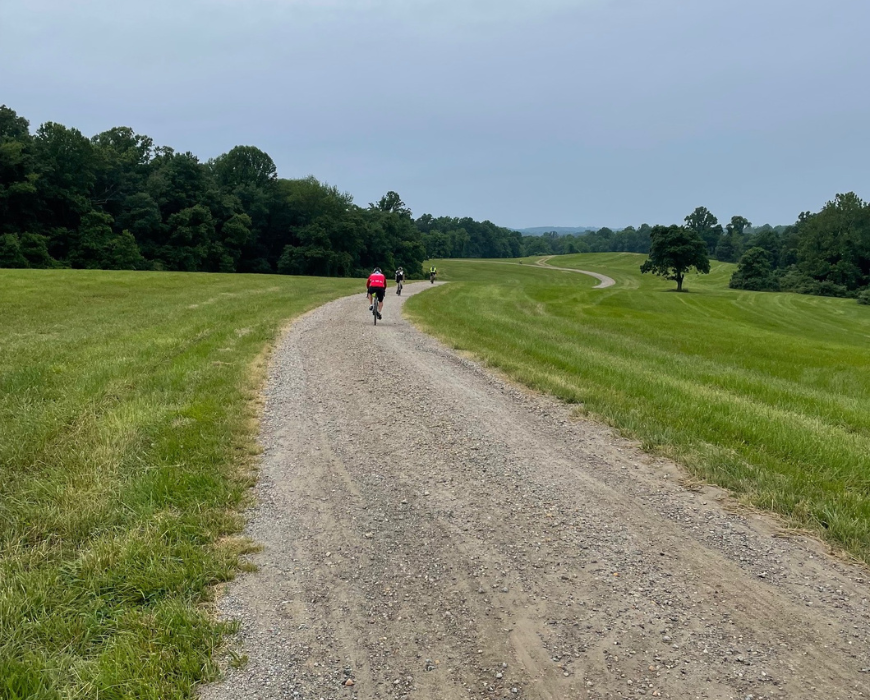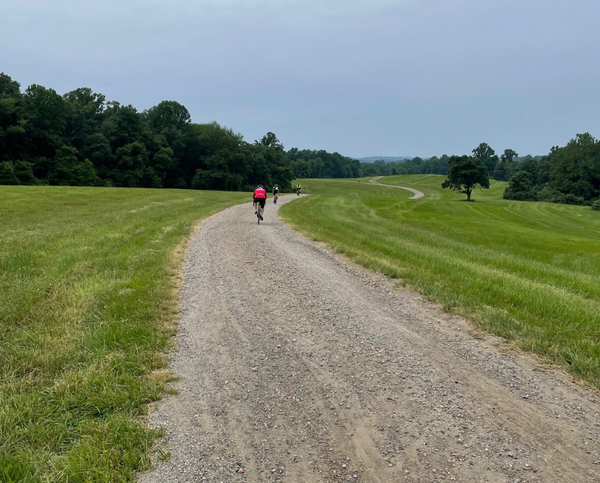 "Hey Andy, I've got something for you…" A thousand thoughts flitted through my mind about what was about to be bestowed upon me by Chris, one of the triumvirate of owners of my LBS, Wooden Wheels, at the first feed station of the Gravel Grape Crusher.
The power to fix a flat in less than an hour? The immense finger strength to prise a tyre back on to its rim without cutting my digits to shreds? The ability to… I glanced down at Chris's outstretched hand. In it lay a glistening can of IPA.
I looked at my phone… Erm, 9.33am. The local liquor stores weren't even open yet. I looked at my paused Strava… Gah! 33km, only a third of the Gravel Grape Crusher (GGC) done. I really shouldn't, surely an energy drink would be the more sensible option.
"It's ice cold." You had me at hello, Chris. You had me at hello.
I cracked open the can and took a massive gulp (it did make me feel a bit less guilty/alcoholic when I saw several fellow riders necking cans of Modelo). As I wiped the delicious froth from my beard, I got a pat on the shoulder. "Andy Elliott? Hey there. It's Hank. Hank Horrocks."
"Hank!" I nearly bear-hugged him but instead opted for a more restrained British handshake. "Fancy a few more beers at the finish?"
We'll get to the Hank Horrocks back story in a minute. The point is I felt welcome, part of the local cycling fraternity. And I wasn't even being made to drink my own vomit with my shorts round my ankles while wearing a Viking helmet in some sort of humiliating initiation ceremony.
Fond farewell
It was just what I needed because I was really missing cycling with my bro, Steve. The honeymoon period after moving to America was over. He was packing to do the Raid Pyrenean and it stung I wouldn't be there alongside him, sharing the highs and lows, literally and metaphorically, of riding in the mountains together. So it was a warm, cozy feeling to not be going solo, feeling like I had friends close by, for the first time in half a year.
The Gravel Grape Crusher was also an opportunity for a farewell tour of the beautiful tri-state area of Maryland, Delaware and Pennsylvania that had been my family's temporary six-month home while we were staying at the in-laws. I loved running and cycling round White Clay and Fair Hill - and the GGC, which takes in both state parks, seemed the perfect send-off, especially as the following day I'd be reluctantly at the wheel of a U-Haul truck transporting our belongings to a new home in Annapolis.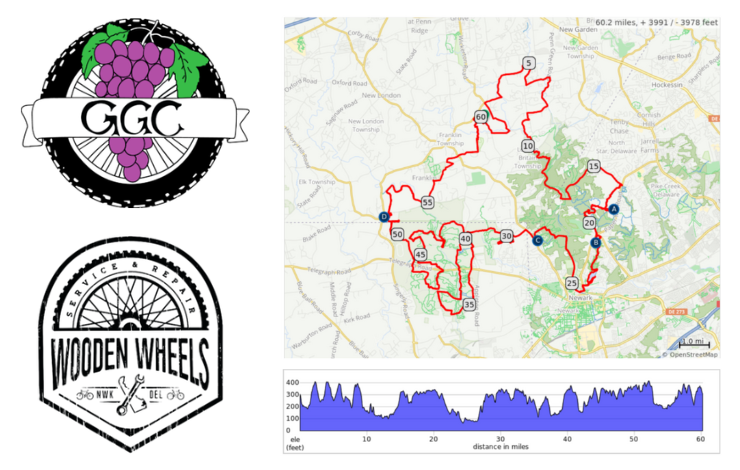 Talking of tough goodbyes, I'd got very defensive (aka ridiculously petty) over the numerous Strava local legends I notched up in the area, to the point where I'd go out for a 20-minute ride just to reclaim a laurel wreath. Sad, I know... but this is where good ol' Hank comes in.
Finding a Strava soul mate
The way I saw it, I had three Strava rivals - Barret May on the Harvest Lane climb segment, Louie Tucker on Covered bridge to Appleton parking, and that most magnificently American of names, Hank Horrocks, on Wedgewood to 896.
Hank started following me on Strava and I returned the favour. When I found out he was also doing the GGC, it seemed only right to put down the duelling pistols and call a ceasefire over a few brewskis. It was still a big surprise, though, when I got the shoulder tap.
I had been on the lookout for Hank - with no luck - when I arrived at the start of the GGC at the incredibly pretty Paradocx Vineyard in Pennsylvania.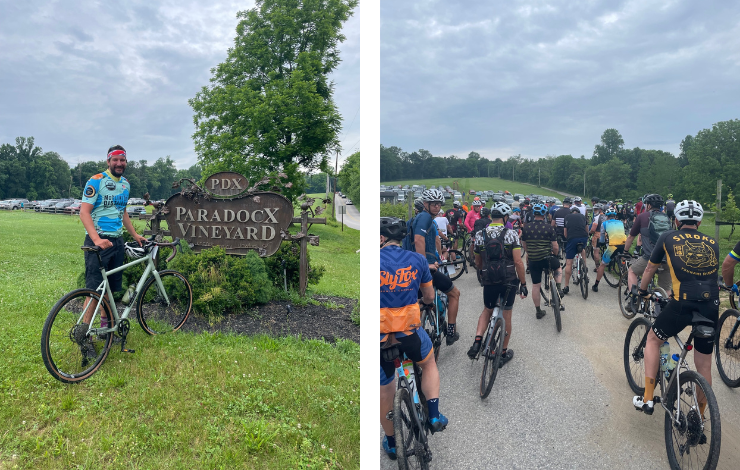 I'd got used to a leisurely pace from the off at my two previous events in the US, the Brandywine Valley Roubaix and Delaware Granfondo, so the GGC caught me unawares. Banter and chat between the riders was minimal, instead it was pedal to the metal as we flew along the roads into Maryland and Delaware.
A half-hour in and there'd been only one short stretch of gravel, no grapes and the only crushing I felt was the sense of disappointment that it was so easy. I started to wonder if this sportive had been mistakenly labelled a gravel event. But boy, oh boy, was I mistaken.
We hit the White Clay Preserve and from then on I'm pretty sure we didn't see another piece of tarmac longer than 500 metres until the final few kilometres of this 99km route. Plus the baptism of fire in White Clay wasn't gravel, it was full-on mountain-bike territory, strewn with rocks the size of my fist and massive tree roots from Isengard. The only thing that would have made it more treacherous would have been a legion of Uruk-hai emerging from the undergrowth. Now I could see why there was probably a 50-50 split between MTB and gravel bike riders.
Roller-coaster ride
Now, I've never been very confident (cowardly in other words) at MTB in my previous forays into the dark arts of cycling - and this was no different. With no room to pass, it was downright embarrassing as I held up a phalanx of riders. "This is awesome!" I heard someone say. I thought of another word, starting in 'sh' and ending in 'itty'. The end of that segment couldn't come soon enough and I let out an audible sigh of relief when I realised I hadn't suffered a puncture. I was on tubeless but would literally have no idea how to pump in sealant. That's what Wooden Wheels are there for after all.
But if that part of the ride was hellish on a bike with no suspension, the next significant section was absolutely heavenly, through more of White Clay on a gravel track only slightly wider than my handlebars. Weaving in between the trees on either side, it was both challenging and exhilarating. You couldn't wipe the smile off my face, a grin that only grew wider when we emerged at the first feed station manned by the Wooden Wheels chaps and Hank in close pursuit.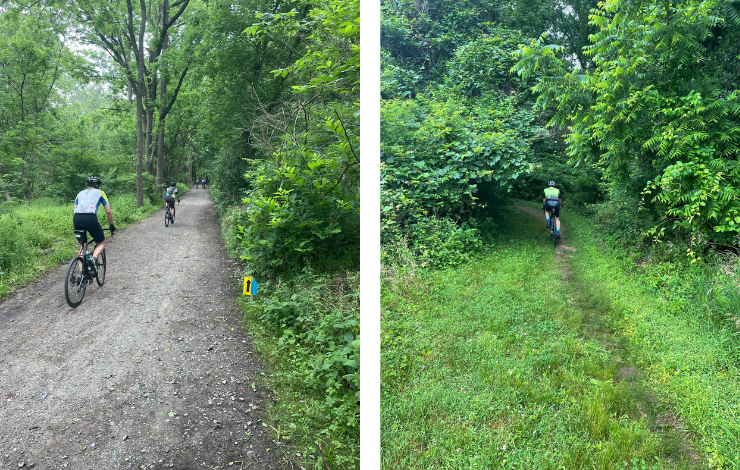 I did mention to Hank how tough I found the MTB portion, thinking it would be the last I'd see of that kind of terrain. "You should see what's coming up then," he said. I couldn't tell if he was joking or being serious but I guffawed as if it was the former.
It was the latter. Straight off the bat, we were into the gnarly stuff, the kind of gnarly stuff that reminded me a little of the Arenberg during Paris Roubaix, where you just keep pedalling, let out an expletive now and again and just hope for the best.
But by the end of it, emerging on to the path round Newark reservoir and on to the second feed station in White Clay, I had a sense of 'que sera, sera'. I knew I had to just grit it out. From that rest stop, I was on very familiar ground as we headed to Fair Hill, including the Harvest Lane climb that Barret May and I had battled over for months.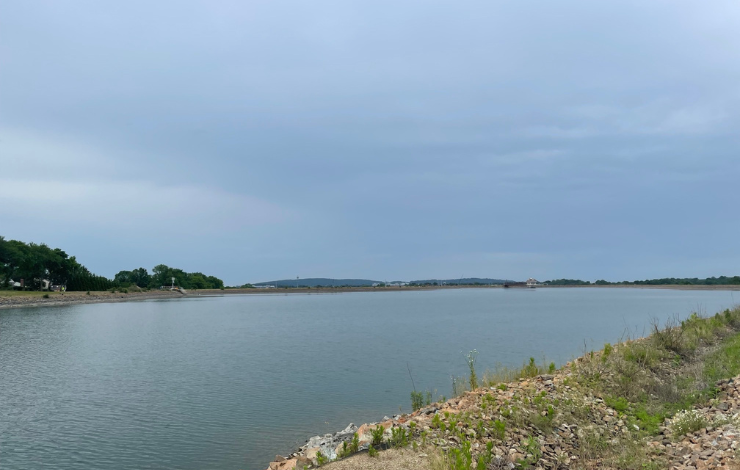 I thought I knew pretty much every track that Fair Hill has to offer. But that was every gravel track, not grass. The first grassy climb was something different, the second a bit of fun, the third was met with an eye roll, the fourth was getting downright unpleasant… and so on and so on, seemingly ad infinitum. Apart from one where the gradient went into the teens, it wasn't the steepness of them (probably only 3-5%) that was the killer, it was the fact that with a bit of drizzle, you got a lot of wheel spin and they just sucked the life out of your legs. Throw in a few virtually impassable MTB segments (including one insanely steep climb) and some lumpy gravel parts and it got to be very tough, much harder than the BVR or Delaware Gran Fondo. The kind of very tough where the pre-sportive ibuprofen pills you took have worn off and your back's absolutely screaming. The kind of very tough where you're counting down the kilometres to the final feed station, which was due around the 85km mark.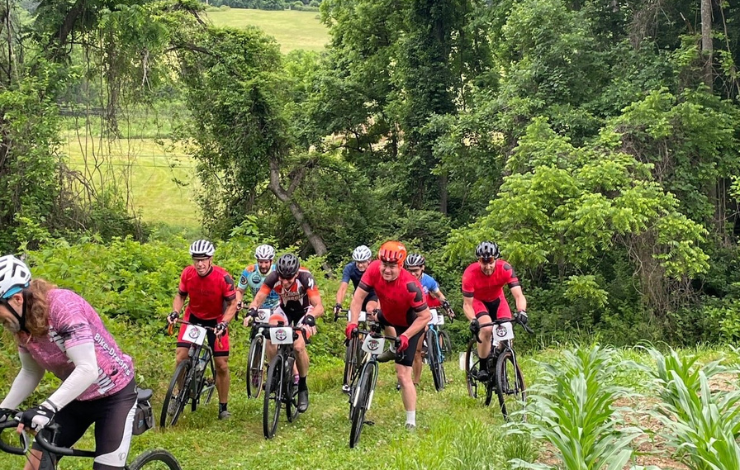 Except the 85km mark came and went with no sign of it. So too 86 after slipping and sliding through a mud bog… 87 after another grassy section… 88 more grass single track… where the blazes was it? Several other riders stopped to ask if we'd passed it but I had to shrug my shoulders, there was no other option but to plough on.
Finally we reached the Promised Land in the orchard of Old Stone Cider. I'd have given my right arm for a pint of a cloudy fermented apple heartiness (I'd have used my left arm to raise the glass to my lips), but there was none to be seen. Chris, where were you when I needed you? Instead I refilled my bidon for the final stretch with some non-alcoholic H2O and stuffed my jersey pockets to the brim with enough sweets and goodies to light up the eyes of my seven-year-old daughter, who'd be waiting at the finish.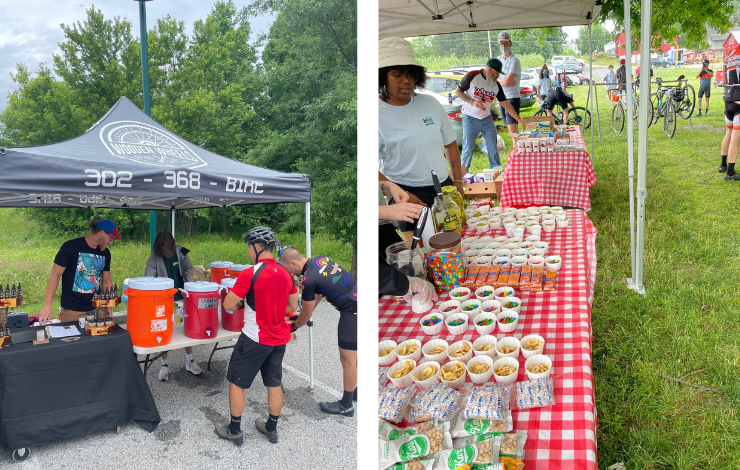 Coming out of the orchard, I couldn't believe it: actual road. Blissful, smooth, blessed tarmac. I was in heaven. For about 300 yards. Then it was off piste again, down a knobbly path that headed through a cornfield and a gratuitously steep grassy descent. Tried the brakes. Didn't work. I was skidding into oblivion. I panicked and, like a scene from a horror movie, I headed into the corn. I'd probably come back with demon-red eyes and a predilection for eating live crows. Yet amazingly I somehow managed to stay upright and get back on track. Apologies to any locals who have tyre marks on their cobs from the farmers' market, I'm to blame.
Cheers and beers
The grape vines were an obvious giveaway that I was close to the finish but I was feeling more bargain-bucket Liebfraumilch than vintage Champagne as I approached the inflatable arch back at Paradocx. But then I heard the cheers, as always, from my missus, Alison. Who was carrying our beaming nine-month-old baby girl. Who was then joined by our eldest girl. Who enveloped her dad with the biggest hug. I'm not sure there's a better cure-all for weary legs.
Alison's dad, sister, uncle and cousins had all rocked up too and had the wine flowing. There was live music, lots of laughter, our eldest dancing about, complimentary food and a beer… Man, life was good. But then it got even better.
"Hey Andy!…" It was Hank. And it was absolutely delightful to share a beer with him and meet his lovely wife too. They are genuinely two of the nicest people you could ever meet. But Hank, if you're reading this, there's no chance I'm giving up Wedgewood to 896 without a fight. Take that local legend if you dare…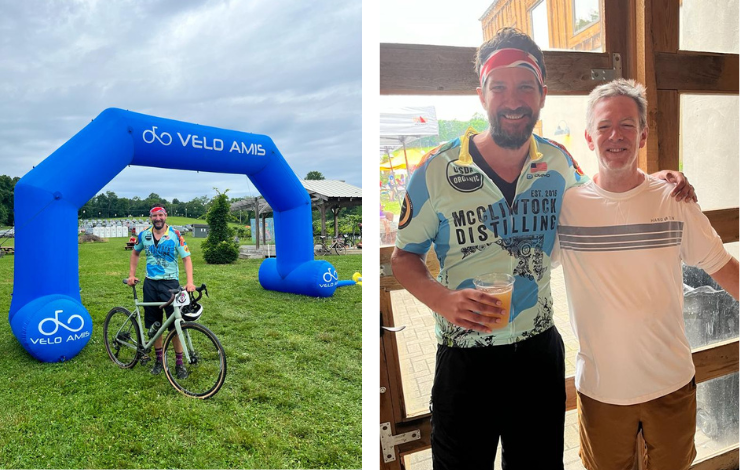 The other brother
I'm happy enough riding solo most of the time, but some experiences are just better shared – cycling events being a good example. With Andy three and a half thousand miles away, I've had to put myself out there and find some new cycling buddies. In days gone by I might have had to join a club. These days it often starts with an app. Where would we be without Strava?
Committed solo cyclists beware. You may not be looking for a long-term riding relationship, but what begins as a bit of casual kudos can easily develop into something more serious. Before you know it you're swapping routes, comparing PRs and complimenting strangers on their impressive wattage. Next thing you're totally domestiquated.
Who knows if Hank and Andy will be a brief fling or a forever thing? What matters is he's getting himself out there, showing a bit of hairy leg, and playing the field - or at least riding up them.