The Brandywine Valley Roubaix
Watch out America, the Brits are back! Andy emigrates, buys a new bike, gets to grips with gravel, takes on his first US event and ... mmmm, donuts.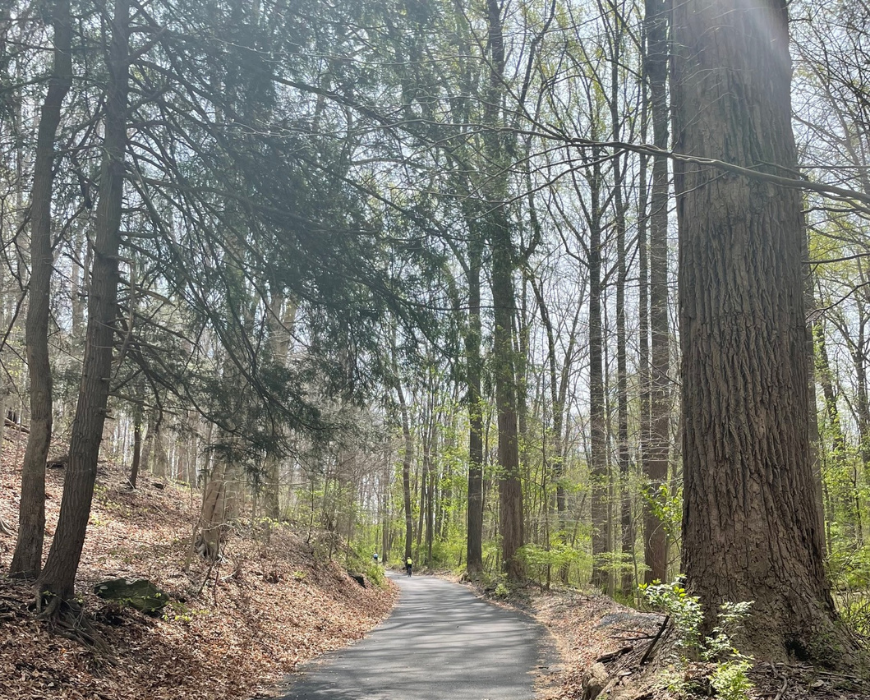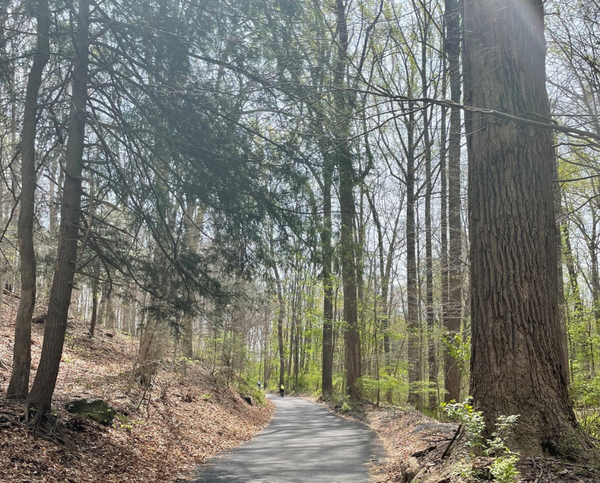 Nothing beats having a beer after a long ride or sportive, when you feel you've really earned a cold one to soothe gloriously achy legs.

Well, I say nothing but that's not strictly true. Free beer would beat it. So would free beer while sitting in the sun. Free beer to wash down free pizza while sitting in the sun would be even better. But that's just getting silly now, surely?…

"Can I get you another beer?"

Me (squinting in the sunshine): "Yes please."

"Oh sorry, I see you're still working on one…"

Me (munching on a large slice of pepperoni pizza): "Not a problem. I don't mind doubling up."

Yes my friends, dreams really can come true.

Rewind roughly five hours and I was anxiously standing at the start line of my first US sportive and my first gravel event, the Brandywine Valley Roubaix (BVR). But before we get into all of that gravelly goodness, let's rewind five months and my brood's move to the States to be closer to my American wife's family and to finally get the big home we've always wanted for the kids and for us. It was a huge wrench to leave my mum, sister and Steve as well as friends behind, but my brother often says fortune favours the brave. If not now, when?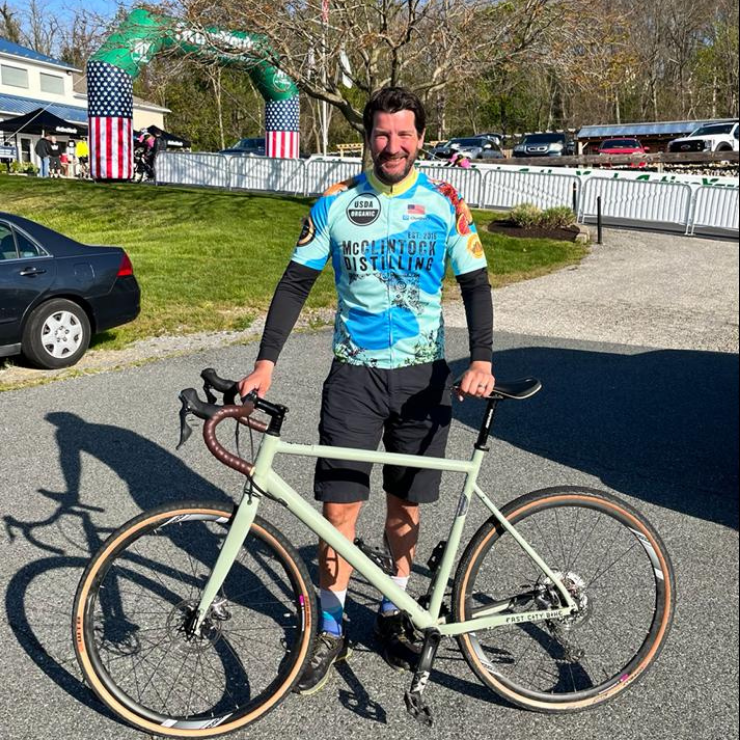 With a four-month-old baby girl/bundle of joy to add to our seven-(going on 17)-year-old daughter, it meant that a pushchair had to take priority over a pushbike and my beloved had to join the majority of our stuff in a shipping container.

It wasn't that big of a deal. I'd only have to go without a bike for a few weeks and we were thankfully staying at the in-laws' house in Maryland, equidistant between two massive, beautiful state parks, Fair Hill and White Clay. I could just dust off my trainers (don't think I'll ever call them sneakers) and do a bit of running on the trails. In any case, with the amount of ice and snow on the eastern coast this winter, I wouldn't have got out much on two wheels.

But as the weeks turned into months with no sign of our ship sailing into port, as the snow melted and as my body began to disintegrate from the hardships of running, I made the big decision to buy a new bike. One suited to the nearby rocky trails that I'd loved running on (even if my knees didn't). It was time to enter a whole new realm of cycling. It was time to get a gravel bike.

When I told Steve, he was even more excited than I was, researching the best gravel bikes for my budget of about $2,000. I visited a Trek shop in Delaware but the wait time for any bike was about three months, which was three months too long. So instead I tried the LBS, Wooden Wheels, who were absolutely superb from start to finish. They put together a custom-made beauty on a Fast City Bike frame in a couple of weeks, checking in with me every step of the way. It came in a bit over-budget but, for that build and for the personal touch in making sure everything was tickety-boo (including a free service after a month), it was worth every penny/cent extra.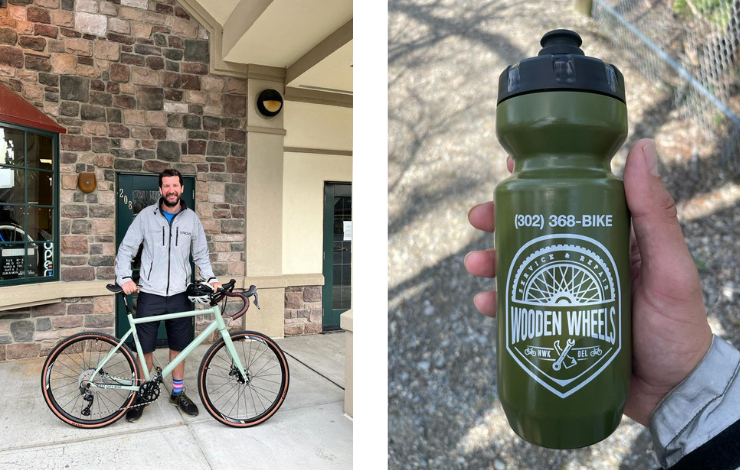 New bike, new pastures
With no job and our eldest enrolled in a local elementary school, if I wasn't on daddy day care with our youngest or house-hunting in Annapolis, I was out playing on my tubeless new toy pretty much every day exploring the trails of Fair Hill and White Clay.

But there's one day in particular that's etched in my brain. March 14 was the date that painted the perfect picture of why I've loved cycling in America; the morning that confirmed I didn't miss a single thing about being continually sucked into the traffic-laden black hole of Croydon.

With bright blue skies (the kind that almost scorch your retinas) and not a breath of wind, I was riding up Black Bridge Road in Fair Hill when I realised I couldn't hear anything apart from the whirr of my bike and my breathing. No cars, no planes and no trains. No squirrels or deer or birds flitting across the gravel track. No horse riders clip-clopping along. Nobody walking or talking. Not even any birdsong. It was like the opening scene from 28 Days Later. It only lasted for probably 20 seconds but for that short time there was complete and utter silence. Peace and quiet. Bliss.
Different gravy
Riding in America was proving to be a markedly different experience to the UK or, more specifically London, and here's a few reasons why:

The weather doesn't muck about. If it's cold, it's hypothermia-inducing, frostbitten-fingers cold; if it's warm, it's blisteringly, tan line-perfecting hot; if it's rainy, it's torrential; if it's gusty, a headwind will stop you in your tracks and a sidewind will blow you off the road. A tailwind just means I was feeling very strong that day. There are no 'meh' days where you draw back the curtains and you're always met with the same view - drizzle and a grey blanket of cloud. Plus if the forecast says it will rain at 9am and last an hour, you can set your watch by it. There's no four seasons in one day like back in Blighty.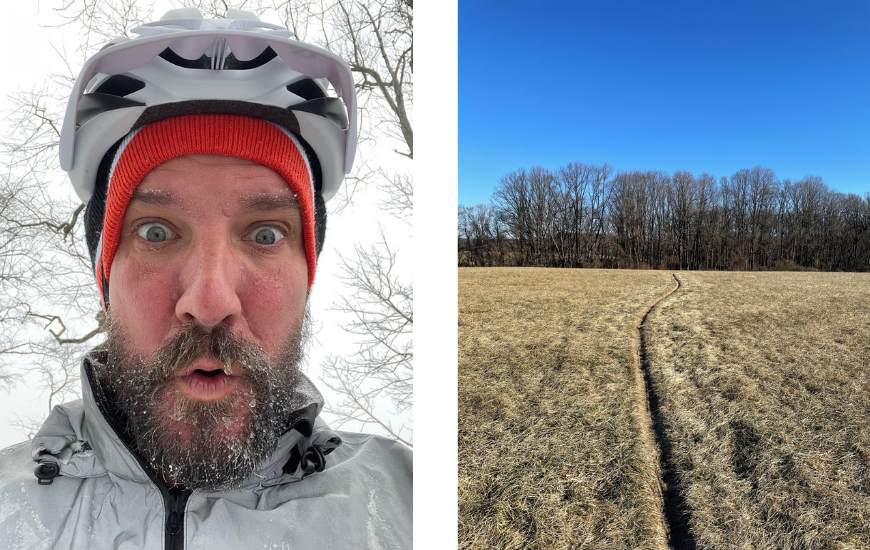 Men's topless running is a thing here. To be fair, at least it's always buff, six-pack-showing college students rather than middle-aged blokes with their moobs and beer guts jiggling all over the place. But even just a smattering of sunshine brings these testosterone-fuelled, Gatorade-drinking teenagers from Kappa Alpha Delta out in full force.

American squirrels have a death wish. British squirrels run away at the first sign of danger. Not so their US cousins, who stay perfectly still until you're nearly on top of them before doing a kamikaze zigzag dance in front of you. It's only through sheer luck that I don't have a squished squirrel on my conscience.

Close passes are a thing of the past. I'm sure it's a very different scenario in big cities like New York, Chicago or LA, but out in rural or suburban America, drivers seem a lot more patient and give you a wide berth when overtaking. The size of the roads obviously helps on this side of the Atlantic but I've not had one instance of road rage, drivers beeping their horns or coming within a whisker of knocking me off my bike like I had on countless occasions in the UK. Also, this tri-state area of Maryland, Delaware and Pennsylvania must have been settled by English northerners at some point in time because everyone is unbelievably friendly. Whether it's a fellow cyclist, someone walking their dog or a jogger, everybody gives a wave or a hello.

Yet despite all of this, I still missed riding with my bro. The heart strings were plucked when he told me he'd signed up for the epic Raid Pyrenean in June and I wouldn't be there as the Passepartout to his Phileas Fogg. I had to find a sportive to get the competitive juices flowing, which is where the BVR came in. How could I resist, especially when we'd done the real thing in Paris-Roubaix?
Surface pressure
At 98km and 1600m of climbing, the BVR didn't seem overly daunting but where it did get interesting is that 40% of it is on gravel. Fair Hill and White Clay had given me a taste for the crunchy stuff and now I had the munchies.

Normally, Steve and I would head to a sportive's start line with some psyche-up music blaring while we worked out our cycling strategy; this time, with the family in tow, we headed to West Chester, Pennsylvania, with the music from Encanto ringing in my ears and working out a strategy to get the now eight-month-old baby to sleep through the night.

But then a lot of the BVR was very different to what I was used to. Everyone seemed so relaxed and laid-back in the car park beforehand - nobody warming up on rollers, vigorously stretching, or oiling up their mahogany-tanned legs like in La Ronde Picarde.

And it was a similarly genial and chilled first few kilometres after a rolling start with a group of about a dozen or so riders. No one haring out of the traps or looking to put their stamp on proceedings. Instead, it was a pleasantly gentle pace with plenty of chat between the jerseys of the two clubs I latched on to, the West Chester Development Team and Guy's Racing. The first gravel section after a kilometre or so justified the decision to take it easy; narrow with no real room to overtake. Plus I don't think anyone wanted to risk a puncture on a tree root or rock early doors.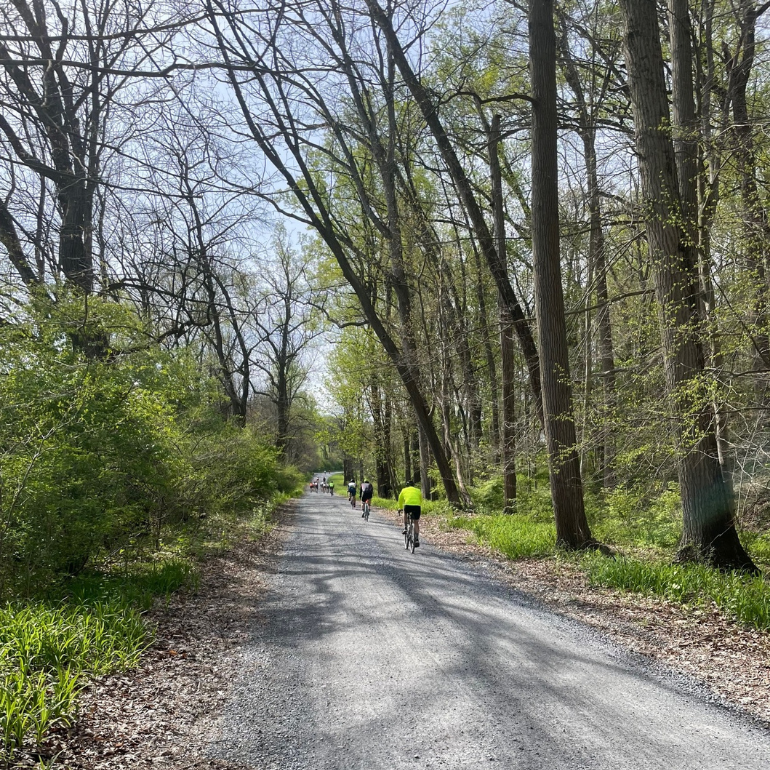 Although there weren't any cobbled sectors like in the real Roubaix, BVR did follow a similar pattern in that you'd get a few kilometres of regular road followed by a shorter section of gravel, which made it tough to know when to refuel. After an hour I started to chow down on a banana, only to then hit a piece of particularly loose patch of gravel, giving it a dusty coating that scratched its way down my oesophagus.

Another mistake I made, probably from riding solo so much, was to be at the back of the group on the gravel. My thought process was that I could follow their line, see where they were dodging potholes or hitting rocks and adjust accordingly. What I hadn't factored into my flawed thinking was the dust storm the group produced. With my shades somewhere in the mid-Atlantic along with my road bike, it meant I spent an inordinate amount of time wiping the grit from my eyeballs.

For the most part, though, the gravel wasn't too hairy. The only heart-in-my-mouth moment was while descending on one section that had very deep, fine granules, like going down a sand dune. Stupidly, instead of just letting the bike go where it wants to go (a lesson from our MTB trips and Paris-Roubaix), I dabbed the brakes, skidded and nearly took a tumble into the foliage. Lesson learnt.

Before living in the good ol' US of A, I thought of Pennsylvania as an industrial heartland with factory and traffic fumes from Pittsburgh and Philadelphia clogging the residents' lungs, like a scene from Peaky Blinders, only minus the flatcap-wearing maniacs. I couldn't have been more wrong as we passed sprawling farms with giant silos, horses galloping around fields and spectacular mansions.

The hills tended to be short, sharp affairs, although there was a very tough one in the opening 50k, Five Points Gravel Climb. There's a sharp right turn into it so you can't take much momentum into it and, at 13% in sandy gravel, it's crucial to keep your arse welded to the saddle. Forgetting my schooling in Fair Hill, I didn't and went full Alberto Contador instead. My spinning rear wheel immediately made me see the error of my ways.

Even so, I reached the sole feed station at 65k feeling in fine fettle. The BVR organisers must have connected with me on some sort of spiritual level because it was at the Whip Tavern, a British-themed gastropub. I nipped inside to use the loo (some portaloos would have been a very good idea) only to be met by the sight of several riders lining the bar. Sooooo tempted to join them for a delicious drop of my favourite Dogfish Head IPA but I stayed strong. There'd be plenty of time for a bevvy at the finish.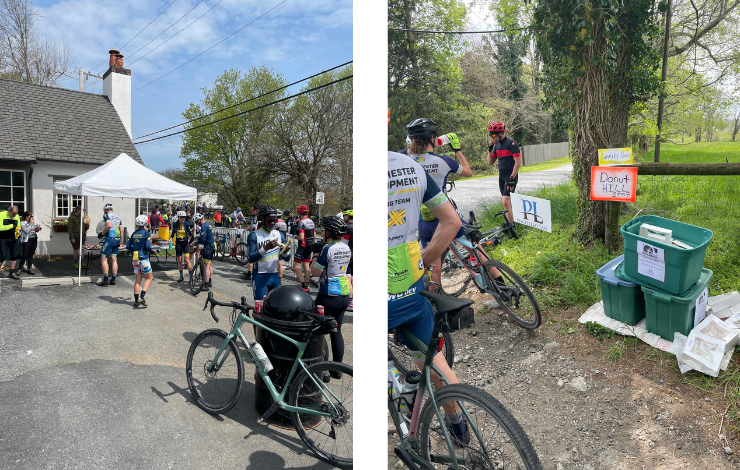 Donut stop me now
The last 33k passed by in a flash (probably due to a tailwind… sorry, I meant my immense leg strength), although was notable for two energy-sapping hills. The first, Hilltop, averages 10% for more than a kilometre but at least it was on tarmac.

The second, Donut Hill, came just a few kilometres from the finish, so seemed a tad gratuitous - and I obviously wasn't the only one who felt that way as a number of riders were pushing their bikes up it. At the top was a large group of riders stood around chatting, which initially struck me as odd with so little still to go. But then I saw why - and why it had been christened Donut Hill, as a large crate of apple cider doughy, sugary goodness sat there for anyone who wanted one or five. It would have been rude not to get involved.

It's a wonderful feeling when you're inside the last 10k of a sportive and know you've got it in the bag. I wasn't utterly spent, cycling on fumes like in Quebrantahuesos or the Marmotte, but I had worked up a real thirst. I'd read up beforehand that the BVR organisers had arranged for pizza and beer to be available at the finish so had come armed with a sizeable wedge of dollars to do some serious damage.

Crossing the line, I could see the beer kegs and people swigging frothy mead. Sweet. Actually, though, it was bittersweet because I'd have loved to have crossed alongside Steve. Swapped stories of recent hardship over a few pints. Had a celebratory hug. Taken the customary photo together. But if anything was going to console me, it was the discovery that the beer and pizza wasn't just free but unlimited.

I wasn't just living any old dream, I was living the American dream.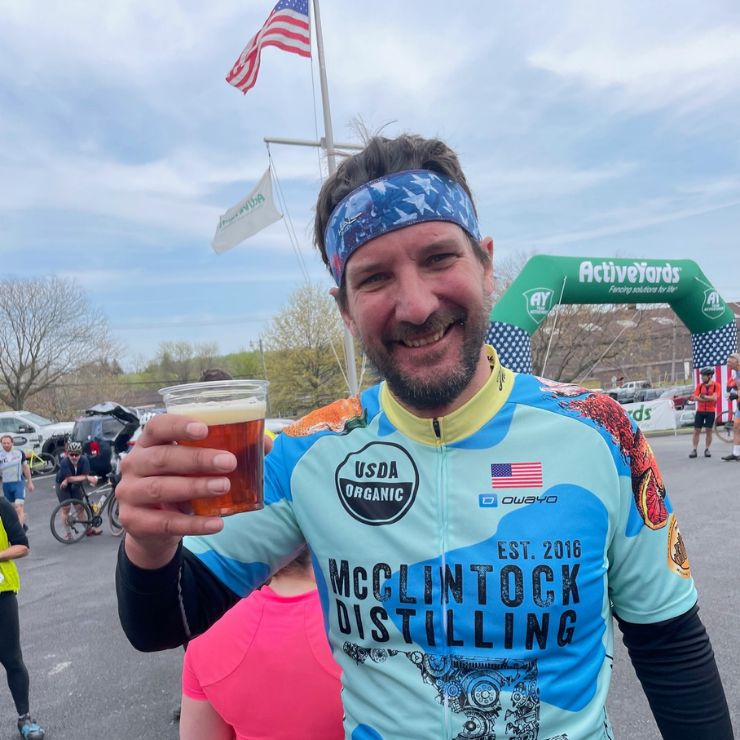 The other brother
I think I was more enthusiastic about the impending American emigration than Andy. Not that I was relishing his departure – anything but. And not that he was overly apprehensive about the new beginning. But I didn't have to think about packing up a house (and bike), finding a new job, or coping with two exuberant children on a transatlantic flight.
While he was having nightmares with dishwasher deliveries and shiftless solicitors, I was the one free to dream of new roads and trails. The Blue Ridge mountains, the Rockies, the Appalachian Trail, the Baja Divide. OK, so none of these happen to be anywhere near Maryland, but these are dreams, remember.
It's a hopeless misanthrope that can't relish a brother's New Bike Day. But even that vicarious pleasure was topped by the first pictures posted of cobalt blue skies, frosted forests and deserted trails disappearing over distant horizons. Stravoyeurism at its best. I was breathing every breath of crisp Delaware air, feeling every rut and bump, and cursing every unwelcome flat. Can't wait to get out there and experience it IRL.