The Essex Season Ender
A final fling of the year and the end of a cycling era. But there's no time for idle chat when you're flogging yourself around the lanes of Essex in pursuit of an elusive (virtual) gold medal.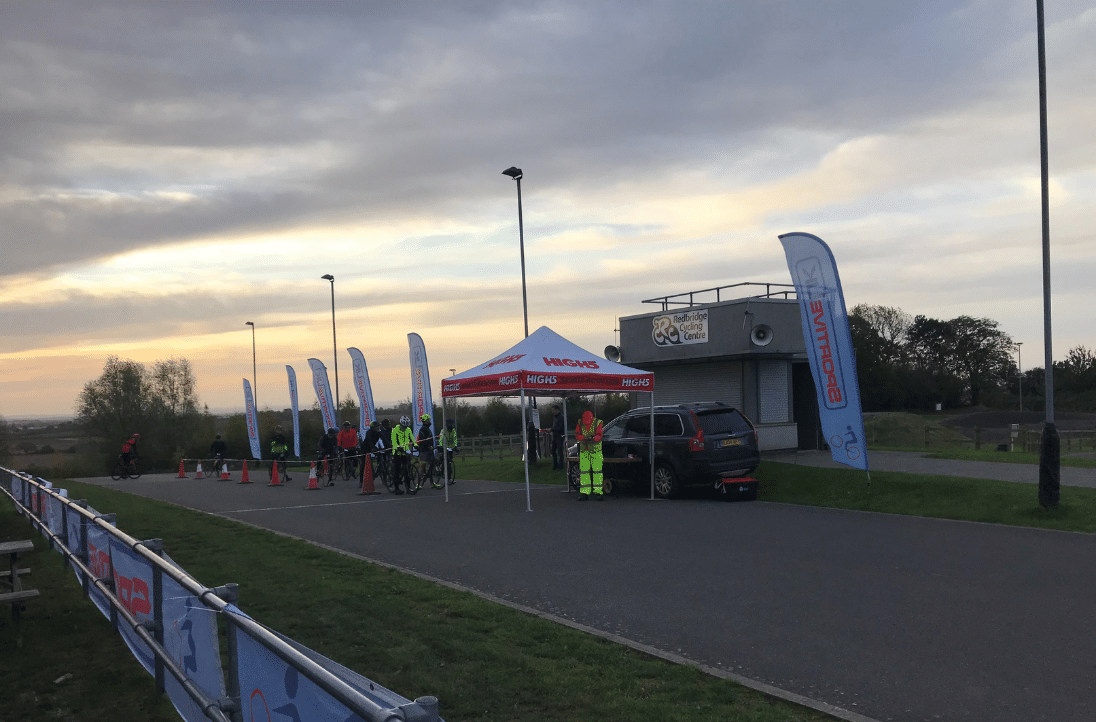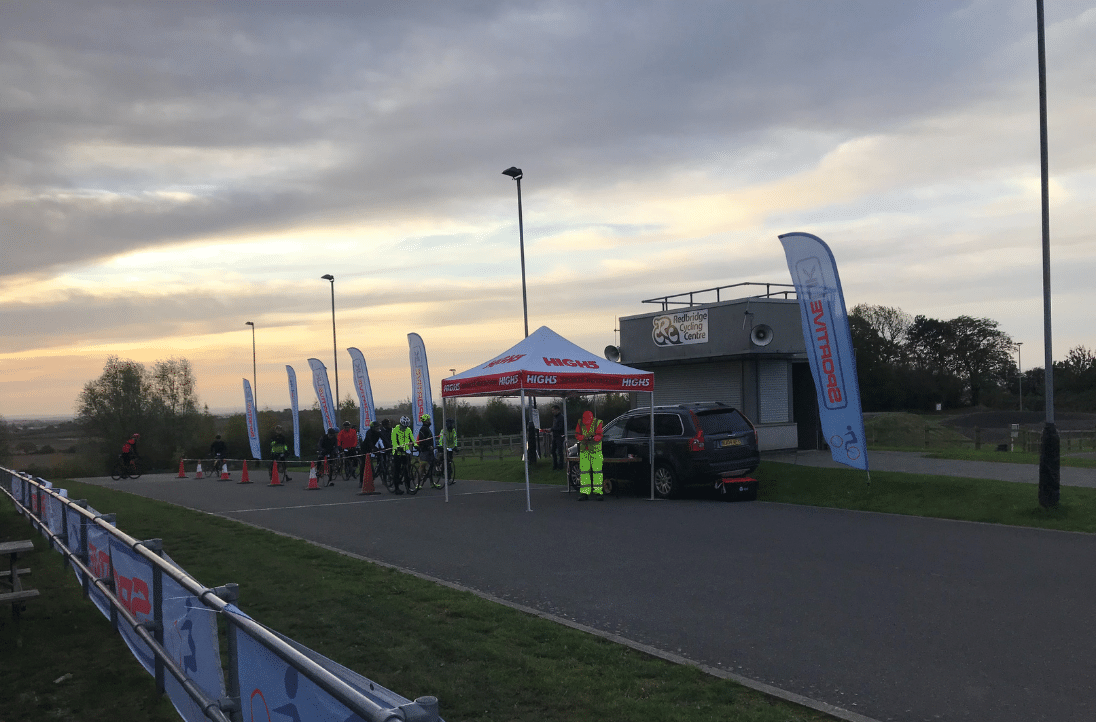 The Essex Season Ender heralded the end of an era for the Broleur brothers. With my transatlantic move to the good ol' US of A fast approaching, this was the last time Steve and I would be riding together in a sportive for the foreseeable future.
Incredibly, a combination of two major factors meant it was only the third sportive we'd done side by side in the past two years, after the Kentish Killer and Tour of the Roses II. Firstly, there was the wrecking ball of Covid that smashed through our well-prepared pedalling plans. Secondly, there was the wonderful and amazingly surprising news that my Soigneur was carrying a little sprog.
Without needing – or wanting – to get into too much detail, it was a very tough pregnancy, which necessitated Alison to be on bed rest for six months (much harder and more stressful for her than it was for me). Fear not, our baby Addie was born in August, perfectly healthy and cute as a button (I may be biased).
But it did mean that any three to four-hour rides had to be significantly curtailed. Not only because I had to do the vast majority of the childcare of our seven-year-old, plus the cooking, cleaning and washing – I know what you're thinking, 'Boo-hoo! Cry me a river' – but also because I didn't want to be far from home in case there was an emergency and we had to dash to hospital. While one-hour rides round and round and round the estates of south London did wonders for my mental well-being, they weren't so kind for my waistline.
To make matters worse, it seemed for every pound I gained, Steve lost the same. I began to vicariously live my cycling life through him. And what a cycling life it was… Mallorca, joining the exclusive Club des Cingles on Mont Ventoux, Broleur's inaugural Tour of the Peaks, the long, 30kph+ rides he did with his mates in Surrey that left me salivating. As the dishes piled up in my flat, so too did Steve's PBs.
There was an element of the green-eyed monster, but it was more of a small goblin than a cave troll. I revelled in the tales of hardship and climbs conquered but, at the end of the day, they were his achievements. There's only so much enjoyment you can take from being an over-enthusiastic backing singer to a headline act…
…Hang on, I can see where this is going, yet another 'battle of the bulge' storyline. Just as I'm moving on, let's move on from that well-trodden path too. Plus I can't imagine many of the riders had targeted an autumnal sportive to be at the peak of physical fitness, so we were all in the same boat. No excuses, quit whingeing.
Going for, going for gold
We couldn't have hoped for much better conditions for the Essex Season Ender (ESE), which I had chosen for our UK sportive farewell – mainly for the mere 900m of climbing over its 117km parcours. This was a ride where my extra ballast might prove a help rather than a hindrance. Very mild temperatures for November, cloudless skies and while there was a bit of wind, it was more of a discrete belch than a guttural flatulence.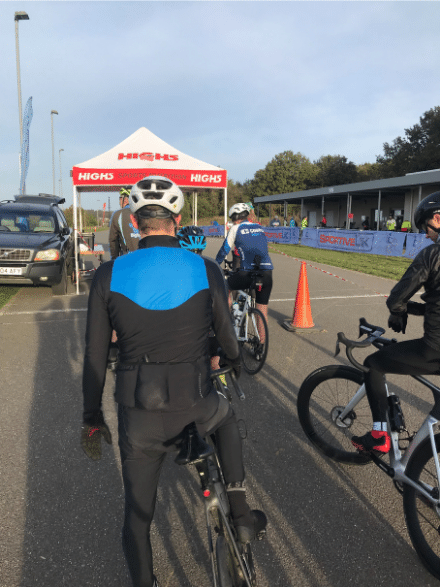 "Would be nice to get the gold medal but I'm not too worried if we don't. Let's just see how we go," said Steve as we set off from Redbridge Cycling Centre. And I wasn't obsessing over the gold standard of 4hrs 30mins either, particularly as I'd sold ESE as a chatty pootle across the Union Jack-draped flatlands of south-east England.
What I hadn't factored into my thinking was Steve's competitive edge, a fire that eternally burns bright in his belly. After about 10k, three riders overtook us. Two of whom had the look of half-decent amateur chaps, the third was a more shamshackle figure.
"I can take those first two coming past, but not him. I'm not having that," said Steve as he dropped the hammer. And so ended my expectations and hopes of a leisurely, banter bonanza of a ride. Instead, it was a case of head down, stare at the stem and flick on the power switch to try to reel them in.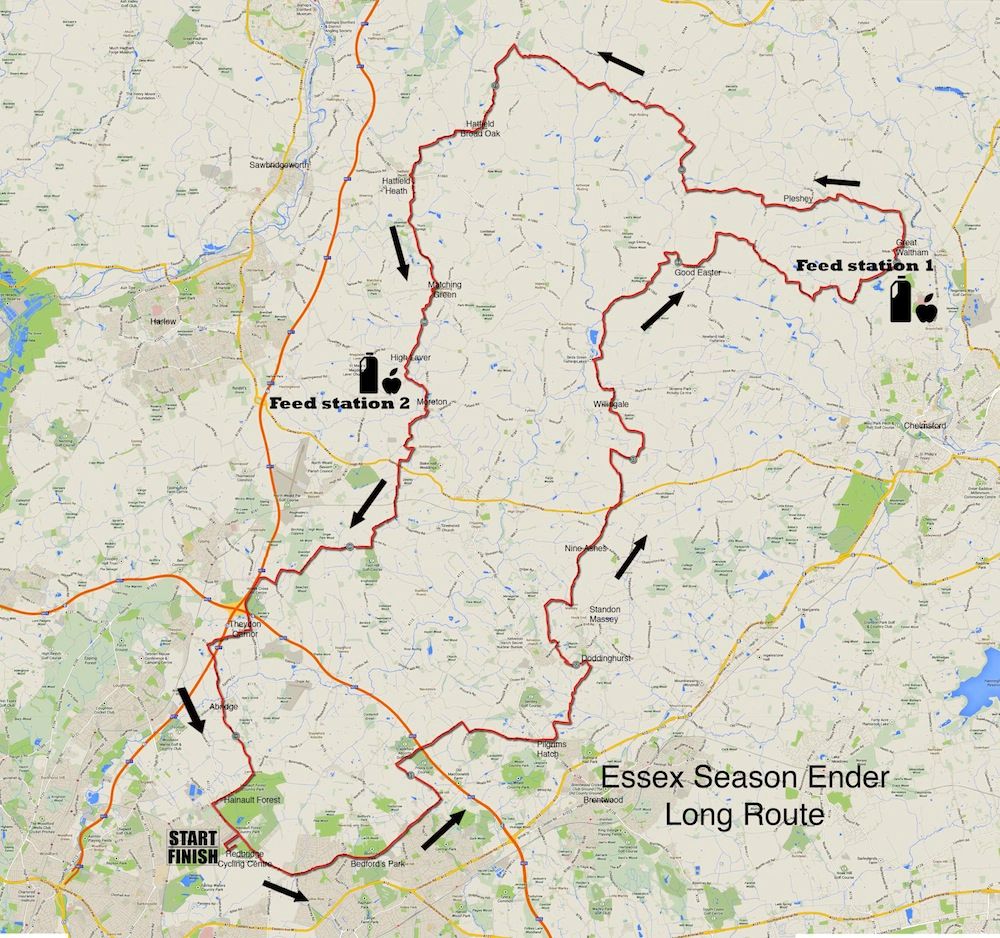 Because I'd suddenly become mute save for my open-mouthed panting, it's difficult to recall much of the scenery apart from the backside of my bro as I clung on to his coat-tails (it reminded me a bit of Steve's description of the Amstel Gold but with our positions reversed) but I don't think I missed anything too exciting in the Essex prairie lands. Reel them in we did, but it wasn't the most enjoyable morning's fishing.

"At this rate, we'll be done by mid-morning," said Steve - and he wasn't far off the mark as we'd averaged 28kph for the two hours it took to reach the first feed station. We'd been overtaken more than overtakers during that first stretch but we took solace from the cheese and crackers (a lovely touch that should be copied by other sportives) and large slices of marble cake that we crammed into our mouths. We spent about 10 minutes there before getting underway again. That gold medal time had peskily started to inch its way into our ears like those worms in Star Trek's Wrath of Khan. It wasn't out of reach any more, it was within our grasp.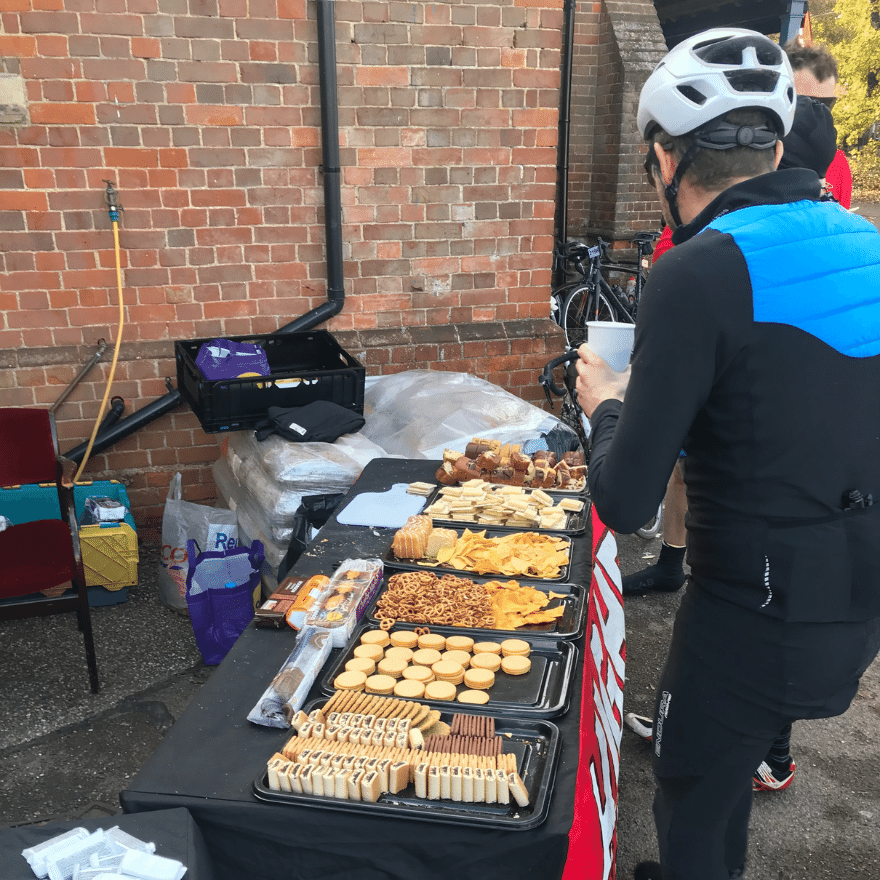 To put it into context, I don't think we've achieved a gold medal time (if there has been one) in any of the sportives we've done. We've come agonisingly close - the Puncheur being the most memorable as I missed out by just less than a minute and 18secs in our two attempts - but never quite made it. You tell yourself it doesn't matter, that you had a great experience anyway, but the icing and sprinkles have always been missing from our cake. This was our chance to bake a showstopper that would get a nod of approval and hearty handshake from Paul Hollywood.
Winds of change
The third hour was where it started to come apart at the seams. That breath of wind, which had clearly been at our backs for the first half, turned into a niggly headwind. Not enough to stop you in your tracks but it ensured our heads and average speed disconcertingly dropped so that it would be a fight to the finish to claim the gold. The alarm bells weren't ringing loudly yet but there was a distinct dingle.
Maths was never my strongest subject at school - how could it be when for most of my GCSE lessons I was focused less on trigonometry and more on the unfeasibly large size of my teacher's head compared to his body (he was nicknamed Joey Foetus)? - but I was now meticulously counting down the minutes and kilometres.
In the end, it came down to an easy equation - 13km in roughly 30 minutes. Simples. Except that the only hills – or hillocks – of any note came in that last stretch. Hoe Lane was the most draggy, the only one where you might consider switching to granny gears, but it was the cumulative effect of weary legs and weak minds that was the hardest.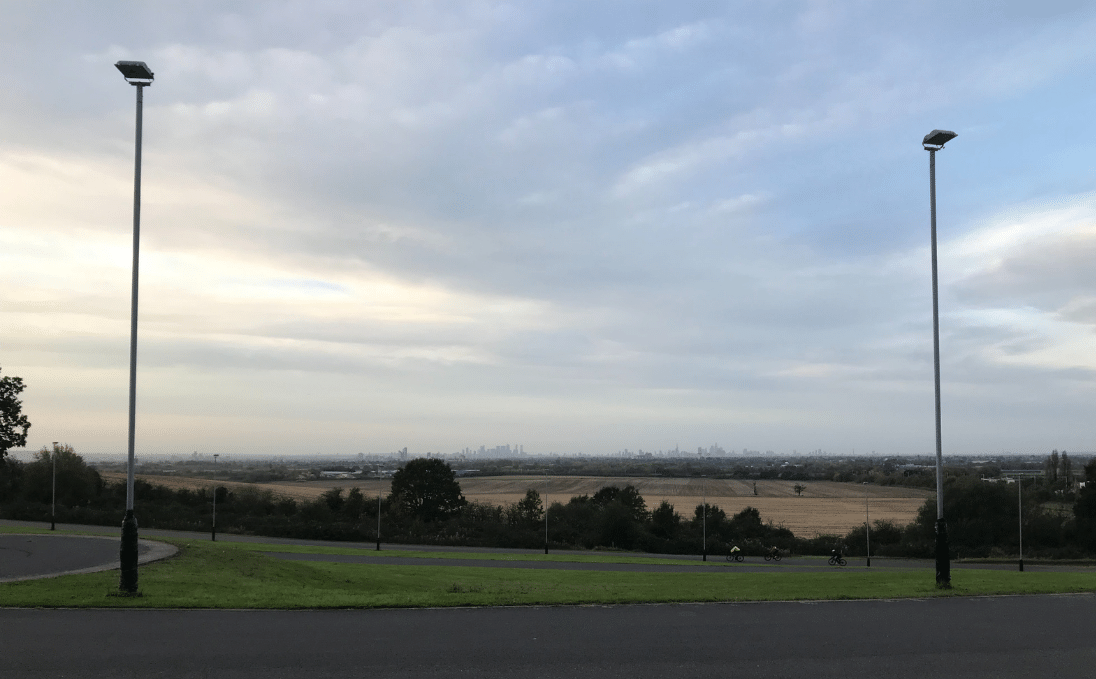 Last few km; last few minutes; last dregs of energy. Giving it full gas down the three-lane A road. Then – gah! – a red traffic light, we hadn't seen one of those pesky things in about 100k. Precious seconds lost - and could that be when we lost out on the gold?
It certainly looked that way as we crossed the finish line after a lap on the track at the Redbridge Cycling Centre and frantically stopped our Garmins. They both said the same thing. 4hrs; 30mins, 35secs. Thirty-five trifling, piffling seconds. Gutting doesn't cover it. All that effort, all that time, all that hope… unceremoniously crushed.
I tried to put a brave face on it, as much for my own sake as Steve's. "Still a wonderful achievement." "Thanks for dragging me along." "Great day out." "At least the weather was nice." That sort of meaningless thing… but who was I kidding? Time for a quiet moment of self-reflection or, more accurately, self-chastisement.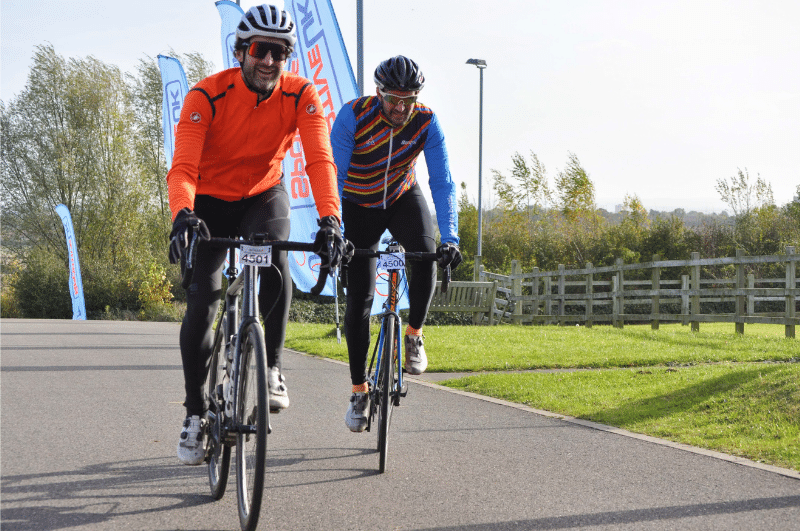 About time
Steve went to grab a coffee and cake while I wallowed in self-pity, the only pick-me-up being a call home. At least my eldest daughter still thinks I'm ace (I'll give that three more years…).
"You'll never guess what?…" said Steve. Yes, I know, we missed out by 35 seconds. Thanks for the reminder. Still, the sun is shining, we've got our health, etc. "Just looked at the ESE website and the gold medal time for the 40-49 bracket is 4hrs 35. I think we did it!"
Despair turned to delight in a split-second. A good sportive to an amazing one in the same timeframe. "No way! Are you sure? Let me check," I said in a voice that doubted Steve's ability to read.
But there it was in irrefutable black and white. We'd done it! Finally - and about time too. There was a slightly nervous 24-hour wait until the official results arrived by email but ESE thankfully confirmed it. What a way to go out. What a send-off. I felt like a champion with a gold medal figuratively slung around my neck. And more importantly, we'd done it together as a team, as a partnership, as brothers.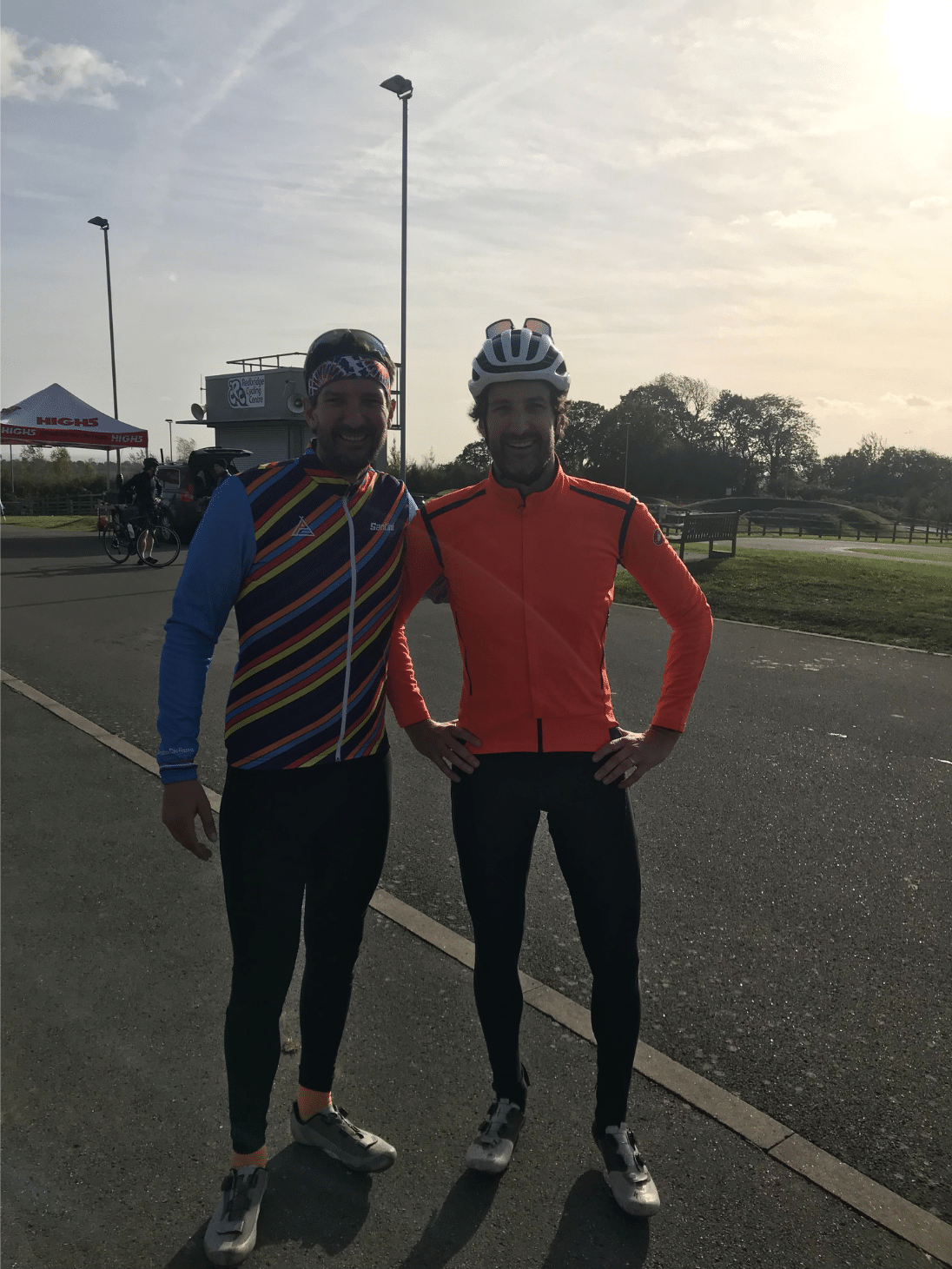 Epilogue
I was going to do a top 5 for the US/North American/South American sportives I'll now get to do but I just don't know them well enough. Which ones are prestigious, which are the toughest or the most scenic. And there's a great excitement about that, stepping into the unknown. Plus I know Steve will have looked them all up already and picked out the tastiest morsels for me to chew over.
I'm ready for new challenges, new routes and new sportives in a new country. Sure there's things I'm going to miss about cycling in the UK but a land of discovery awaits – and when Steve does come to visit, it will make our rides extra special. Now I've just got to keep reminding myself to ride on the right!
The other brother
It seems like yesterday – and forever ago – that we began this journey. Not this trundle around the flatlands of Essex; the journey up the gradual rise of Layhams Road, out to the climbs of Kent and then on to the rarefied climes of Europe. Who'd have thought two brothers with builds better suited to the second row, or the engine room of a racing eight, would have settled so comfortably into the saddle? Nine years. Countless kilometres. A fair few medals along the way.
Yes, he's going to be 3,631 miles away. No, that doesn't make it so easy to rendezvous halfway. But I believe they ride bikes in the US, when they're not driving their over-sized cars. There's a burgeoning gravel scene in Maryland. A bevvy of craft breweries to discover, then rediscover. And the prospect of a double garage-sized pain cave with a 52"-wide, 4k view of B. Brevet's backside to savour. He'll thrive. I'll survive. And soon enough we'll be riding together again, Stateside.