La Marmotte Alpes Granfondo
Taking in the cols of Glandon, Telegraphe, Galibier and Alpe d'Huez in one momentous day, La Marmotte is right up there among the elite of European grandfondos and cyclosportives. But is it the toughest?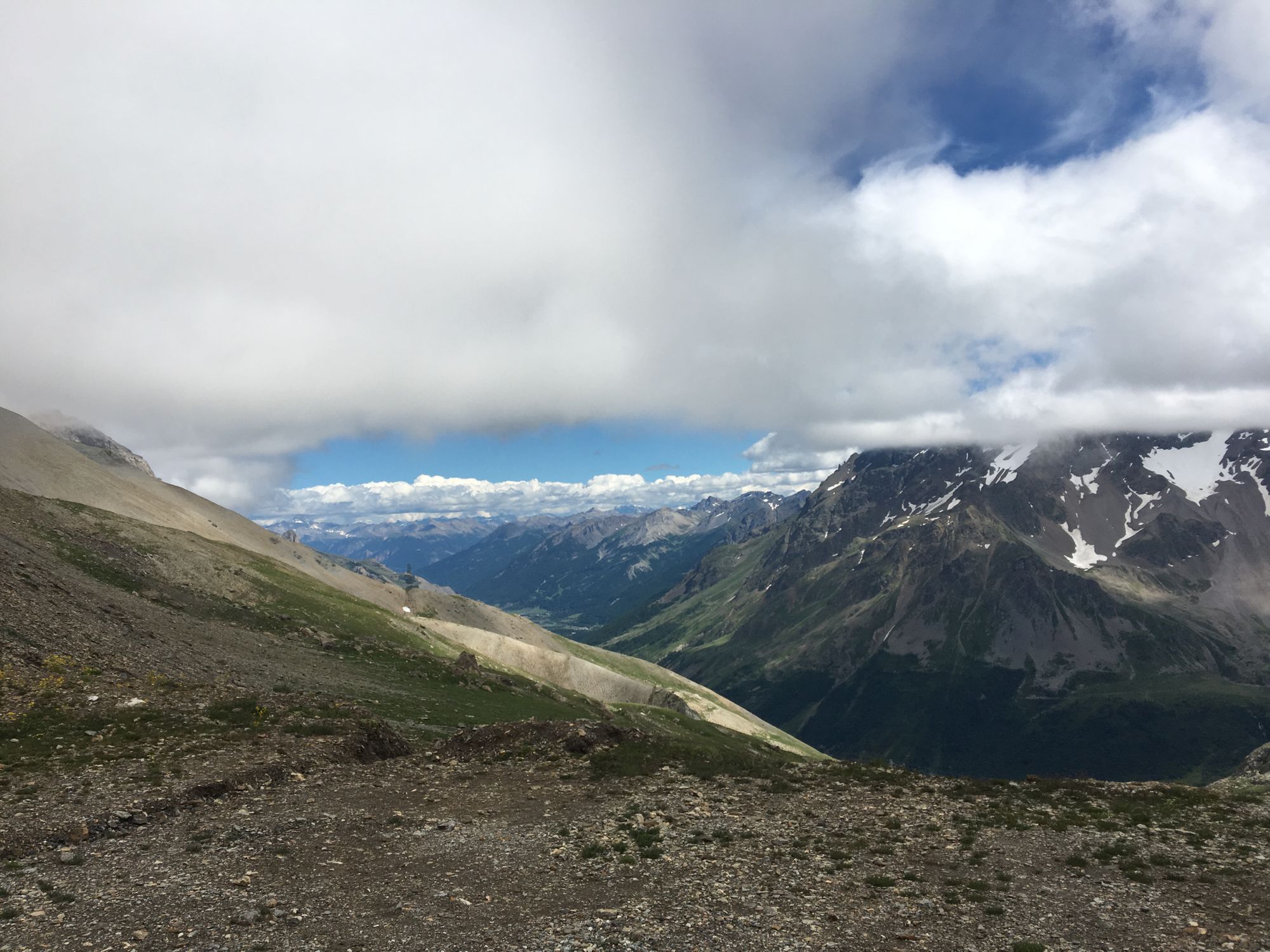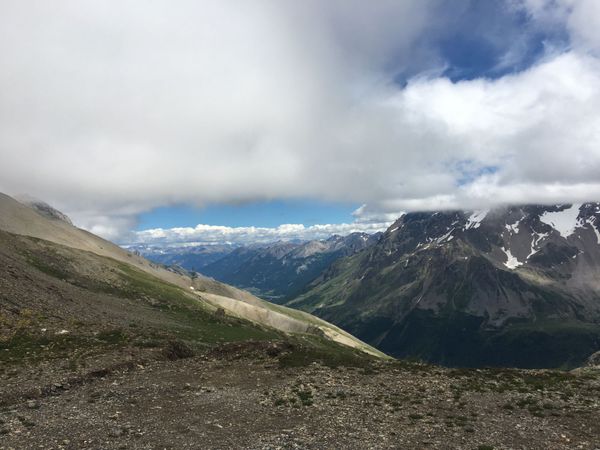 Act I, Scene I of 'La Marmotte; Hell on Earth'. Certificate 18, unsuitable for children.
There is a montage of the majesty of the Alps, with its snow-capped peaks, wooded valleys, deep ravines and babbling waterfalls. The camera zooms in on two brothers in a rental car. They are leaving the village of Bourg d'Oisans at the foot of Alpe d'Huez to drive to their hotel at the summit.
Broleur 1 is in the passenger seat. He is in his late thirties, with the razor-sharp tan lines of a veteran cyclist. He is apprehensive having experienced Mont Ventoux, but has been emboldened by a few Belgian-strength beers while waiting for his brother to arrive in Lyon airport.
Broleur 2 is the driver. He is in his mid-forties and jet-lagged after flying in from Boston that morning. He is also worried about taking on the Alps, but has been fortified by conquering the Dragon Ride just two weeks previously.
Broleur 1 "Here we go, Alpe d'Huez. Take the left bend here and we're straight into the climb."
Broleur 2 "Woah, it's pretty steep."
B1 "Don't worry, the first bit is the worst. After the first few hairpins, it eases off."
They turn the first hairpin.
B2 "This is going to really hurt."
B1 "I told you, it will get easier. I've looked it up on Veloviewer and watched the videos on YouTube. We've just got to grit it out for the first few hairpins."
Silence as they go through the next five hairpins.
B2 "It doesn't look like it's getting any easier to me."
B1 (with a nervous laugh) "I think just up here is where the gradient isn't so bad. Oh my God, that ramp looks horrible."
Silence as they take the next few hairpins and Broleur 1 gazes wistfully out of the passenger window.
B1 "The views are just amazing. It's going to be incredible to climb it."
B2 "Quick, take a photo... But it seems pretty unrelenting to me. Are you sure it gets easier?"
B1 (squinting into the distance) "Yes, just up here."
Awkward silence between the brothers as they take the final few turns before they reach the summit and park up at the Royal Ours Blanc Hotel.
B2 "It just doesn't ease off, does it? That's going to be absolutely brutal after nine hours in the saddle."
B1 "No it doesn't, and yes, it will be."
Both brothers stare straight ahead. Fade to black.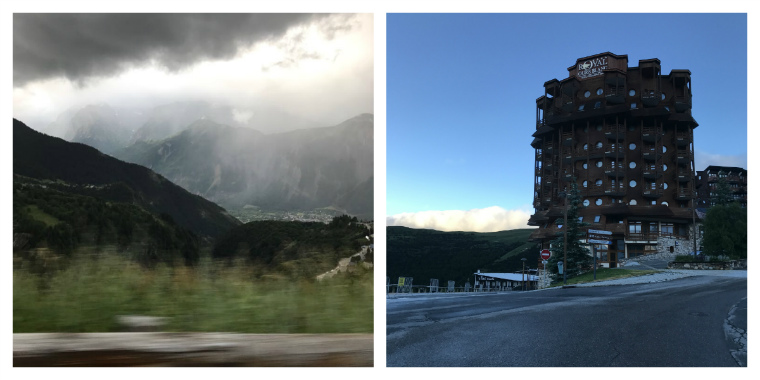 Alpine retreat
We knew the Marmotte was going to be unbelievably tough. But that drive up Alpe d'Huez really brought it home that we were entering the big league. With more than 5,000m of climbing over four mountains - the iconic quartet of Glandon, Telegraphe, Galibier and Alpe d'Huez - and all in 174km, La Marmotte is right up there with the Maratona dles Dolomites and Quebrantahuesos as the hardest kids in the sportive playground. We just hoped it wouldn't steal our lunch money and give us a wedgie.
Still, it gave us plenty to talk about as we chowed down that Friday evening on delicious antipasti, pizza and beers at the excellent Pinocchio restaurant, 30 yards from our lovely and ideally located hotel, before calling it an early night.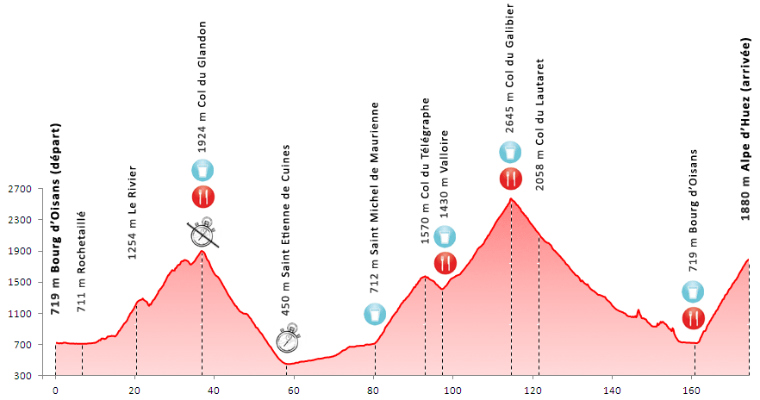 Hearing the Lions roar
Saturday morning was spent enjoying a leisurely breakfast before we watched the Lions' nail-biting 24-21 win over the All Blacks in the other brother's hotel room.
The French commentary was drowned out by our cursing/shouting/celebrating as the Lions showed us that you can beat the odds and achieve what many consider impossible if you're prepared to put your body on the line.
Registration was quickly completed as the event village and finish line were 100 yards from the hotel's front door. One of the big advantages of going with a renowned company like Sports Tours International is that it took away a lot of the usual logistical stress. They also held a briefing, trying to arm us with as much insight and information as they could muster.
We went for a short 10km ride in the afternoon to check both bikes and riders were in good working order, before having a functionary and underwhelming pasta dinner. We were ready. Or as ready as we could be.
Descent into madness
A 4.30am alarm call. Urgh. Thankfully, though, the hotel had put out a breakfast spread from 3am so it was cold meats that would line Bunteur's stomach rather than cold porridge from a sachet.
A chilly descent down Alpe d'Huez to the start line in Bourg d'Oisans served as another reminder - as if we needed one - that a gritty day lay ahead.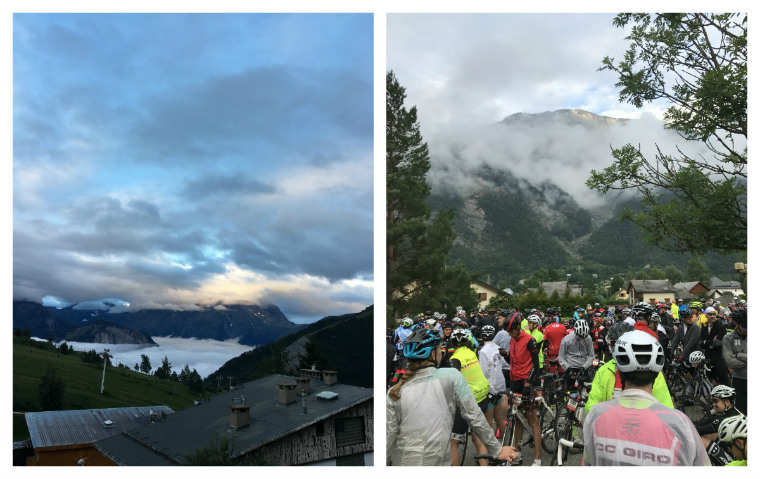 Act II, Scene II of 'La Marmotte: Hell on Earth'
The brothers are anxiously waiting in the starting pen. Broleur 1 is eyeing up the opposition while trying to spot his two mates, Wardy and Jimbo, who are also doing the Marmotte. Broleur 2 is more concerned by a bout of constipation, fearing he may have to pull a 'Dumoulin' by the roadside.
B1 "I know I said last night I wanted to hammer it up Glandon as the clock is stopped at the top for the dangerous descent, but I'm now thinking I need to take it easy.
B2 "I got an email from 'Trolleur' with some handy tips. He said EVERYONE - he even capped the word - goes too hard up Glandon and pays for it later. He also said to watch out for the small descent on Glandon as it kicks up straight afterwards. And that we should conserve our energy on Galibier, as gets really steep on the second half of it."
B1 "The Sports Tours briefing said something similar. They've also got special feed stations for us a kilometre from the top of Galibier and on the seventh bend of Alpe d'Huez. Think you'll stop or just push on?"
B2 "If I want a glass of flat coke or need to rest, I will do. I'll just see how I feel. You?
B1 "I just really want to beat Wardy and Jimbo - our mates back home have been placing bets on who's going to win - so I might just push on through. I don't want my Strava stats spoiled by an unnecessary stop. Oh... looks like we're moving."
The brothers head out in the throng of riders to the start line. Just as they are about to go under the inflatable arch, Broleur 1 yells out to Broleur 2.
B1 "Let's smash it!"
B2 "In manibus ignem."
B1 "In manibus ignem."
Camera pans back to show the massive mountain range they are heading towards. Fade to black.
Gliding up the Glandon
Enjoy the first 15km of the Marmotte while you can - it will be the last bit of flat road you'll see for a long time. As is the case in virtually every sportive, it's also fast. Not quite Ronde Picarde fast, but punchy nonetheless.
In no time, you're at the base of Le Rivier climb, the first part of the Col du Glandon. We knew we needed to coast up it - there's no point in unleashing the big guns to slay the first Alpine monster only to find you have no ammunition left for the three beasts to come. Easier said than done when legs are fresh and the adrenaline is coursing through them.
The other brother bid me a cheery farewell as I set off in pursuit of a chap in dayglo pink socks, tackling a series of short, sharp inclines to Le Rivier-d'Allemond. Similar to the climbs in Kent and Surrey (except I don't recall seeing any waterfalls around Westerham), I was in my element, gliding past the riders crawling in the slow lane on the right.
With two descents safely navigated, you hit the Glandon proper, 15km of continual climbing. But it doesn't get too spicy - a chicken korma to the vindaloos to come - with some wonderful views of Lac de Grand Maison on the switchbacks. Not that I'd have fancied taking a dip mind you, the temperature had started to plummet as we ascended higher and higher and we were soon engulfed in icy clouds. Fingerless gloves were not a good option.
Crossing the chip timer at the summit, I was warmed by the sense of elation at conquering my first Alpine ascent - and in good time too. Two hours in and I was feeling brilliant, even more so when I spotted my brother 10 minutes later.
Bumped fists and a congratulatory hug and, with the clock stopped, we chugged a can of coke and a double espresso.
It was too cold to hang about for long, so it was off down the neutralised descent. Twenty kilometres or so of not having to pedal. Bliss. Lord knows what sort of speed the pros go down it, but I was very glad it wasn't competitive. Most people were taking their own sweet time and steering clear of danger.
Flicking through the Telegraphe
Going over the next chip sensor - time on, game on! - the other brother reminded me of another valuable tip from Trolleur for the Maurienne Valley before you hit the base of the Col du Telegraphe. 'Get in a group and do no work' - advice we followed to the letter. The pace was slightly laborious at times but no matter, we were keeping our powder dry.
The Telegraphe actually forms part of the Galibier but is a serious climb in itself, at 12km. I adopted the same approach as with the Glandon, i.e. instantly switching to granny gear, getting up to a Froome-like cadence, checking off the kilometre markers and, for the most part, zipping up the climb. The other brother did likewise.
The Telegraphe didn't strike me as quite as beautiful as the Glandon, but that might be because I was locked in a personal battle with 'Spiderman' (a guy with what appeared to be a red sports bra showing through his sweat-laden jersey) and wasn't taking much notice of my surroundings. Shame on me.
At this point, I was starting to wonder what all the fuss was about. Two mountains down, two to go and we were in a great place, mentally and physically.
How quickly things can change.
Gut-punched by the Galibier
Act III, Scene IV of 'La Marmotte: Hell on Earth'
Broleur 1 is sat on a dry stone wall beneath a wind-rippled Sports Tours International parasol, a plastic cup of coke in one hand, a bag of salt and vinegar crisps in the other. He has a lost look in his eyes and chews perfunctorily. He leaps up with cramp, stretches and sits back down, muttering expletives under his breath. His mood is momentarily lifted when he spots Broleur 2 pulling in. Broleur 2 appears equally spent and almost falls off his bike as he joins his brother.
B1 "That has broken me. Absolutely broken me. I must have had to stop 12 times with cramp in both legs. It was just ridiculous."
B2 "I had to stop a couple of times too, my entire legs were cramping, that and exhaustion."
Both brothers gaze up the mountain. There's only one kilometre to the snow-covered summit of Galibier but they grimace. It might as well be ten.
B1 "It's just stupidly steep! I wanted to push on but I just couldn't. I had to stop."
B2 "I'm just glad I kept you in sight. I wouldn't have wanted to be responsible for you losing too much time to Wardy and Jimbo."
B1 "I just don't care anymore. I really don't care about anything right now. I don't know how I'm going to get to the top of this, never mind Alpe d'Huez."
The brothers stagger towards their bikes in a dispirited silence, before clipping in and riding on. Fade to black.
Galibier is where our dreams died - mine of beating Jimbo and Wardy; the other brother's of earning a gold medal time for his age group - 8hrs 39mins. It just destroyed us.
The warning signs had been there at the feed station in Valloire. I had just started to cramp up in my legs; the other brother said he'd mislaid his mojo.
A large hunk of brie and some chunks of French bread worked wonders with him, while I stretched and thought I had nipped the cramp in the bud. Messages were exchanged with the fabulous family support team at home.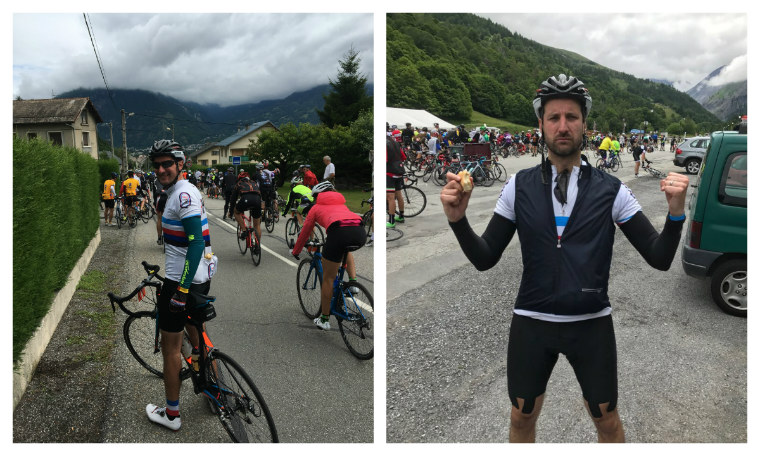 The first half of the Galibier is not only easy on the legs, it's also very easy on the eye. To the left are gushing waterfalls, to the right the most incredible mountains, soaring out of the earth. I made sure to sear the view into memory.
But then the road curves round to the right, veers upwards and stays that way - and I entered a world of hurt. The odd tweak of cramp in my groin turned into one long, agonising pain. I had to get off the bike to stretch; the first of many frustrating stops.
I wasn't alone. A combination of exhaustion and altitude (at 2,645m, Galibier is the highest point of this year's Tour de France) had started to affect lots of riders. Each kilometre marker, with its grim foretelling of the upcoming gradient (8.1%... 8.3%... 8.5%) only served to sap both strength and spirit further. I resorted to swearing at the Galibier in-between personal exhortations of 'The pain will pass, the pain will pass, the pain will pass' to the same pentameter of the French rugby chant of 'Allez les Bleus'. It didn't pass.
The plan had been to bypass the Sports Tours pit-stop but I couldn't face another metre of climbing at that point. And I'm glad we did take a breather as the final kilometre to the snow-lined, barren top is the steepest of the lot.
Galibier is a real mixture of beauty and beast. It will make or break your Marmotte challenge.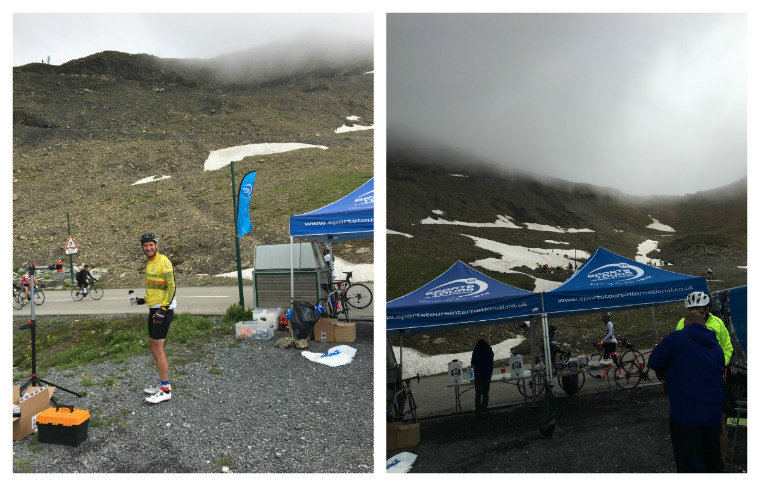 Mint glaciers
The reward for all that unrelenting toil is almost instantaneous. Words can't really do justice to the vista beyond the peak of the Galibier towards the Col du Lautaret. Jagged mountains under deep blue skies, with glaciers creeping down from them. Breathtaking stuff. But don't get too distracted as it's an incredibly fast descent with sweeping bends that must be treated with absolute respect. Ambulance crews were there treating those who had overshot the corners.
Huez having the last laugh now?
There's another 20km or so to go before the final climb, Alpe d'Huez, with its legendary 21 bends. Plenty of time to catch your breath and pray for a second wind and/or divine intervention.
We decided against stopping at the final feed station in Bourg d'Oisans which, in hindsight, probably wasn't the wisest call. But at that point it just felt like no amount of food or rest would be enough to make a difference.
Don't listen to anyone who says Alpe d'Huez gets easier. It doesn't.
After giving it beans to the first hairpin, I slowed to an unedifying crawl. A beaten man.
By hairpin No3, I slumped on the wall for a couple of minutes before trying to push on. A scene that was repeated for hairpins No5 and No7, where I assumed the Sports Tours watering hole would be. Unfortunately the hairpins go from 21 to 1, not vice versa, so there were another seven to traverse. Gutting. The temperature had also shot up so I was sweating cannonballs, not just bullets.
It seemed to take an eternity to make it to the Sports Tours' canopy. And, once there, we collapsed into folding chairs. A sitdown protest from our weary bodies. The other brother tore off his shoes and socks and poured cooling water on his over-heating feet.
Just another five kilometres to the top. But it felt like 50. Finally, as you enter the village, cheered on by beer-swilling, cowbell-clanging onlookers, the gradient eases off just enough for one last big surge to the line.
As I crossed it, I let out a faintly audible whimper. The tears didn't flow (I must have sweated out virtually all bodily fluids) but the eyes were definitely moist. Especially when the other brother crossed the line.
A gold medal time for La Marmotte was always going to be a long shot but we both sat comfortably within the silver bracket. Crushingly, the Marmotte volunteer staff dispensing the medals had only bronze ones left. It seems churlish now to have been so peeved, but when you've just pushed yourself beyond your limits for so long to achieve something so monumental, the colour of the gong hanging around your neck takes on a major significance. Pocketing the medals rather than wearing them, we opted for a prize of the amber variety - a pint of local ale.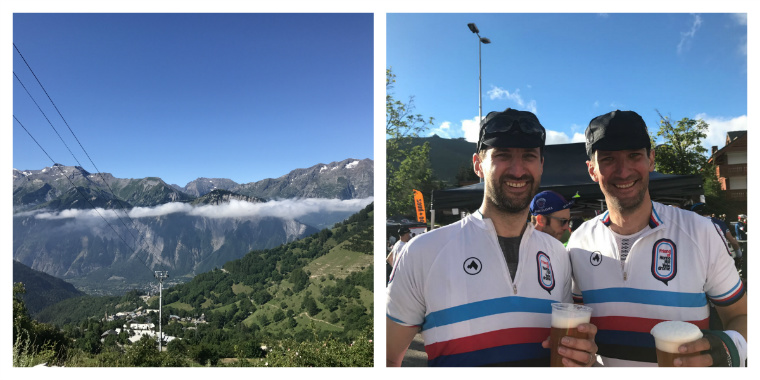 When we spotted Jimbo and Wardy among the throng there were handshakes and hugs all round, but confirmation came that I had finished a distant third. Chapeau to them.
Beating mates would have been the icing on the cake. My mixture had looked good on the Glandon, rose beautifully on the Telegraphe, but sunk on the Galibier and was eventually burned on Alpe d'Huez.
My 'Marmotte Masterpiece' may not have passed muster with Mary Berry and Paul Hollywood - but it still tasted pretty darn delightful a couple of hours later.
Final scene of 'La Marmotte; Hell on Earth'.
The brothers are at a restaurant in Alpe d'Huez. Broleur 1 is taking photos of the surrounding mountains. He returns to the table, stumbles on a step and howls as he gets cramp. Broleur 2 bursts out laughing.
In the background, there are occasional cheers as riders continue to cross the finish line despite it being nearly 10pm.
The brothers raise a glass of red wine as two large, medium-rare steaks are brought to the table.
B1 and B2 (in unison) "Cheers!"
B1 "I'm not sure if I can even eat this steak, my stomach hurts from all the junk I've eaten today."
Broleur 1 proceeds to eat a huge mouthful of steak anyway.
B1 "What an achievement. I can't believe we've ticked off so many of the climbs on my bucket list but I don't want to go near a bike for a while. I'm just shattered."
B2 "Me too. For our next sportive, I want an easy and mainly flat parcours, and somewhere warm. Something like the Granfondo Roma would be perfect."
B1 "Yeah, definitely something flat, I'm not sure I could handle anything like the Marmotte again..."
Broleur 1 stares at the mountains.
B1 "Although, having said that, I have always wanted to do the Maratona..."
Fade to black.
The other brother
We've always done our own thing. Never felt the need to join a club, because we have each other. No need to use a tour operator because we could look after ourselves just fine, thank you very much. Buy the entry ticket, reserve a hotel, book the flight or Eurotunnel, cram the bikes into a box or car, and turn up at the start line on the day. Simple (mostly).
A diary mix-up for L'Etape meant we all-of-a-sudden had to find an alternative epic endeavour - one with availability. Not so simple. Thankfully, there are a number of tour operators out there who offer guaranteed entry to the big events. We went with Sports Tours International because they came recommended, they've been around for ages and they have Northern roots, just like us.
Using their services, we bagged last-minute Marmotte tickets, arranged overland transport for the bikes, and booked rooms at a hotel just yards from the start line. They arrange mechanics to fettle the bikes the day before, provide a pre-race briefing with a guest appearance from Simon Warren of 100 Climbs fame (inspiration for our top tens of Kent, Surrey and Sussex), and throw in two extra feed stops - one a kilometre from the top of the Galibier, where we were able to collect a bag with extra layers for the descent and our own food, and one on bend 7 of Alpe d'Huez, where the CEO himself was handing out the water. Nice touch.
Is it worth the premium? If you desperately want to secure a ticket, if you're a nervous newbie, or simply a veteran with the disposable income, then yes, absolutely. You focus on the ride, they take care of everything else. Like sugar with your tea or a sprinkling of cocoa on the cappuccino: it's not strictly necessary, but it makes the whole experience that little bit sweeter.
Check out our Facebook page and follow us on Twitter @broleurcc