Bikes & Beers Kent Island
Bikes & beers. It's already a win win. When it comes to downing ale, there's no contest. But could Andy be crowned King of Kent Island - when it's not even a race?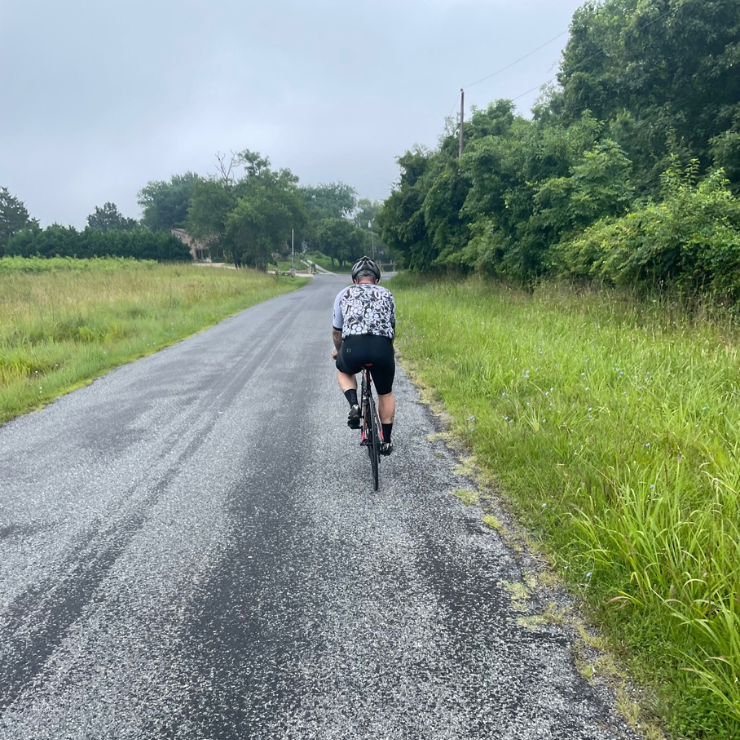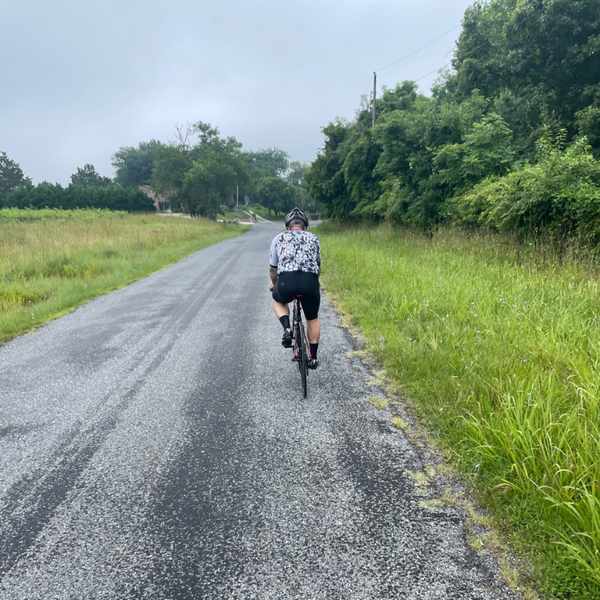 I've often wondered what it would be like to win a stage of the Tour de France, especially as part of a breakaway. For that matter, any Grand Tour would do. Having said that, I'd take a Monument or a Classic. In fact, as beggars can't be choosers, I'd accept any pro race.
The zipping-up of the jersey as the finish line approaches… a guttural scream of joy… the slapping of the handlebars… I was going to go for a double-finger point to the skies but as I'd probably fall off, I'll settle for a fist pump… the obligatory teary TV interview afterwards… waving to the crowds on the podium. But sadly, that's all it will ever be, a fanciful fantasy.
Sure, we've had various targets in the sportives we've done: a gold medal time, to beat a randomly picked 'rival' over the finish line, to smash a climb, to edge out a mate on Strava, or to finish in the top 25% of competitors (admittedly that's more my randomly chosen number rather than Steve's). Often, it has just been to complete rather than compete, like in the Amstel Gold Race or Granfondo Stelvio. But to end up on the podium? Even an imaginary one? Not in our wildest dreams. Too old, too fat, too unfit, or all three combined.

Yet here I was, with my new-found cycling buddy, Matt, about halfway through the Bikes & Beers Kent Island sportive (B&B), imagining the impossible.
Me: "Matt, I know this sounds crazy but are we actually in the lead?"
Matt: "I think so, we haven't seen anyone in ages. The rest stop's coming up in half a mile…"
Me: "I've got loads of water and don't need the rest."
Matt: "Me too."
(Long pregnant pause)
Me: "We could win this, you know. I mean, I know the guy at the start said this isn't a race…
Matt: "It is now."
The die had been cast. Death or glory. Would our breakaway stay away from the chasing pack for the final 40km or would we be caught on the line? We were about to find out…
The perfect combination
Now, if you've read any of my sportive reviews from the US, there's two all-too-familiar themes that stand out – bikes (obviously) and (lots of) beers. So a sportive literally titled Bikes & Beers was a no-brainer. To make it even more appealing, Kent Island was about a half-hour from our new home in Annapolis. And to seal the deal, only 77km with a minuscule 200m of 'climbing' (my Garmin actually had it at 120m). Winner, winner, chicken dinner. Or more like winner, winner, crab cake lunch. Mum had been staying with us for the past two weeks and I wanted to finish in plenty of time to enjoy a nice meal out at the Harris Crab House before she flew back to the UK.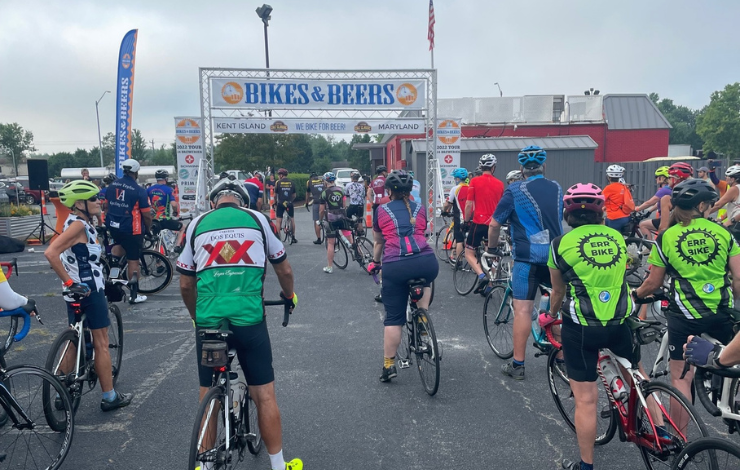 That was the only thing on my mind as I lined up at the B&B start line in Stevensville, next to the Cult Classic Brewing Company (which would be providing the alcoholic aspect of the sportive), certainly not gunning for gold. That was reinforced by the announcer's safety briefing, with "this is not a race" repeated several times.
The message had clearly sunk in as the first couple of kilometres had a real fun ride feel to them. I cruised past several small groups until I could see only a few lone riders up ahead.
Onward my brave Hawkmen
I heard a voice behind me: "You seem to be going at a similar pace, want to work together?" Not wanting to look a gift horse in the mouth, I accepted the offer from Red Jersey and Brian Blessed, who sported the kind of luxuriant beard a Canadian lumberjack would be proud of.
The entente cordiale wouldn't last long. Blessed's misplaced bidon went careering across the road, forcing him and Red to double back. Should cycling etiquette have made me stop and wait for them? Maybe. Probably. But I had a date with a crab cake sandwich.
As I hit the wooden walkways on Kent Island, I glanced down at the Garmin. 34kph… 35… 36… it felt like I was keeping up with the SUVs on the adjacent Route 301. And that's when I caught up with Matt. At first, I thought I could shake him but he dug in like an Alabama tick and held my wheel. He then overtook me, I returned the favour and so on, until I came to the realisation we should stop playing silly beggars by yo-yoing and start working together. Pleasantries were exchanged (in that I said: "My name's Andy" And he replied: "Matt").
A beautiful friendship was thereby forged as we rattled along at close to 40kph down the pan-flat roads and past the private swimming pools and tennis courts of the rich and the famous towards Bennetts Point, before pulling a U-turn to head back towards the feed station in Grasonville.
Going back along the road we'd just come down gave me the opportunity to assess the oppo. Lots of people amiably pootling along — B&B Kent Island is ideal for those doing their first sportive – but then a couple of big trains of more serious-looking riders. There was no way Matt and I would be able to hold them at bay if they decided to work as a team. It then dawned on me there was no one on the horizon, no one to chase down.
"Matt, I know this sounds crazy but are we actually in the lead?…"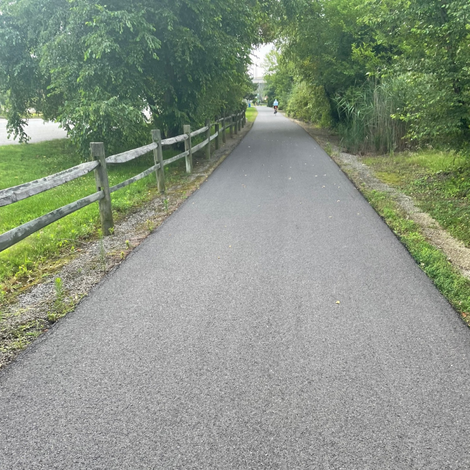 Hammer time
After deciding to bypass the feed station, it was game on. Full gas. Matt was doing some long stints on the front. At first glance, you wouldn't have pegged him as particularly strong but, boy, did he have a big engine. I'd have liked to take my turn going into the headwind but I was at my max just to sit on his wheel. At least drafting allowed me to engage in (extremely limited) conversation. A tattooist in Annapolis with two girls who was about to go on a camping trip was all I was able to extrapolate but, considering I was panting like a Huskie in the heat, it pretty much made us BFFs.
I set about churning out some large Ws. Head down, in the drops, legs pumping. Straight into a gate! I managed to see it at the last moment, pulling a skid my 14-year-old self would have been in awe of and escaped with a bit of a bang and some recently applied white paint on my arm. Matt wasn't so lucky. He hit it hard and somehow ended up doing an incredible gymnastic handstand that Simone Biles would have struggled to pull off. In all seriousness, we were both extremely fortunate to escape a nasty injury. A timely reminder to always pay attention.
Getting steamy
The early morning had been misty and mild but, now that the sun had come out, the thermometer started to rise into the 30C+ bracket. I can handle the heat, unless it crazy hot like during the GFNY Ventoux, but it's the humidity in this part of the USA that's the killer, the leg sapper, the energy drainer. As we headed down the bike path next to Romancoke Road, I started to wilt. Down to my last half bidon, no food and the first pangs of cramp, my pace dropped to about 27-28kph. Still punchy (for me anyway) but not enough to stay with Matt. Five metres grew to 10… 15… 20… until he was out of sight. Oh well, it was good while it lasted.
Hang on, there he is… and I'm getting closer. Twenty metres… 15… 10… 5… "You all right, Matt?"
"Got a bit of cramp in the calf. You?"
"Yeah, feel like I could cramp up any second. But there's only about 15k to go."
We began calculating roughly how far the nearest riders were behind us. By my reckoning, there was at least a 3km gap. Barring a mechanical or a puncture, I felt confident we wouldn't be caught. But would it be gold or silver?
Cramping my style
What I hadn't factored into my equations was the return of cramp in my groin. With just 10k remaining, it struck first in my right, then the left. It was payback for foregoing the feed station and going too hard too early. The only relief I got was to stand up in the pedals. The Garmin showed I'd slowed to about 25kph. I had to fall on my sword.
There's a scene in the cult classic 'The Wild Geese' where a wounded Rafer Janders (Richard Harris) begs his friend Allen Faulkner (Richard Burton) to shoot him before the horde of soldiers chasing him down an airstrip hack him to pieces. Tears in his eyes, Allen has to gun down his bestie. There was almost a replica moment - save for the gun-toting African military junta - with me playing the role of the unfortunate Rafer Janders.
"Matt, I'm cramping up. I can't keep up…"
"I can slow it down if that helps?"
"No Matt, you go on without me, I'm useless to you. You go on and win this for the both of us. I'll hold them off for as long as I can."
There may have been some artistic licence used in that last quote but that was the gist. My goose was cooked. Gold had gone but even a podium place was now under threat. Gritting my teeth after emptying the last drops from my bidon, I just had to pedal through the pain.
All along Stevensville's Main Street, I expected to be swallowed up any second. As I turned into the shopping centre that housed the finish banner, I allowed myself a glance behind. No one in sight thankfully as I wouldn't have backed myself in any sprint. I even indulged in an overly enthusiastic handlebar slap as I crossed the line.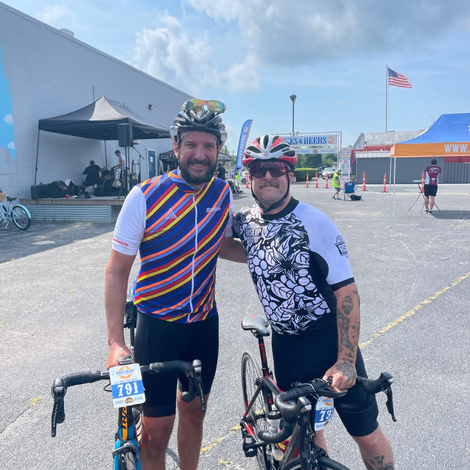 Was I a bit miffed at finishing second when a once-in-a-lifetime gold had been within my grasp? Not in the slightest. I'd given it everything and lost out to a stronger rider on the day in Matt, who was waiting for me, ready to celebrate with a handshake, hug and several pat-yourself-on-the-back beers in the Cult Classic Brewing Company. Thank goodness the family arrived to whisk me away to the Harris Crab House before I got drunk on success.
There were no finishers' medals but, as well as two free beers, you got a Bikes & Beers pint glass. It now takes pride of place in our fridge - and every time I pour myself a Dogfish Head IPA into the frosted vessel, it brings back a lot of happy memories.
The other brother
Bikes & Beers. It could be our tagline, a T-shirt, a fitting epitaph even. Avid Broleur readers – and one or two casual ones – have oft commented on the frequency with which we've mentioned beer on the blog over the years.
We've certainly savoured some memorable ones. The Grimbergens which washed down the pig's cheek stew at the Tour of Flanders (on successive nights). The pints of Amstel Gold (what else?) following the ten tortuous hours of the Amstel Gold Race, downed to the sound of boom-boom-booming Euro disco. The frothy Welsh ales that went down so well after we'd completed the Trans Cambrian Way. The cans of Polish lager that littered the floor around the turbo trainer as Andy completed every single route on Zwift in the space of a month.
We could spin some spurious science about the combination of carbohydrates, protein and electrolytes, but who would we be kidding? Let's be honest, with the possible exception of a cold glass of coke with ice and and a slice, there is nothing beats a post-ride beer. The nearer to the finish line, the better. And what better way to toast an historic victory over the yanks? (well, most of them). Cheers!